Brazil had a meltdown -- and the entire world was watching.
Playing without star striker Neymar, the Brazilian team was battered by Germany today 7-1 during a semifinal match at the World Cup.
Deflated Brazil fans were seen sobbing in the stands in Belo Horizonte during the first half as the Germans continued to score goal after goal without seeming to even break a sweat. The Germans led 5-0 after 29 minutes.
Defender David Luiz, who served as captain for the Brazilian side during the match, held back tears after the game when he expressed his disappointment for the devastating loss.
Captain Thiago Silva was also absent, forced to sit out after previously receiving two yellow cards and serving a one-game suspension. But the man on everyone's minds was the heart and soul of the team -- Neymar. Brazilian players wore hats honoring their teammate, who is sidelined with a back injury.
Meanwhile, thousands of cardboard Neymar masks were handed out to fans as a way to help make it seem like Neymar was a part of the festivities.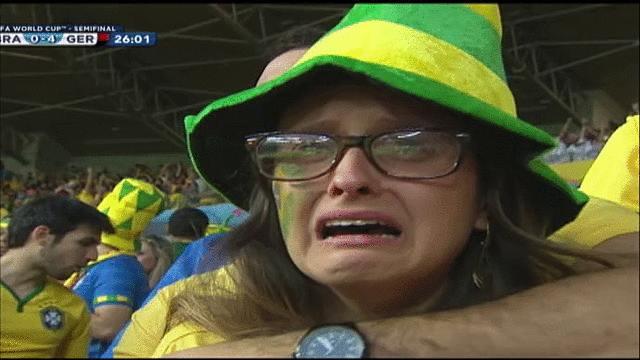 ESPN/ABC News
PHOTO: Female Brazilian fan reacts to German goal.
He clearly wasn't. After the dismal showing in the first half, it was clear Brazil's energy had been zapped.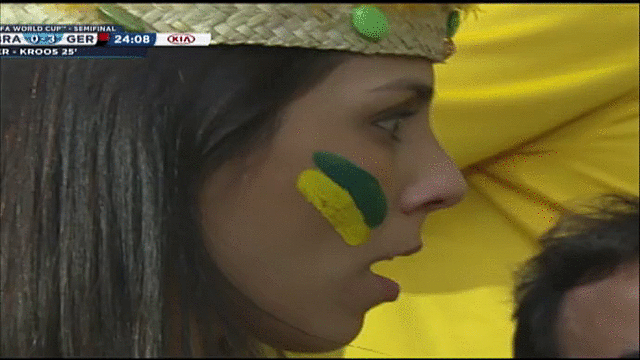 ESPN/ABC News
PHOTO: Brazilian fan reacts to German goal.
The team has never won a World Cup at home and felt mounting pressure to win the 2014 tournament.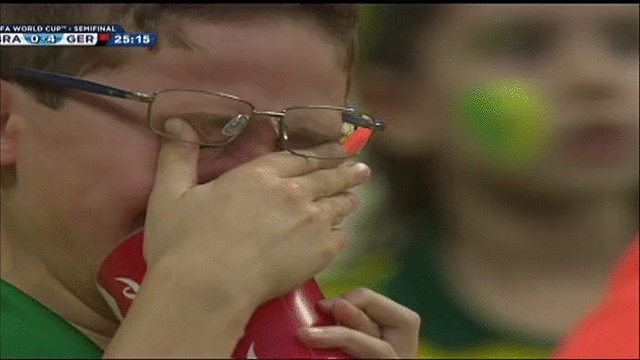 ESPN/ABC News
PHOTO: Young fan reacts to German goal.
The Brazilians lost the 1950 final 2-1 to Uruguay at Maracana Stadium, the only other time Brazil hosted the tournament. Before today, the worst loss ever by a Brazil team was 6-0, again to Uruguay, at the 1920 Copa America.
Meanwhile, the Germans set a few records of their own.
Germany scored five goals in the first 29 minutes, the fastest any team has scored five goals in any game in World Cup history. In addition, Germany's Miroslav Klose is now the highest goal scorer in World Cup history. Klose has 16 career World Cup goals, breaking a tie with Brazil's Ronaldo who had 15.
Once the game ended, Brazilian officials told German fans to stay inside the stadium for security reasons. Brazil fans walked out stunned by the loss. There were no reports of fan violence following the game.
Leave it to supermodel Heidi Klum to show how her fellow Germans felt about the match.