AUSTIN, Texas — As the spring 2021 MLS season approaches, the club gave KVUE Sports Director Jeff Jones and KVUE reporter Luis de Leon a tour of the stadium to showcase the construction progression.
"We're going to incorporate the taste of Austin, the smells of Austin. We're going to incorporate the textures of Austin. This is going to feel like a stadium that only deserves to sit here in Austin," Austin FC President Andy Loughnane said.
Some of the latest updates to the stadium's construction include installing the seats and laying out the grass pitch, which was grown and imported from Arizona.
During the tour, team officials told KVUE the stadium construction project was about 75% completed and still on track for its slated spring 2021 start date in Major League Soccer (MLS).
"One thing that has remained incredibly consistent is a commitment to on-time construction here at the stadium," Loughnane said.
However, as the pandemic continues, it is undetermined whether or not fans will be able to fill the stadium when Austin FC hosts its first home game, or if the season will start on time. Loughnane told KVUE the club will plan as if fans will be at the stadium for the first home game.
"The season has historically started in early March. As to exactly what that looks like in 2021, It's too early to speculate," Loughnane said. "It's a little out of our hands ... That being said, it is in the hands of Major League Soccer to make that determination. But what I can tell you is that our stadium will be ready [by] spring of 2021 and we will have a home opener."
State law as of Nov. 10 limits stadium capacity to at least 50%. Local health leaders have urged limiting capacity to 25%, which is the benchmark the University of Texas has followed for its football games in the 2020 season.
To improve safety measures in the stadium, Loughnane explained they made modifications to the bathrooms on site so that all of them would be touchless.
"Every fixture inside of a bathroom is touchless. Soap dispensers are touchless, paper dispensers [are] touchless. So, that's a representation of a commitment that we made to to modify into what is a new reality," Loughnane said.
The stadium at McKalla Place will also – at some point years in the future – feature a public transportation station as a part of the City's multi-billion dollar transit plan, Project Connect. CapMetro, Austin's public transit service, shared renderings of what the Austin FC stadium station would look like in October.
"So, we're working with Austin Center of Events – ACE - on our transit plan. That transit plan is we've had a draft. I know there'll be revised drafts. So, that's a work in progress, as promised. That's something that we have a deep commitment to finishing," Loughnane said. "So, from an accessibility and ease perspective, one of the ways to relieve congestion will be the usage of that new train station."
He added that there would be 850 parking spots on the 24-acre parcel.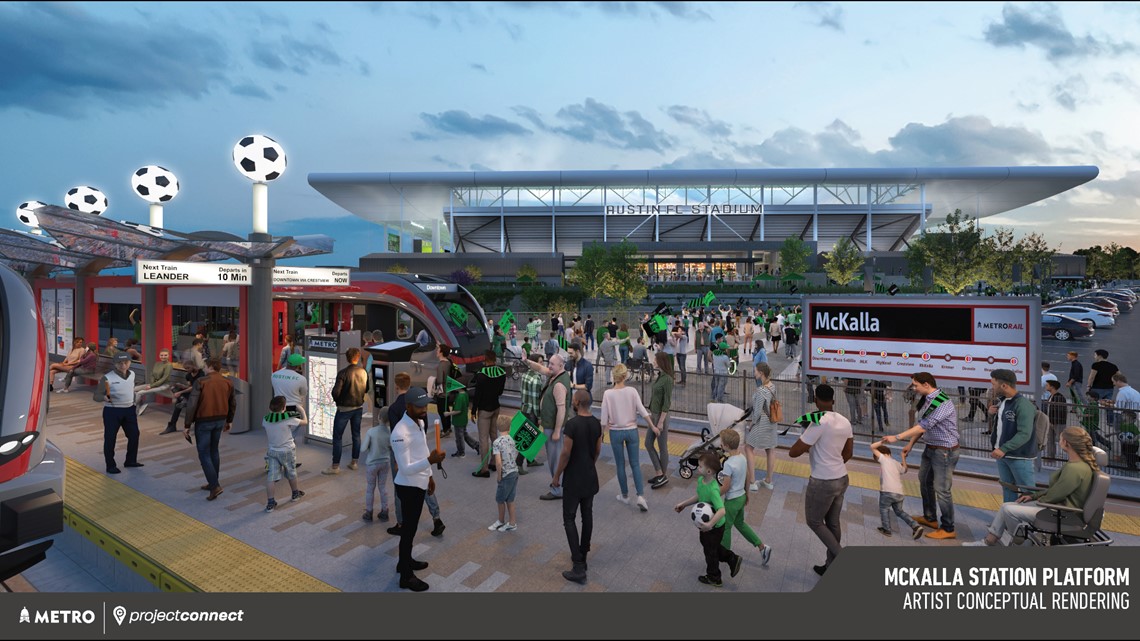 Loughnane also explained how the club made a commitment to exploring options for building affordable housing units on site.
"We have a commitment to affordable housing, the construction of approximately 130 affordable housing units to explore that here on -site, and that's something that will take place over a four-year period per the lease," Loughnane said. "It's something that we'll all have a time to evaluate. But ultimately, yes, in the first four years, that's, that's a commitment, that we have to explore it here on-site."
He also touched on how the club is making progress on naming rights or a sponsor for the stadium, as well as who could qualify.
"I think when it comes to, you know, a stadium naming rights decision, we try to incorporate somebody who has strong Austin roots," Loughnane said. "You know, whether that's a company that's headquartered in Austin, whether it's a company that has a strong presence in Austin. But you want there to be some sort of formative connection to the city. And so that, to me, is the most important ingredient."
Though the season has not started yet, nor has the stadium been completed, it's been clear that Austin is more than ready for its MLS team to begin its tenure in the state's capital.
According to an email sent from the club to season ticket holders, Austin FC received more than 44,000 initial season ticket deposits. In the email, the club said it would enter its inaugural season with approximately 15,500 season ticket members within the 20,500-plus seat stadium, located at McKalla Place in North Austin.
As of Nov. 10, Austin FC has only signed two players to its roster: Paraguayan duo Rodney Reyes and Cecilio Domínguez. Completing the team roster will be one of the main tasks to complete in the next few months.