DALLAS — An era in Dallas Cowboys history has come to an end.
Cowboys owner Jerry Jones made it official on Wednesday that the team parted ways with Ezekiel Elliott.
Elliott became a mainstay in the Cowboys backfield alongside quarterback Dak Prescott ever since being drafted No. 4 overall in the 2016 NFL Draft.
Elliott hit the ground running (literally) in the league from his rookie season. He's also been part of the headlines, both for good and ... not so good.
Here are the highs and lows of the "Zeke Era" in Cowboys history:
Highs
Zeke donates himself to the Salvation Army kettle: An all-time moment. Who could every forget when No. 21 scored a touchdown during a 26-20 win over Tampa Bay in 2016, and then celebrating by jumping into the Salvation Army kettle. It's a celebration that made waves on social media and became so popular that now high school athletes still do it during the UIL State tournament year-in and year-out. Watch here on NFL's YouTube:
"Feed meeeeeeee": Get a first down. Feed Zeke. It became a meme and a staple of his game. Elliott gained a lot of first downs for the Cowboys, so you were bound to see it not only on the field as he did it, but also from the fans in the stands. In 2021, Elliott even went as far as submitting a filing for the trademark "Feed Me." He also has the phrase tattooed across his stomach.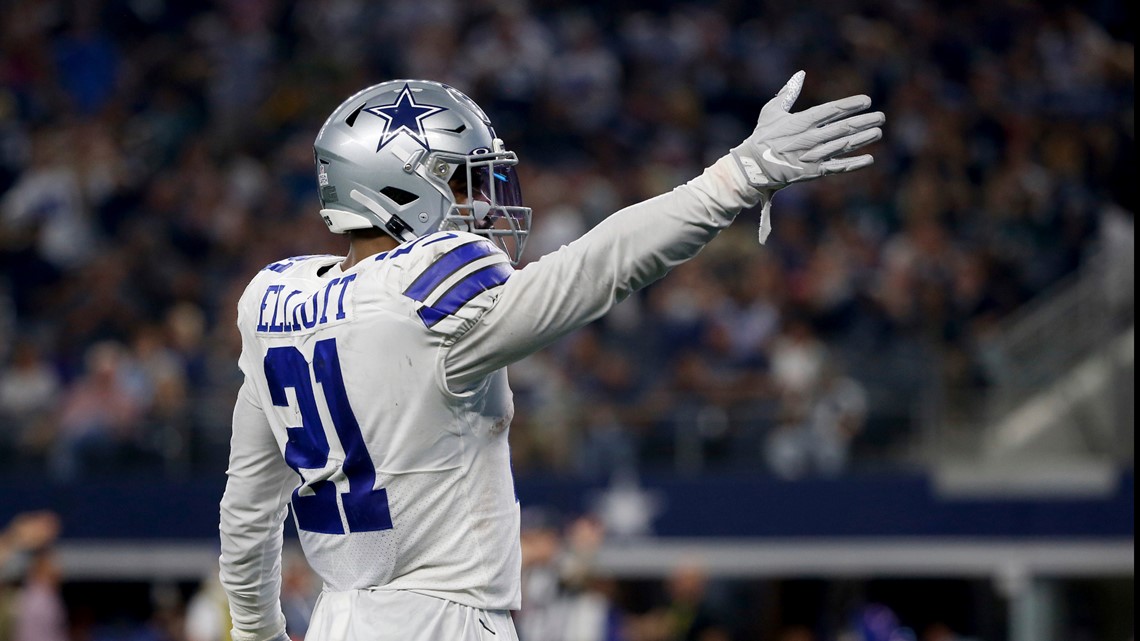 First down. Let's move the chains along.
Welcome to the NFL, rook: As mentioned before, Elliott made an impact the second he stepped on an NFL field. He led the NFL in rushing his rookie season with 1,631 yards en route to an NFC East division title.
After being suspended for six games in 2017, which we will get to in the "lows" section below, he continued his top-tier running back production with 1,434 yards and six touchdown passes to go along with 77 catches for 567 yards in 2018. In 2019, Elliott rushed for 1,357 yards and 12 touchdowns, gaining his third (and final, to date) Pro Bowl selection.
His production dipped in 2020, but returned to a respectable form as the leading back in a two-running back system alongside Tony Pollard. Elliott rushed for 1,002 yards and 10 touchdowns in 2021, and 876 yards and 12 touchdowns in 2022, compared to Pollard's 719 yards and two touchdowns in 2021 and 1,007 yards and nine touchdowns in 2022.
Lows
Elliott's tenure wasn't always smooth sailing, though.
Domestic violence incident: As mentioned above, Elliott was suspended for the first six games of 2017 after a woman accused him of domestic violence while at Ohio State. Elliott was not charged in the case, but his appeals to get the suspension reduced did not work.
Las Vegas music festival: In 2019, TMZ Sports obtained a video of Elliott getting into a confrontation with a security guard at a Las Vegas music festival. After meeting with NFL commissioner Roger Goodell, Elliott didn't face any punishment.
Dog biting incident: In 2021, one of Elliott's dogs, a Rottweiler, bit two people, police said. Animal Services placed the Rottweiler in a 10-day quarantine, in accordance with Texas law. Officials took the two people who were bit to local hospitals for treatment, police said.
St. Patrick's Day Parade 2017. In 2017, Elliott received negative attention after video surfaced of him pulling a woman's top down and exposing her breast at St. Patrick's Day festivities in Dallas.
The video, posted by TMZ, showed Elliott drinking a beer with a group of people on what appears to be the rooftop of a bar.
With a crowd of people cheering below, the woman motioned toward her chest and pointed at Elliott. Elliott reached over and pulled the woman's top down, exposing her bare breast.