10 years ago today, Texas played in its last national championship and haven't been back since. Would that still be the case had Colt McCoy played?
McCoy injured his right shoulder on UT's opening drive. Mack Brown decided to keep him out, despite McCoy not feeling pain. What would have happened if he returned?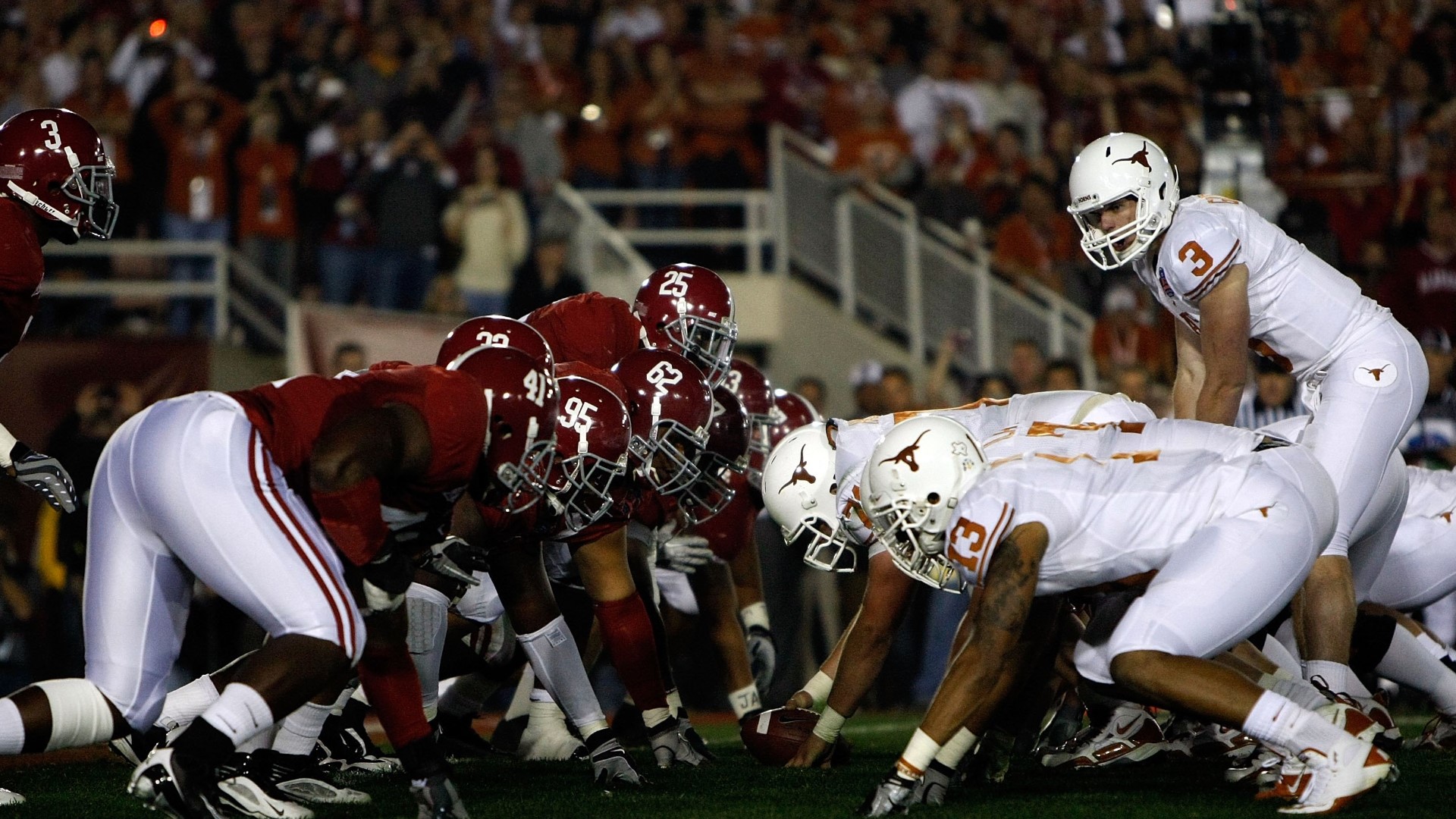 UT handed the torch from Vince Young to Colt McCoy, a seamless transition to stay among the mountaintop of college football, in retrospect. The Longhorns seemed bound for another national title run in 2008 until – you know – Crabtree happened. But we won't talk about that.
Chapter one
:
Texas and 'Bama clash in 2009 BCS National Championship
Rather, fast forward to the 2009 season and UT had re-positioned itself for a chance to hoist up that crystal football again, much like Young did. Fittingly, the game was also back at the Rose Bowl in Pasadena, where the Longhorns won their 2005 national title.
The year 2009 was McCoy's senior season and last chance to bring a national championship back to Austin after nearly missing out on his chance the year prior. McCoy led the nation with a 70.6% competition percentage and had also thrown for 3,521 yards and 27 touchdowns. McCoy was college football's all-time leader in wins at the time with a 45-7 record (.865%).
Nick Saban, in his third season as Alabama's head coach, was making his national championship debut with the Crimson Tide program. Saban had one national championship on his resume when he won it all with LSU in 2003.
The game started out great for Longhorns fans after 'Bama threw an interception on its first drive, but the good fortune was short-lived. Five plays later, Texas lost its best player on the Longhorns' opening offensive drive. McCoy injured his right shoulder after being hit by Marcell Dareus.
McCoy said he lost feeling in his right shoulder but wasn't in pain. He asked to come back in, but coach Mack Brown didn't want to risk it, according to The Associated Press. Looking back at the last decade, some may argue this decision changed the landscape of UT football – and perhaps even 'Bama's legacy to a degree, as well.
Freshman quarterback Garrett Gilbert was thrust into the game with only 26 total college passes under his belt. It was then his task to go lead UT to a potential fifth national championship ... no big deal, right? Only one true freshman in the history of college football had won a national championship: Oklahoma's Jamelle Holieway. To date, it's only been done twice after Clemson's Trevor Lawrence beat Alabama in 2018, 44-16.
We all know the story, Gilbert wasn't able to pull it off but did lead a valiant effort to give UT a chance late. Texas only trailed 24-21 with just over three minutes left in the fourth quarter, but three UT straight turnovers fueled a 13-0 'Bama run and cemented the Crimson Tide's first of five national championships in the next 10 seasons.
Chapter two
:
What happens if Colt McCoy never gets hurt?
You can't definitively say Texas would have beat Alabama had McCoy played the entire game – let alone only five plays – but Longhorns fans certainly make the argument.
Who would you rather have? A healthy true freshman who has less pass attempts (26) than the starter has wins (45) or the injured superstar?
That can remain up for debate in Austin barbershops and sports bars.
The trickle effect from this game is clear though. Look at what has happened since this game:
1. Alabama goes on to be a national powerhouse and arguably one of the greatest college football dynasties for the next decade. Saban and the Crimson Tide followed the 2009 national championship with four more in 2011, 2012, 2015 and 2017.
2. Texas fell off the map on a national scale. Since the 2009 title game, Texas posted the following records:
2010 – 5-7, no bowl game
2011 – 8-5, beat California-Berkeley in Holiday Bowl
2012 – 9-4, beat Oregon State in Alamo Bowl
2013 – 8-5, lost to Oregon in Alamo Bowl
2014 – 6-7, lost to Arkansas in Texas Bowl
2015 – 5-7, no bowl game
2016 – 5-7, no bowl game
2017 – 7-6, beat Missouri in Texas Bowl
2018 – 10-4, beat Georgia in Sugar Bowl
2019 – 8-5, beat Utah in Alamo Bowl
More notably, Texas has not won a Big 12 Conference Championship since that 2009 season.
"I think [the Alamo Bowl win] taught a lot of the young guys that when you play together, you play mistake-free, you have fun, and then you lock in and play mistake-free; that our talent can take us pretty far, and then once you add in mistake-free football, watch out, " Ehlinger said. "And so I think that it's a great – I don't know how to word this – but I'm not going to do this again. I'll leave it at that."
"Smart move," Herman added.
Chapter three
:
Will Texas 'be back' in the 2020s?
While Ehlinger did not double down on "we're back," his comments about the UT program during the Alamo Bowl – and more importantly his actions – seem to show is confidence for Texas moving forward.
Ehlinger announced on Twitter he would pass on declaring for the NFL Draft to return for his senior season.
Whether or not "Texas is back" has yet to be determined.
Maybe the 2020s are where the Longhorns make their return to national prominence year in and year out. They've crept back into the top-ranked national recruiting classes, including their top 10 ranked 2020 class, which can be seen here.