AUSTIN, Texas — The 2023 NFL Draft is here, and after the 2022 Draft saw no Longhorns selected for the first time since 2014, the Burnt Orange will undoubtedly be well represented this time around.
With one player a seemingly certain lock to go in the first round, as well as four others widely expected to be off the board possibly as soon as the second or third round, the Longhorns will be adding some more alumni to the NFL this season.
Let's get to know the five Longhorns who will likely hear their names called before the NFL Draft concludes.
Bijan Robinson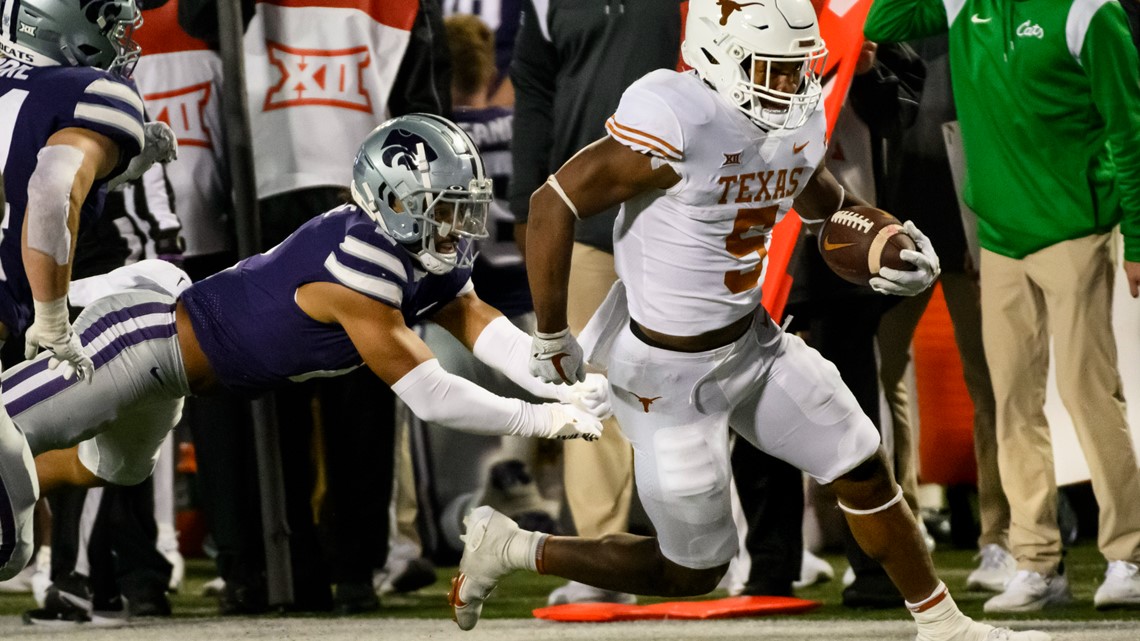 Undoubtedly the talisman of this Longhorns class, the question surrounding Bijan Robinson isn't so much if he'll be selected but when.
To further simplify, has his talent solidified his status as a top 10 pick, or rather will the lack of value placed on the running back position shift him to a later spot in the first round?
Regardless, Robinson's sheer talent and production alone has not only coronated him as Texas' top prospect, but as one of the Draft's best prospects altogether.
Totaling 41 touchdowns over a 3-year career for the Longhorns, paired with over 3,400 yards rushing and over 800 yards receiving, Robinson's skillset has earned him comparisons to NFL Hall of Famer and Falls County native LaDainian Tomlinson.
Mock drafts have had Robinson pegged to be picked everywhere from as high as the No. 8 pick, currently owned by the Atlanta Falcons, to as late as pick 30, owned by the reigning NFC champion Philadelphia Eagles.
Regardless of where Robinson ends up, he will be an immediate contributor in whichever offense he plays in.
Roschon Johnson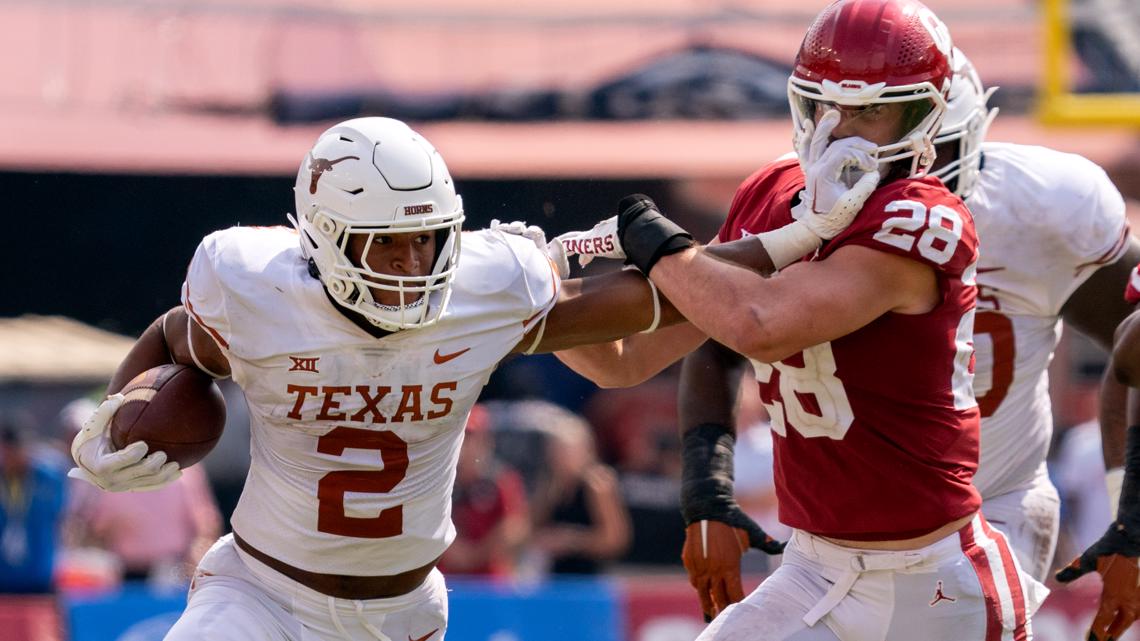 Robinson isn't the only Longhorns back expecting to hear his name called.
Senior running back Roschon Johnson hasn't gotten the same level of attention as his backfield mate, but he has quietly been a consistent contributor in his four years with the Longhorns.
Johnson ran for almost 2,200 yards with 23 touchdowns in his four years with the Longhorns. He also added three receiving touchdowns, although he wasn't used as frequently during pass plays as Robinson.
Johnson projects to the NFL as a short down power back, as his biggest weakness in college was his ability to effectively gain enough speed to separate consistently.
Johnson is expected to be a Day 3 pick.
DeMarvion Overshown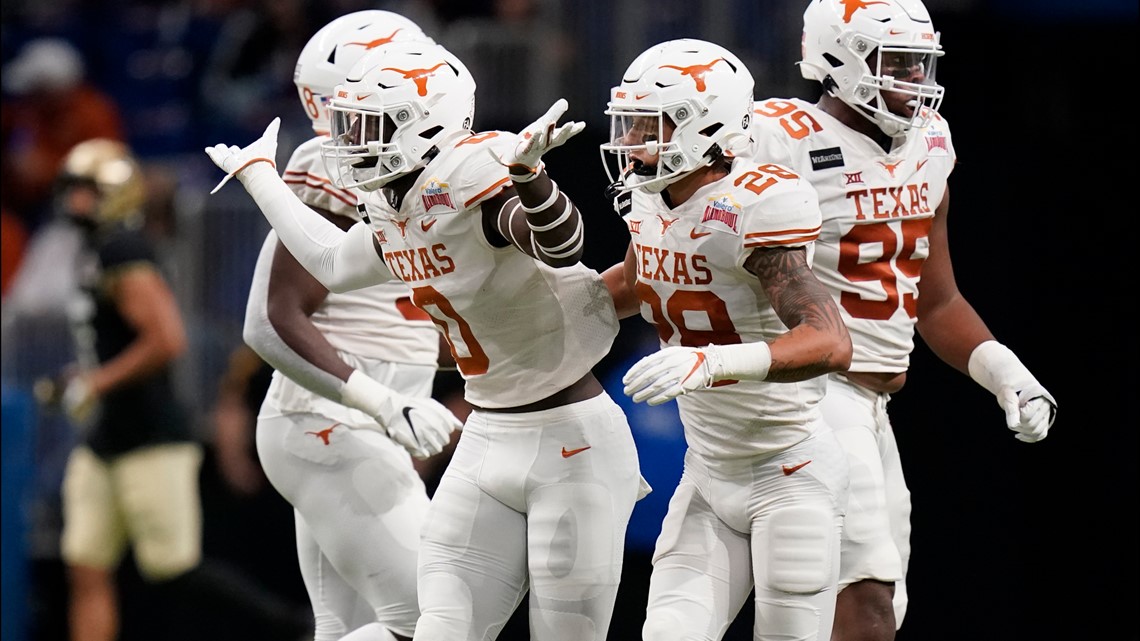 One of the most intriguing and fascinating prospects in the entire draft is linebacker DeMarvion Overshown.
A defensive Swiss Army knife of sorts, Overshown displayed the ability to play as a tried and true inside linebacker, an edge rusher, a nickel corner and even as a shallow strong safety at times. Overshown is the type of player that a creative defensive coordinator will likely froth at the mouth over due to his situational flexibility, akin to that of one of the best defenders currently in the NFL, Dallas Cowboys linebacker Micah Parsons.
The only thing inhibiting Overshown's stock is his lack of eye-popping collegiate stats. In 33 games, he totaled 165 total tackles – a number that isn't poor, but relatively average for a high-level NFL prospect – and just one forced fumble across four college seasons. For context, Parsons had 191 total tackles and six forced fumbles in two seasons.
However, his aforementioned versatility will likely be valued by numerous coaches, giving him plausible Day 2 value.
Moro Ojomo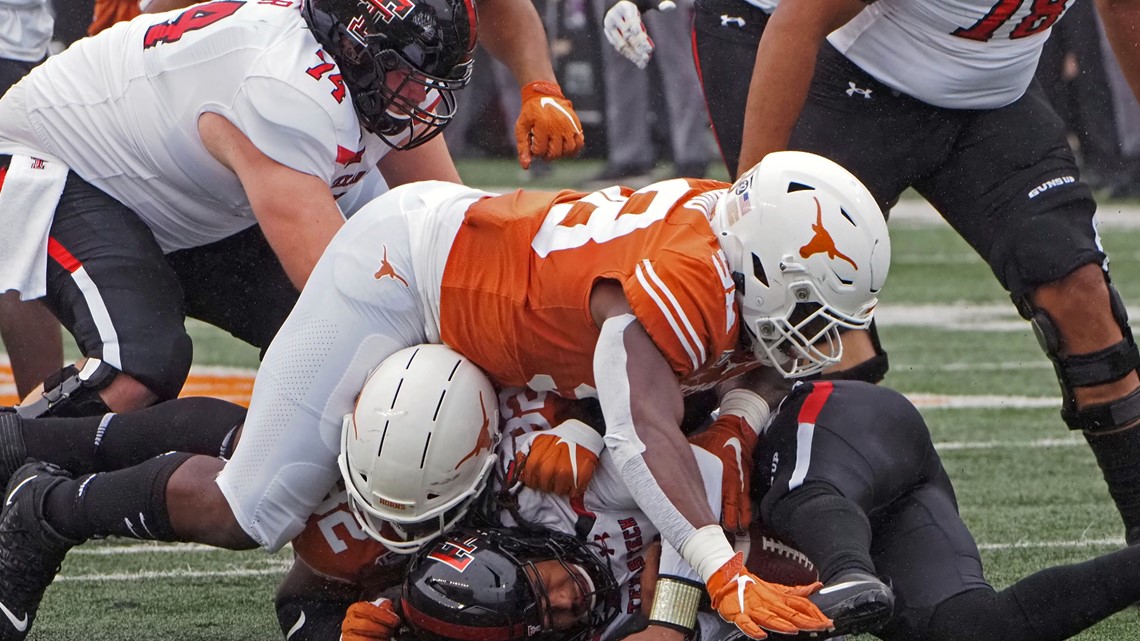 Considering that Moro Ojomo only started playing football in his junior year of high school, the fact that he is a likely NFL Draft pick is a remarkable feat by itself.
The Lagos, Nigeria, native had been a decent role player for the Longhorns in his first four seasons before breaking through as a fifth-year senior on the defensive line in 2022.
Ojomo recorded career highs with 32 tackles, 5.5 for a loss and three sacks in 2022, and had a total of 93 tackles and five sacks across four seasons of play.
Ojomo's issue is similar to Overshown's, in that while he is undoubtedly a talent on the defensive line, his college numbers don't jump off the page for an NFL-level prospect. Another thing that will probably affect his status is that the 2023 Draft is heavy on defensive tackle talent.
While Ojomo could potentially be taken in the later stages of Day 2, he will likely be an early to mid Day 3 pick.
Keondre Coburn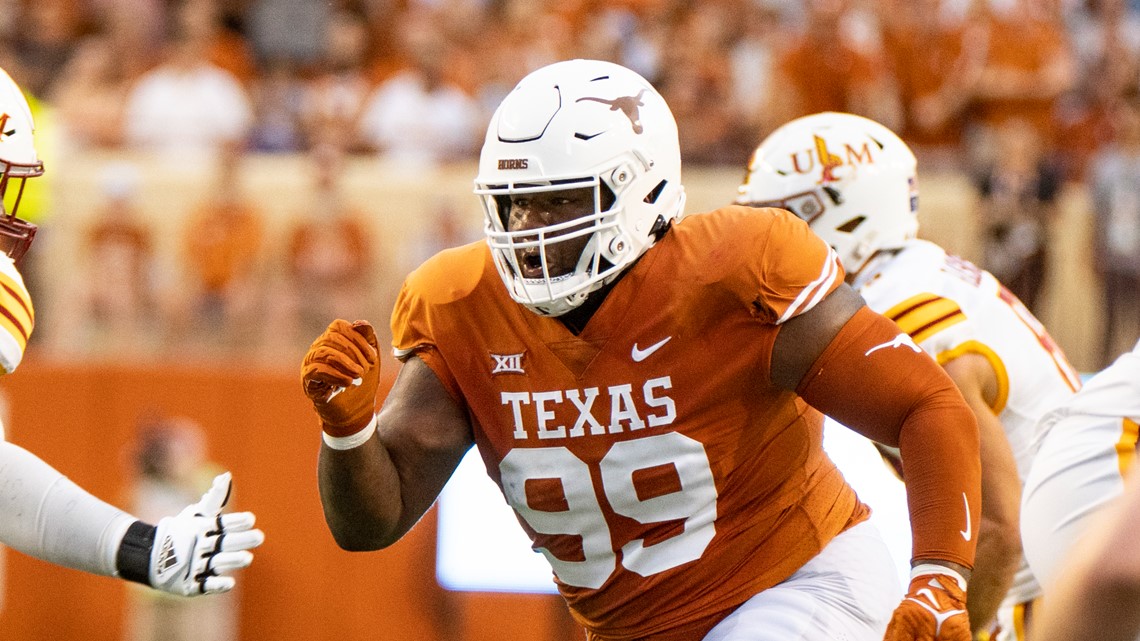 Keondre Coburn was a 4-year contributor for the Longhorns, totaling 94 tackles, 14 tackles for loss and 5.5 sacks throughout his career.
Coburn's measurables consistently ranked in the middle tier among defensive tackle prospects during the pre-draft process, causing him to face similar questions as his fellow defensive lineman Ojomo.
If Coburn is drafted, it will be on Day 3. However, his size and tackling prowess could certainly be valued by teams looking for an imposing nose tackle to help defend the run.