AUSTIN, Texas — Racing fans, get ready to burn some rubber: The first round of general admission tickets for the Formula 1 (F1) United States Grand Prix goes on sale on Monday, March 6.
Fans will have the option to get a limited number of 2-day grounds passes – the first of their kind at Circuit of the Americas (COTA) – for $425. Those who would like to attend all three days will need to pay $475 for a 3-day grounds pass.
Both options will be available starting at 10 a.m. on March 6. COTA will offer a payment plan to grounds pass buyers, and prices may change according to the release.
This year, COTA has the honor of being one of six tracks to include a "sprint race." The sprint adds an 8-point lead to whoever achieves P1 (position one) and points are awarded up to P8; P8 will receive one point, P7 two points and so on. The race, which only spans one-third of the track, provides the teams and drivers an interesting shape to the race itself because the driver that achieves P1 in the sprint will start for the Grand Prix.
Sprint pushes the traditional Quals race to Friday and reduces the number of practice races, which means teams have less time to prepare for the Grand Prix on Sunday. This creates the dynamic of the level of risk drivers are willing to take to win the top position because if drivers crash or don't finish they will start at the end of the grid on Sunday.
Currently, tickets for the bleachers are all sold-out – meaning that the only way fans can see the race is by sitting on various patches of "grounds" spaced out around the track.
If you'd like to splurge, you can purchase a 3-day Grandstands ticket, which ranges between $750 to $1,525 per ticket. The map shown below shows locations for Grandstands seats: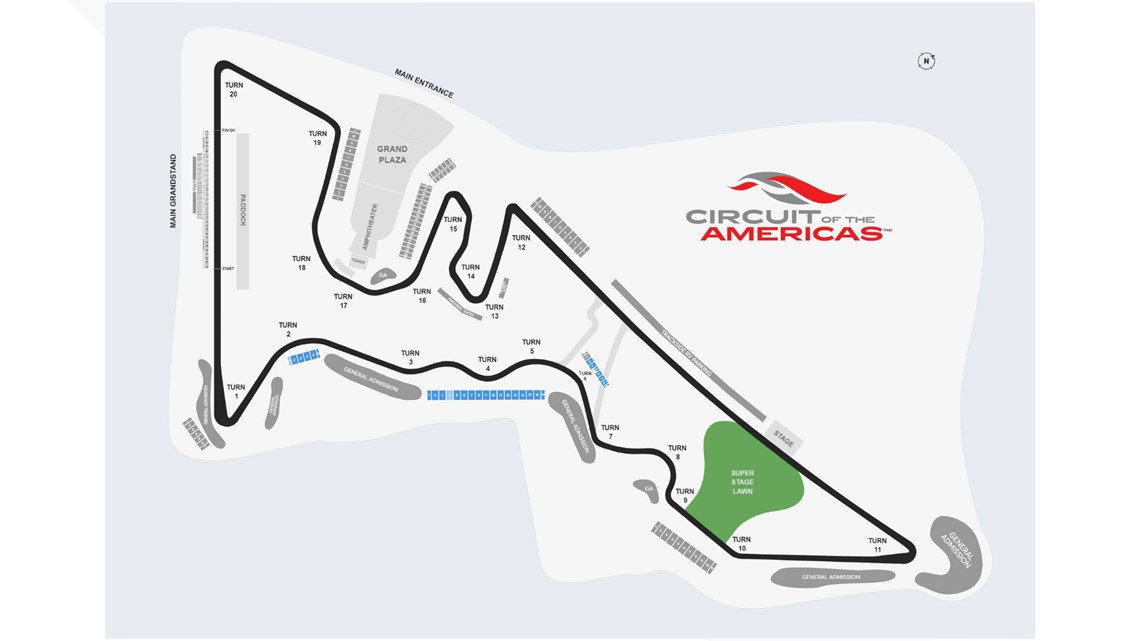 The locations for the various grounds areas can be seen on the map below. Everything that is highlighted in green is available for "general admission," which is what a grounds ticket will get attendees. These tickets do not guarantee an assigned seat like the bleachers tickets do – instead, attendees will go to any space on the grounds that is available at the time.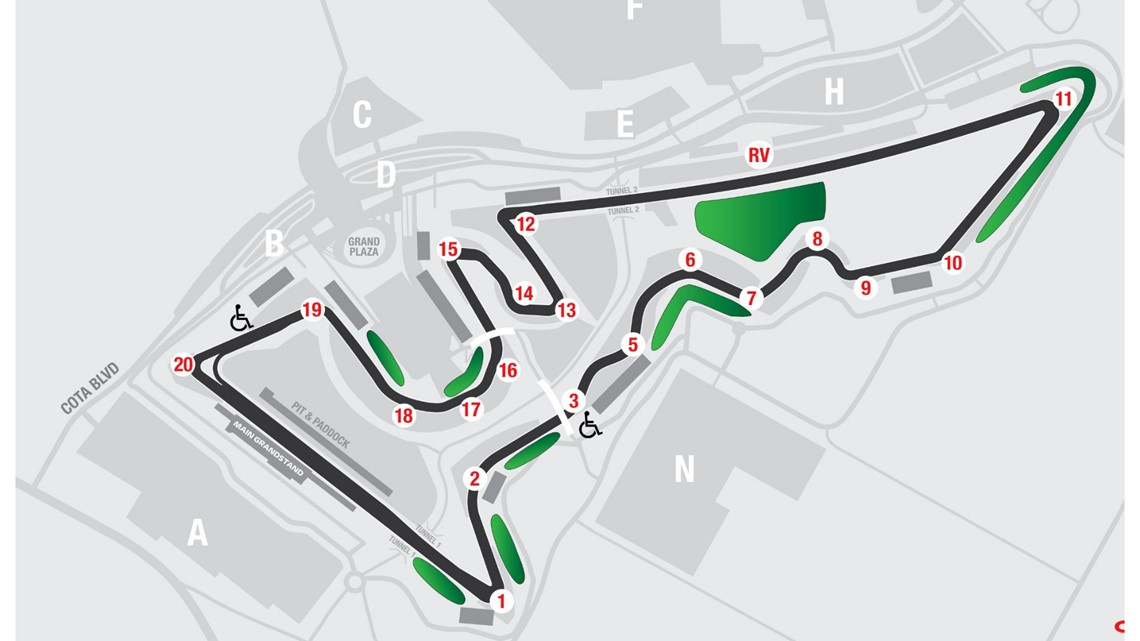 Compared to last year, the 3-day general admission ticket cost around $345, including additional fees – the baseline cost was around $295 without any fees. Now, attendees get the option to either have a 2-day pass, costing $425 not including additional fees, or $475 for a 3-day pass, not including additional fees.
This is a difference of around $180 for a 3-day pass, which translates to a roughly 61% increase in price this year.
Check out the COTA website for general admission ticket availability.