GILROY, Calif. — Gilroy police identified the Gilroy Garlic Festival shooter as Santino William Legan.
The shooter was killed after opening fire on the Gilroy Garlic Festival on Sunday. Three victims were killed and at least 19 others injured.
Authorities say he used a rifle and gained entry to the packed festival by cutting through a fence to avoid security measures, including metal detectors. Officials described the weapon as an AK-47 style rifle and said it had been legally purchase on July 9 in Nevada.
According to Gilroy Police Chief Scot Smithee, Legan once lived in Nevada but is from Gilroy. He had been living there as recently as Sunday's shooting.
The news of the shooter's identity came as a shock to people who have shared the same neighborhood with him.
For those who have lived in the same neighborhood as the shooter's home like Ernie Mendoza, there were frightening moments Sunday evening as police locked down the street.
"I was scared because... I think around 11 [p.m.] or 11:30 [p.m.], something like that. They advised us to close all the doors," said Mendoza.
A woman who lives across the street from the family of a man who opened fire at California food festival says SWAT officers came to the home.
Jan Dickson says the officers ordered those inside to come out with their hands up Sunday night and one person did. She says the parents had four boys: one who's a boxer and another who's a runner.
Dickson said Monday that they were "a nice, normal family." She says Santino William Legan hadn't lived there for at least a year.
A law enforcement official who wasn't authorized to discuss the matter publicly and spoke to The Associated Press on condition of anonymity said Legan opened fire at the Gilroy Garlic Festival on Sunday.
The shooting killed three people, including a 6-year-old boy, and injured about 15 before police killed the gunman.
Gilroy Garlic Festival shooting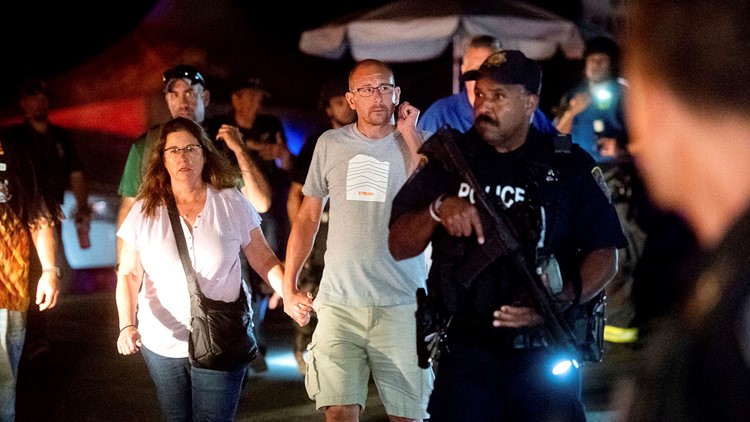 Mineral County District Attorney Sean Rowe confirmed the search by the FBI and local sheriff's deputies of one of three homes in a modest stucco single-story building overlooking Walker Lake a few miles north of Hawthorne, Nevada.
Mineral County Sheriff Randy Adams called the investigation ongoing and declined in a statement to provide information about what was sought or found.
A spokeswoman for the FBI in Nevada declined to comment.
Another apartment in the triplex appeared to be vacant, and no one answered the door at the third.
— Associated Press reporters Kathleen Ronayne in Gilroy and Michael Balsamo in Washington