AUSTIN, Texas — Technically, it's called "Loop 1." To Austin drivers, though, it's just MoPac, named after the old Missouri-Pacific railroad.
Farther west, Highway 360 also bears the name "loop."
Yet both roads are straight shots, taking travelers north to south.
Adrian Croom grew up in Austin and has wondered the same thing.
"They need loops," Croom said.
The Texas Department of Transportation said technically MoPac and 360 are loops because they connect or "loop" one highway to another.
"A bypass route," Terry McCoy, TxDOT's Austin district engineer, calls it. "Loop can be a partial ring, does not have to be all the way around a city."
McCoy has worked for the department since 1989.
KVUE asked him why Austin does not have a beltway or ring around the city.
"As Austin was developing, our city forefathers did not take the time," said McCoy. "Make the investment, do the planning that is required to have the clean rings around the city."
He adds that Austin is a very "special place" with "special constraints" -- environmental constraints to be sure.
But former Austin mayor Lee Leffingwell said it is also lack of political will, "to the problems that are involved with any major infrastructure program."
He said former mayor Roy Butler back in the '70s "wanted to build a cross-town freeway and that was shot down because of neighborhood opposition."
That opposition has been a constant fixture leaders must overcome for major highway projects.
Leffingwell said Austin has consistently underbuilt roads. MoPac for example, built in the '70s, "should have been built twice as big as it was."
"It was going to be the end of the world as we know it," said Leffingwell. "There was major opposition. It took many years to overcome that opposition to build this road. And when they did finally build it, of course, there were tweaks and compromises along the way and it wasn't as big as it should have been."
Construction of Loop 1 and Loop 360
MoPac or Loop 1 now extends from State Highway 45 in the north to State Highway 45 in the south, almost creating a loop around the city.
"So what we have are partial rings," McCoy said.
It's a partial ring, from State Highway 130 to SH 45 North, connecting to MoPac, extending to SH45 SW.
According to McCoy, "These provide that same function, but don't delineate the clean loops around the city that you have in other major metropolitan areas."
A final gap, just a few miles, remains to close the loop, with the opening of SH45 SW this month.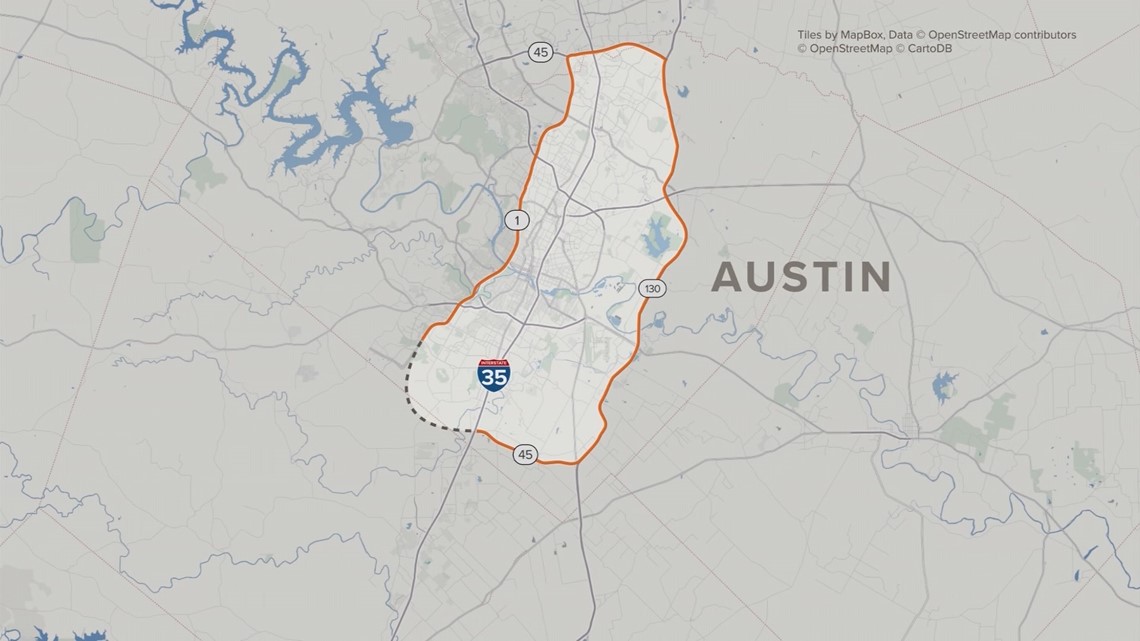 Leffingwell said that will be another battle.
"That last little segment is going to be fought tooth and nail by environmentalists primarily," said Leffingwell. "Because they realize that will be the connector and then there will be a complete loop."
Drivers say these fixes should have been made years ago.
"There's a lot of little things that can be done," said Croom.
Long-time leaders have learned "the traffic we know is going to come," said Leffingwell.
"We have to plan ahead instead of reacting."
A special place like Austin "comes with special challenges," McCoy said.
With more people moving here each day, the time to build and plan is now.
"Do as much as you can, as fast as you can," Leffingwell.
However, even though our counterparts in Dallas, Houston and San Antonio all have beltways or highways that form a loop around the city, they do not solve all traffic problems.