LIBERTY HILL, Texas — When 86-year-old Vina Milam paid $8,800 for construction work, she thought she'd would have a safe driveway at her home.
KVUE Defenders told you the contractor, Robert Lovell, disappeared. Milam's driveway was a pile of loose gravel and what looked like painted grass. Shortly after our story aired, two contractors stepped in to help.
"Yeah, we'll take that gravel out and we'll lay a nice concrete driveway down on it," said Ryan Soper, owner of Soper Construction in Round Rock.
"We saw it on TV, and we live in and work in this community, and we said, 'We can do something here,'" said Rodney McCarn, general manager for Texas Concrete.
"You don't know how much I appreciate this," said Milam.
Driveway construction for elderly woman out $8,800 for construction work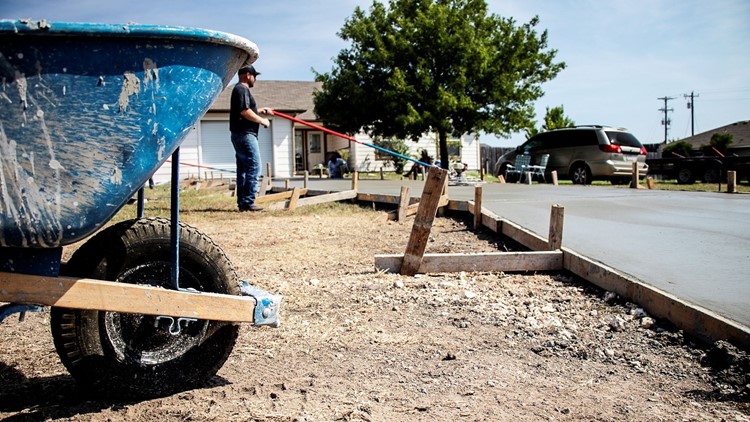 It took less than a week for crews to scrape out the old pile of rocks, build a frame for the new driveway and pour in the concrete.
"Mom always said if you do something good it comes right back in a circle," said Milam.
Milam is grateful for the volunteer work from the community. She spent 53 years volunteering.
"I volunteered until I moved here and had heart surgery," said Milam.
Shortly thereafter, she became dependent on others.
"I grew up thinking everybody was good. I am supposed to know better," said Milam.
Milam survived her husband and three of her four sons. Her only living son travels for work.
"I can adopt you. Then, I'll have four sons again" she said about the men working. "I wouldn't take a million dollars for you guys."
"I was scrolling through Facebook and I saw your post on the driveway and how she got taken advantage of," said Soper. "This is just atrocious. The fact that contractor would come in here and take advantage of an elderly person, who might not know what the price should be on something like this, it was unspeakable to me."
"I personally live in this community. To be able to give back, that's what it's all about," said McCarn.
Before the concrete set, the crew did one more favor.
"I wish I had these workers here with me for a picture," said Milam.
They helped Milam keep the day solidified, too.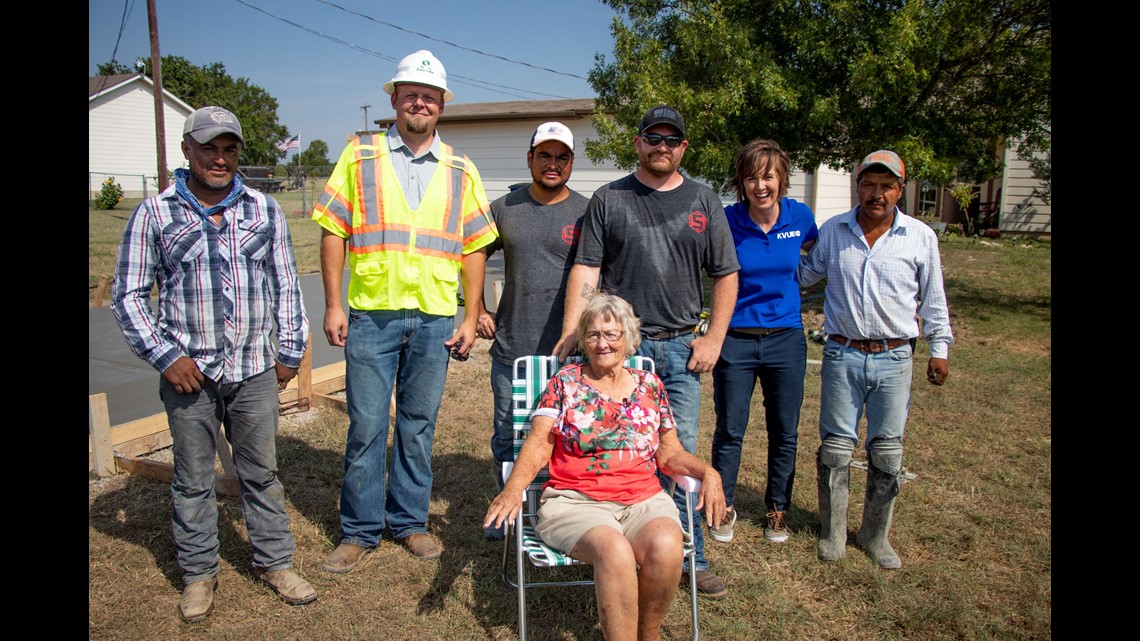 Texas Concrete suggests ways to protect yourself when dealing with a contractor:
A common scam to beware of, particularly in the summer, involves individuals presenting themselves as contractors or affiliated with well-known concrete or asphalt companies. They offer "leftover material" from another job for a discounted price. They'll often drive around in unmarked trucks or have an unfamiliar/out-of-town address and phone number that may not even be real.
"Leftover material" is a classic giveaway of a potential scam. A reputable contractor will not often have too much leftover material because they calculate ahead of time how much will be needed for a given job (it doesn't make sense to haul around more than you would need for the work, especially because the longer the asphalt or concrete is in the truck, it begins to degrade in quality. So, it's not advantageous, even from a quality standpoint alone, to have someone pour your driveway out of old leftover material).
A trustworthy contractor will also not push you to make a decision on the spot, nor will they insist on cash-only sales. Instead, they will produce a formal, itemized quote and contract for you to review and sign.
At the end of the day, if a price seems too good to be true, it probably is. So, just be aware and do your homework before committing.
When creating this story, two more contractors asked if they could help Milam, showing that the kindness of Texans still echoes throughout our community.