AUSTIN — The 2018 midterm elections in Texas generated enormous interest across the state and across the country with the most-closely contested U.S. Senate race since 1978.
KVUE carried out its own campaign, but not for or against any candidates.
The message in this campaign was simple: Vote Texas!
In the months leading up to the midterm election, KVUE — under the custom unique brand of "Vote Texas" — rallied Texans to get out the vote and provide in-depth information about the races.
"Texas has been ranked 47th in voter turnout with lower numbers of young people and minorities showing up to the polls," said KVUE president and general manager Kristie Gonzales. "We wanted to do something big about that, so we invested $367,409 of our airtime to encourage our diverse audience to vote."
RELATED:
RECAP: Republicans stifle blue wave in 2018 Texas Midterm Elections
Democrats win House: So what happens next?
From mid-August through election day, KVUE aired 23 different "Vote Texas" promotional messages that ran 790 times. If you added up all those messages, they would have lasted for three full hours.
VIDEO: Why KVUE wants you to vote
These promos included anecdotes from KVUE anchors and reporters about their personal voting stories, as well as clips from various chambers of commerce throughout the Austin area, and KVUE viewers.
PHOTOS: Voters show off their "I Voted" stickers
PHOTOS: Voters show off their "I Voted" stickers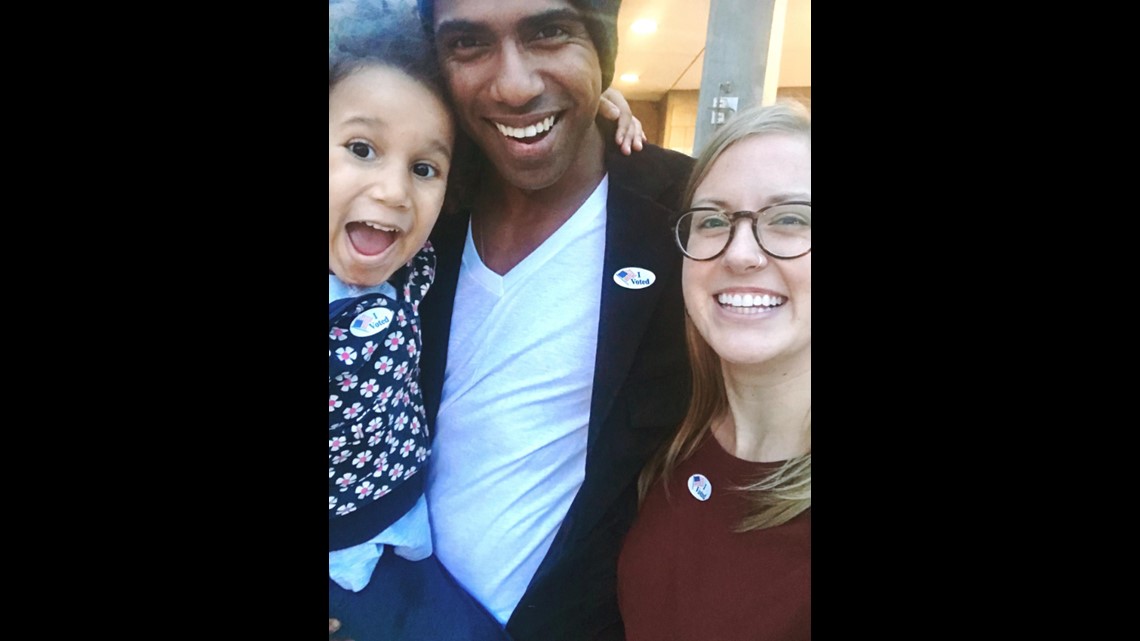 According to a report by the Pew Research Center, "A large percentage of Texans are young people and Latinos, two groups of people who are less likely to vote than the general population.
Statewide, 2018 turnout was more than eight million, historically high for a mid-term election.
In Travis County, a record 483,050 voters cast ballots, even higher than the 477,588 who voted in the 2016 presidential election.
MORE:
Voters turning out in record-setting numbers in Austin area, across Texas this 2018 election
Travis County sees record voter registration, analyst says change is only made at the polls
In addition to reporting on all the races throughout the year, KUVE political reporter Ashley Goudeau hosted a segment in every Sunday Daybreak program called "Texas This Week" that explored all the issues on the ballot, as well as the importance of voting.
"Voting is more than a right; it's a responsibility," said Goudeau. "And as a journalist, I believe it is my responsibility to help ensure our community is armed with facts so everyone can make the best decision for them. It was a privilege to help build KVUE.com/VoteTexas and encourage my neighbors to exercise their civic duty."
Inside KVUE, staff wore "Vote Texas" t-shirts in a promotional campaign to explain their individual reasons for voting and encourage viewers and digital visitors to vote.
KVUE socialized a special "Vote Texas" video including many of those comments and placed it prominently on its website, as well as creating an online voter guide at KVUE.com/VoteTexas where Texans could read up on all the races before hitting the polls.
The unique KVUE "Vote Texas" logo appeared in all content, social videos, on-air supers, promos, and t-shirts worn by both staff and Central Texas viewers.
On election night, the KVUE news team provided non-stop live video coverage from 7 p.m. to 11 p.m. on KVUE-TV, KVUE.com, Facebook and YouTube.
The KVUE digital team published more than 40 digital articles on the results of all the races and issues that Texas voters decided during the midterm election.
"I'm proud of the KVUE Marketing team who conceived and owned 'Vote Texas' to give our Central Texas viewers a comprehensive guide to the mid-terms via on-air and digital content," said Colleen Hartman, KVUE director of marketing and digital. "Seeing #VoteTexas trend on Twitter shows the common-language approach was resonating in this historic election with a national spotlight on the Lone Star State."
Top races included the contest for one of the two U.S. Senate seats from Texas between Sen. Ted Cruz (R-Texas) and Rep. Bet O'Rourke (D-El Paso) as well as other statewide races including governor, lieutenant governor, attorney general, comptroller, agriculture commissioner, railroad commissioner, land commissioner and five Austin City Council races in addition to the race for Austin mayor.
Cruz won re-election by three-percentage points, the closest U.S. Senate election in Texas since 1978.
RELATED:
Ted Cruz takes victory over Beto O'Rourke in race for U.S. Senate in Texas
Beto O'Rourke won the 5 biggest counties in Texas. How Ted Cruz made up ground for a win
Twitter lights up after Texas Senate race, calls for Beto O'Rourke to run for president
The City of Austin asked for nearly $1 billion in taxpayer dollars through several Austin propositions. The "Vote Texas" coverage included digital and television coverage of the passage of all those questions. KVUE coverage also included analysis of the much-talked about blue wave and its impact on an election in what had become a reliably Republican state.
"We knew this wasn't a typical Texas election, and we treated it that way throughout the election season," said Tim Ryan, KVUE news director. "We know that in spite of all the differences our viewers have about important political questions, they all agree that voting is critically important, to make sure our leaders listen to every voice."
VIDEO: Agree or Disagree to vote in 2018
"The political landscape has always been a hot topic among our viewers," said KVUE assistant news director Jennifer Wiggins. "Knowing that, it was important that viewers had a place where they could turn to, to get all the information on candidates, their positions, where to vote, as well as ballot explainers. We wanted KVUE to be the one stop shop for everything related to the election."'
RELATED:
Why should you vote? Here's what the Austin Chamber of Commerce had to say
Here's how you can register before Oct. 9 deadline
KVUE's website traffic on election night comprised almost a third of the site traffic for the month of November so far. With more than 218,400 visitors and 928,306 page views on election day, KVUE was one of the prime spots for election coverage for Central Texas.
KVUE also won the Austin market for social media on Facebook with 100 Facebook posts and more than 37,000 interactions.