The Travis County Republican Party has followed through with their decision to remove controversial chairman Robert Morrow from office.
The Travis County Republican Party held a hearing Friday morning to discuss their plans.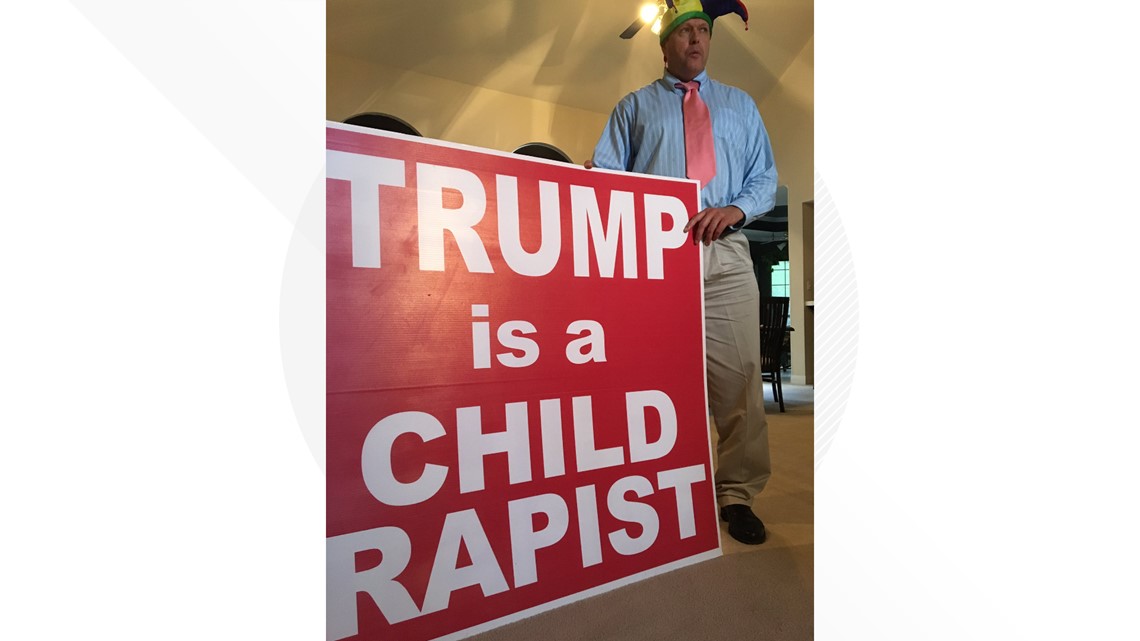 Guess who's at @TravisGOP hearing on removing their chair? BTW -- he says their reading of bylaws is right pic.twitter.com/vPNtW4l8lo

— Mark Wiggins (@MarkW_KVUE) August 26, 2016
Video posted by YouTube user James Kip shows Morrow being forcibly removed from the grounds of the Travis County Exposition Center on Tuesday, where Republican presidential nominee Donald Trump staged a last-minute rally following a fundraiser and television taping in Austin. Morrow spent the day trailing Trump with a sign referencing an obscure New York lawsuit.
Morrow was elected to office in the March primary, which he won by eight percentage points over party favorite James Dickey. Morrow's penchant for controversy -- especially his social media posts -- has left the party establishment apoplectic. Not long after his election, other county officeholders voted to limit his power.
In addition to sporting a giant "Trump is a child rapist" sign, Morrow told rally-goers Tuesday he had registered as a write-in candidate for president. In a video posted to Twitter by Dallas Morning News reporter Brittney Martin, Morrow promised, "If I'm elected president, every Fourth of July, we're going to have a wet t-shirt contest at the White House."
Robert Morrow, head of Travis County GOP, says he's running for president, promises wet t-shirt contests pic.twitter.com/ntAekfe2Ey

— Brittney Martin (@BeeDotMartin) August 24, 2016
A memo appeared on the Travis County GOP website Wednesday, once again distancing the party from its chair.
"Robert Morrow may have been elected county chairman in March, but his conduct and message at the Aug. 23 Donald Trump events do not reflect the views of the Travis County GOP," read the message. "While Mr. Morrow does get his share of disproportionate publicity in the media circus, in reality, we have successfully used this situation to expand grassroots representation and safeguard our party resources. We're stronger than ever before!"
On Thursday, the party sent an e-mail announcing a coup.
"Acting Travis County Republican Party Chairman David J. Duncan is scheduled to make an important announcement Friday morning involving the future of the local GOP," the e-mail stated. While party members are keeping quiet until Friday's announcement, Republican Party of Texas Chair Tom Mechler issued a statement Thursday afternoon explaining the basis for removing Morrow.
"In accordance with state law, upon filing as a write-in candidate for President of the United States on August 19th, 2016, Robert Morrow became ineligible to hold the office of Travis County Republican Chair," wrote Mechler. "There is absolutely no place for rhetoric as distasteful as Mr. Morrows in the Republican Party of Texas. We are excited to move forward with the Travis County GOP and the new incoming Chair as soon as an election is held to fill the position."
"They're sore losers. They're party hacks," Morrow told KVUE Thursday.
"Tuesday was a huge score because I embarrassed the dickens out of Donald Trump and told everybody he's being sued in a New York federal court for raping a thirteen-year-old girl in 1994," said Morrow.
The lawsuit in question was filed June 22 by attorney Thomas Francis Meagher, and includes graphic allegations made by an unnamed "Jane Doe" client. A scheduling conference has been set for September 9 by U.S. District Judge Ronnie Abrams. Trump's campaign did not respond to an invitation to address the suit.
"But beyond that, you know, Ted Cruz, a sitting U.S. Senator, is not going to vote for Donald Trump," Morrow added. "The Bush family can't stand him, even though George P. supposedly endorsed him, he didn't show up for Donald Trump when he comes to town. So Donald Trump is going to make a lot of Republicans lose their offices in down ballot tickets. So he's the problem, not Robert Morrow, the current chairman of the Travis County Republican Party."