AUSTIN, Texas — Austinites voted to approve Capital Metro's $7.1 billion transit plan known as Project Connect in the November election, and now leaders are figuring out what the next steps are to bring the plan to life.
Project Connect will add two light rail lines, another commuter rail line, additional rapid bus service and more to Austin, with the potential to expand in the future to service areas like Tech Ridge and Elgin.
During a meeting Monday, Nov. 23, Capital Metro board members discussed the first step in getting the project up and running: Creating the Austin Transit Partnership board.
The new, independent and local government corporation will help ensure that Project Connect is completed on time and on budget.
The ATP has five seats. Here's how ATP members will be appointed:
The City will have one seat, which is expected to be the mayor or a city council member.
CapMetro will also have one seat, which is expected to either be the CapMetro board chair or another board member
There will be three seats filled by community members with expertise in engineering, finance and community-building
The deadline to apply to sit on the board is open through Dec. 2. You can apply online.
At the meeting, board members also discussed the first stages of the project's timeline.
On Dec. 18, the ATP board members will be selected, and on Jan. 20, those board members will hold their first meeting to adopt bylaws, the budget and to elect officers.
Here's a more detailed look at how the next several months will look: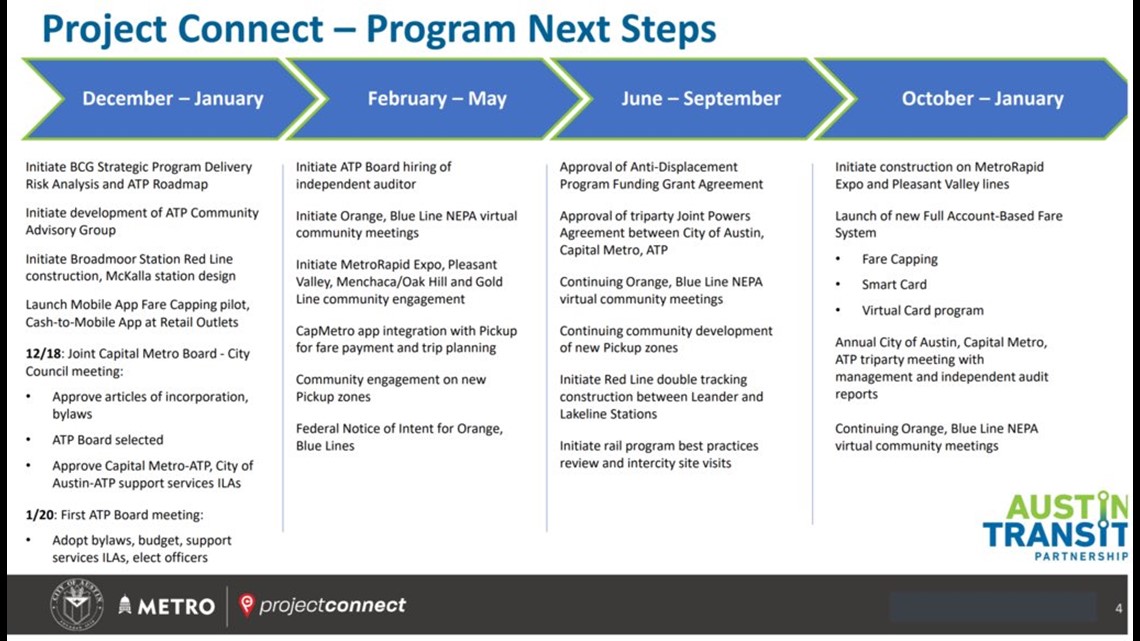 KVUE created an interactive map to illustrate what is included in the initial investment for CapMetro's "Project Connect" transit plan. Here's a timeline of the project's lengthy construction schedule.
The initial investment for Project Connect includes:
Blue Line: A light rail line running from Austin-Bergstrom International Airport (AUS), connecting through the downtown station and running north to Lamar Boulevard at Highway 183
Orange Line: A light rail line running from North Lamar Boulevard at Highway 183 south to Stassney Lane, connecting through Republic Square
Downtown Transit Tunnel: The underground tunnel would run more than 20 city blocks (1.6 miles) from Cesar Chavez Street to 11th Street, from Guadalupe Street to Trinity Street, and from Fourth Street to the cul de sac near Lady Bird Lake at Trinity Street.
Green Line: Like the current Red Line, the Green Line would serve as a commuter rail running from downtown to the Colony Park neighborhood in East Austin
Gold Line: A new rapid bus route going from the Austin Community College Highland area, through the Downtown Station to the Republic Square Station, then south to a new South Congress Transit Center at Ben White Boulevard
Three more new MetroRapid routes, which are buses with frequent service and a limited number of stops
Neighborhood Circulators: 15 new zones or vehicles would be added to help neighborhoods gain better access to the main transit lines
Community Displacement: A $300 million investment that would help communities affected by transit line creation and construction
Other features including park and rides, customer technology systems and maintenance facility improvements
MORE PROJECT CONNECT COVERAGE: