The Austin Transit Partnership (ATP) has now officially made its recommendation from five possible routes, presented based on public feedback.
Five choices have been narrowed down to one recommendation on where a light rail line should be located. The ATP is now putting forth its pick to be voted on by the Capital Metro board and the Austin City Council.
What are ATP officials saying?
"A few key characteristics we want to note here are really the connections to key destinations and the key opportunities that this phase provides," said Lindsay Wood, the executive vice president of engineering and construction for ATP.
The recommended route connects 38th Street down to South Congress Avenue and then splits to continue south or run east. For now, it will mostly run at-grade, essentially meaning on the street.
"Being on-street allows us to be the most accessible system we can build and be accessible to as many people as possible, particularly disabled," said Peter Mullan, the executive vice president of architecture and urban Design for ATP. "I think we have the opportunity to really enhance the streetscape and the vibrancy of our downtown environment, to invite even more people to use the system and to really integrate the system into the urban realm as part of this proposal."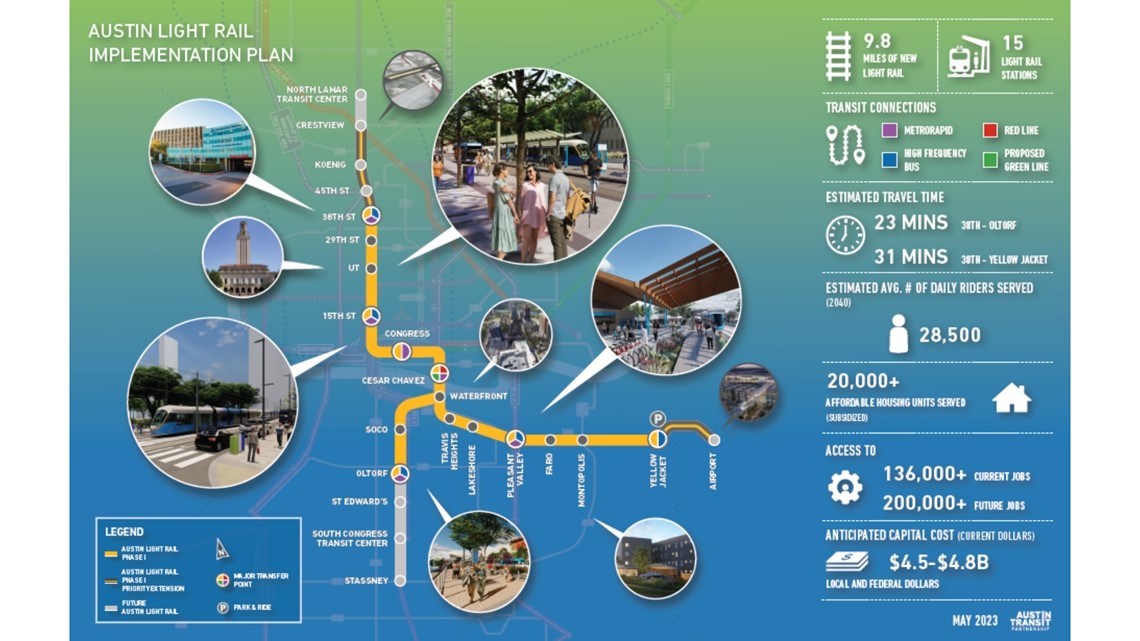 What do transit advocates think?
The ATP's recommendation is a departure from the proposals Austinites initially saw in 2021 after approving Project Connect. But even with the changes, transit riders like Nancy Crowther have been supportive of accessible options from the start.
"I have a disability where I cannot walk. And I have been using transit ever since it became accessible," Crowther said. "I helped with accessibility and training people how to use the bus who don't have any other options. I don't have another option because I can't drive or own a car."
For those like Daniel Kavelman, transit is not only a necessity for him – it's also become an affordable option for his lifestyle.
"I got into a head on crash last year that totaled my car and with the amount that I was driving and used car prices, it just didn't make sense for me to spend all this money buying a car," Kavelman said. "It can be, you know, upwards of $10,000 per year. And my bus pass is $11 a week or you a $40 a month. One, it's a lot cheaper."
When it came time to choose what route he felt was best, Kavelman said the ATP recommendation reflects his thoughts and input.
"My first thought is that ATP definitely listened to everybody that they were talking to. They took a lot of different considerations, and they had good metrics that they made very digestible," Kavelman said.
Both he and Crowther believe that those who aren't sure of transit needs should take the buses and trains themselves.
"They should try to squeeze on to the 801 or the 10 during commute times because people are riding these," Kavelman said.
Thoughts from transit experts
Transit expert and civil engineer Brian Gettinger said on-street trains like these can pose dangers to pedestrians and make traffic worse.
Those concerns were echoed by others at ATP's board meeting Wednesday. Gettinger said there are better options.
"You look down at San Antonio and they're going to spend $400 million, instead of $5 billion – ten times less money – to build a system that's longer, with more stations. It's all running at-grade, just like it is here in Austin, but for a tenth the cost," Gettinger said.
That plan involves buses that he said cost less and offer more routes, while also being safer for pedestrians.
Gettinger also believes buses could have dedicated lanes in Austin and offer the ability for growth with new tech like autonomous vehicles.
"Light rail is not forward adaptable. You get what you get and 50 years from now, it's going to be exactly the same," Gettinger said.
ATP leaders said their pick for light rail will open transit to a lot more riders and more jobs. The first phase is set to cost about $5 billion, and Austin's city council is set to vote on ATP's recommendation next week.