AUSTIN, Texas — A dozen people have died on Austin roads in the past month, making up nearly half of the traffic deaths so far this year for the city.
According to Austin Police Chief Brian Manley, 12 pedestrian fatalities have been recorded in Austin so far for 2019, which is a 50 percent increase to the amount at this time last year.
"We're seeing some trends that are concerning to us," said Chief Manley.
Manley said 11 of those fatalities occurred in areas not meant for crossing and six of the deaths occurred on I-35 or its frontage roads.
11 of the victims in the pedestrian crashes were also members of the homeless community in Austin, according to Manley.
Manley went on to say serious injury accidents that did not end in a fatality and involved people driving while intoxicated are up 180 percent with 14 so far this year compared to five by this time last year.
Manley said there is no excuse for driving drunk, distracted driving due to cell phone usage or to not wear a seat belt.
Manley said there will be more activity on Austin roads in the coming months and it is important to use more caution. He said July is statistically the highest month for traffic fatalities in Austin.
Between April 14 and May 14, 12 people died in crashes in Austin. Four of the deaths were pedestrians; two of whom had tried to walk across I-35.
Thirty people have died in traffic crashes in 2019 so far. During the same time last year, only 23 people had died in traffic crashes, according to an Austin police press release.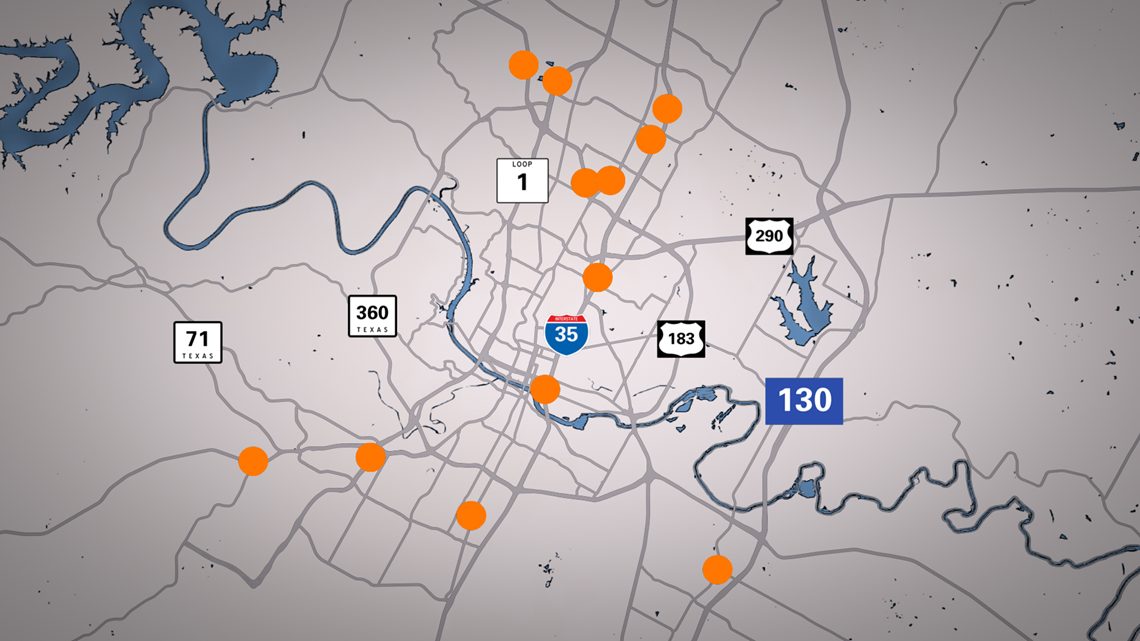 In 2018, there were a total of 75 traffic fatalities in Austin, compared with 76 in 2017, 79 in 2016 and 103 in 2015, online records show.
The city adopted the Vision Zero Action Plan in 2016 in an effort to improve safety for drivers and pedestrians. Its goal is to eliminate traffic deaths and serious injuries on Austin roads by 2025.
A year later, the Austin Transportation Department and Austin Police Department partnered for the city's Vision Zero in Action, a united education and enforcement effort to combat what the city calls a "preventable public health problem."
"It's a problem. We're seeing an increase in traffic fatalities and serious injuries on our roadways compared to prior years, so we're doing everything we can to address that," Lewis Leff, a transportation safety officer with the Austin Transportation Department, told KVUE.
He hopes the community and the city work together to solve the problem.
"It's not going to be just an engineering solution or an enforcement solution, but it's going to take a combination of a lot of efforts in order to reach out goal of zero traffic fatalities and serious injuries on our roadways," said Leff.
KVUE reached out to the Austin Police Department for comment, but the department did not make someone available. Instead, a spokesperson said Chief Brian Manley will address the media on Friday about this spike.