Before a wall was constructed along the U.S.-Mexico border, thousands of people had already buried their loved ones there. Now, hundreds of those cemeteries – some of which date back to the birth of our nation – have been forgotten.
In Cameron County, Texas, there are dozens of neglected border cemeteries. Some are hidden in dense brush, while others stand out like desolate islands in the middle of harvested fields – all remnants of ranch communities that no longer exist.
The abandoned cemeteries are a symptom of passing time, according to Eugene Fernandez, Historic Brownsville Museum's site manager who has mapped the grave sites.
"There really is a social tendency in this society to live for today," said Fernandez. "And hence you have these forgotten people out here in the outback."
However, others living along the border point to another obstacle: the wall.
While some of the cemeteries technically sit on Texas land, anyone who wants to visit them must drive through gaps in the border wall. It's completely legal, but some people are still wary of making the journey.
"They were insecure or not sure if you can go through," said Juan Jose Gonzalez. "I know we can, but a lot of people don't know that, so they stop coming."
But people with relatives buried in the cemeteries are trying to change that.
Working to preserve family and history
A little more than a year ago, Juan Jose Gonzalez learned that the woman he called "grandma" was actually his step-grandmother. It became his mission to find his biological grandmother.
Eventually, during the summer of 2017, he found her in a forgotten cemetery less than a mile from Mexico. But it wasn't pretty.
Santa Rosalia Cemetery, home to Gonzalez's grandmother Juanita Gonzalez and more than a thousand other graves, was overgrown with brush. The tops of headstones barely peaked out of the grass that stood 6 feet tall. It was clear no one had visited in at least a decade.
He also discovered several other relatives buried in the cemetery, including his great-grandfather, and 17 forgotten war veterans.
"I had to do something," said Gonzalez.
With a group of volunteers, Gonzalez created the Santa Rosalia Preservation Society. As the cemetery's unofficial groundskeeper, Gonzalez visits at least three times a week to pay his respects to his relatives.
The group now looks after five generations of family and history.
"When I found out that I had ancestors here, and it was forgotten, I took it upon myself to make sure they weren't forgotten anymore," said Gonzalez. "Not on my watch."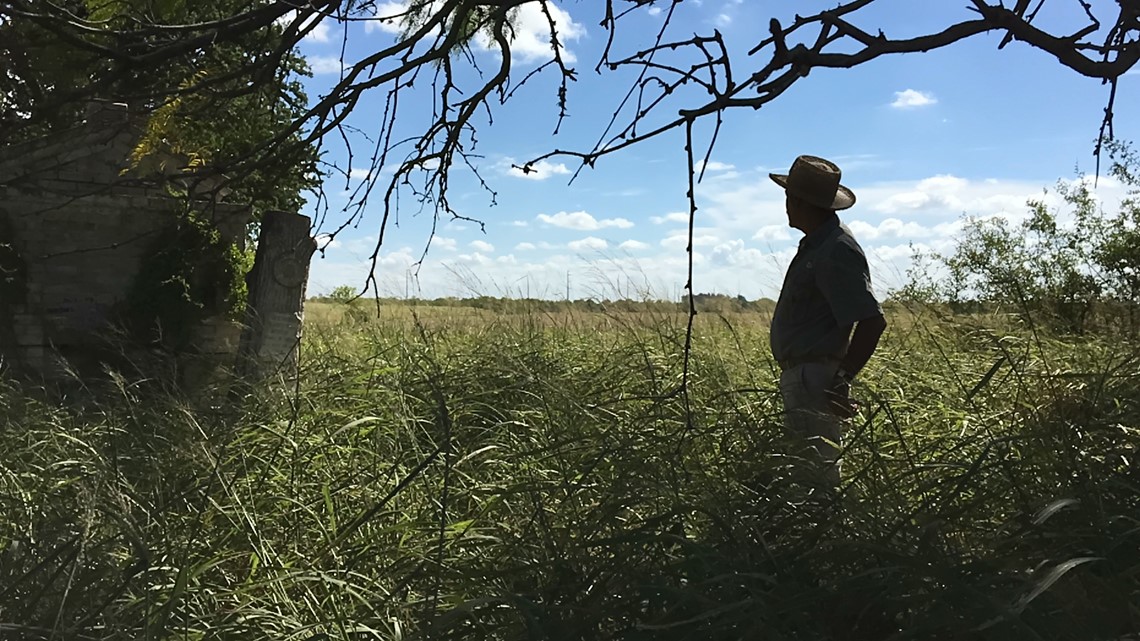 A journey through the border wall
A lone grave sits in the middle of a harvested corn field – just one of the many forgotten border cemeteries.
The name on the grave: Santos Cisneros Peña.
Like Gonzalez, Fernando Peña didn't know where to find his lost loved ones. But he learned he might be one of Santos Cisneros Peña's relatives.
But to visit the grave in the corn field, Peña had to cross through a gap in the border fence. At 77 years old, he'd never driven through the gap in his life.
He made the journey and visited the lone grave and Santa Rosalia Cemetery for the first time. Even if the names and the dates on the graves seemed to match, Peña had no way to be sure if they were his family.
But honoring his ancestors is important to him.
"The most important reason to honor your ancestors is to have a notion of how they lived and where you come from," said Peña.