Why an $85 million Texas lottery winner works so hard as sheriff
Robert Chody is moving up in the world, and it's not just because he and his wife won $85 million 17 years ago. Now a county sheriff, we check in on how he's changed the Williamson County Sheriff's Office.
Have you ever fantasized about what you would do if you won the lottery? Buy a house? A boat?
For most of us, we fantasize about quitting our jobs and living out the rest of our lives in luxury.
And for lottery winner Robert Chody, that could very well have been the life he chose to live with his wife and four kids. In 2001, Chody and his wife, Beverly, won $85 million in the Texas Lotto jackpot, taking home $51 million of it.
Instead of taking it easy, Chody decided to run for sheriff of Williamson County.
He won, and after one year in office, KVUE got an inside look at how he's changing the way the department is run, one day and one tweet at a time.
Each day, Chody said he makes it a point to try and visit the Williamson County Jail. He gets to know the jail staff, the inmates and check on the day-to-day operations.
"I'll come in at two in the morning sometimes, I can't sleep at home or something," Chody said as he secured his gun outside the jail intake facility.
Walking in, we quickly learn Chody makes it a point to know people's names, jobs and personal information.
"Hey, you be safe out there and listen to your FTO, OK? Good luck to you sir, watch your back," Chody said to a jail employee walking by.
In the intake facility, inmates nod at Sheriff Chody as he walked by. Chody nodded back, before recognizing one of the deputies and walking up to him to shake hands.
"Hey, you tell your Chief Deputy happy birthday today. You know it's AJ's birthday today, right?" asked Chody.
"Oh, is it," the deputy replied.
"You didn't know it was your boss's birthday," Chody asked laughing.
Next, he brought us inside what's called a "pod." It's a large room filled with tables, showers and beds for the inmates with nonviolent crimes.
Since taking office one year ago, Chody has made some changes to the jail, including the pods. He said they received complaints about the mattresses. So now, in an effort to increase overall morale and improve safety, the mattresses come with a pillow and are assigned to individuals.
Chody also added one microwave in each pod after talking to inmates.
"They're happy, they feel like they have their morning cup of coffee. That's something they weren't getting and we've had no issues with that," Chody explained. "It's not about being inmate friendly, but they are human beings."
Chody hopes with these small changes, the inmates act better overall and it increases safety within the Williamson County Jail.
In another part of the jail we find the inmates with more serious offenses and hallways under constant watch.
One of the floors houses inmates that are on "suicide watch." Inmates from the pods are assigned shifts to walk up and down the hallway checking for anyone trying to commit suicide.
"State law requires every 30 minutes. We do every 15 minutes," Chody said about the patrols up and down the hallways.
"We've already prevented, since I've been in office, three or four suicides," he said. "Actually taking them off from hanging themselves. And they get no recognition for it except what I tweet out."
That recognition is important to Sheriff Chody. In his first year in office, Chody has grown his social media presence: thousands of Twitter followers now more aware of what's happening in Williamson County's 1,100 square miles.
It's been a big adjustment for some of the deputies at the department who have been there a long time.
"Tweeting, social media: it's different for some of us that have been around here because we're not used to that," said Criminal Investigations Commander Tony Carter. "We needed someone to take us into the 21st century and we got that, we got that with Sheriff Chody."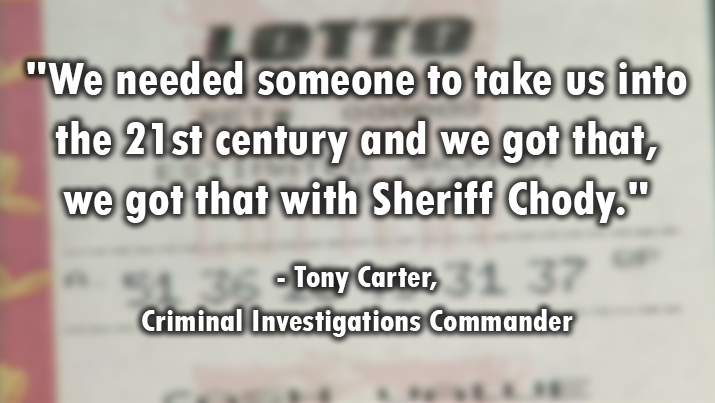 "He stays up and he will be on that phone sometimes till two in the morning," said Beverly, Chody's wife. "Until bedtime, until he finally goes to sleep ... he's working."
Beverly said she tries to be understanding about his late hours because he works hard to keep up communication with the public.
"Now the news is watching what Williamson County Sheriff's Office is doing. They're watching our Twitter," Chody said.
It's true. The news is watching.
In fact, many of the stories out of Williamson County come from tweets put out by Sheriff Chody.
"In essence, we've become relevant because of social media which is sad, to some degree, but it's also true," he said.
Transparency and honesty are important to Chody, and so is being a public servant.
According to Chody, there was a clear moment when he knew he wanted to be a police officer. (Chody was an Austin police officer before leaving the department in 2001, shortly after winning the lottery.)
It all goes back to his early days living in a Florida trailer park with his mother and young siblings. Chody was in his early teens.
"My mom was abused by live-in boyfriends," he explained. "This particular night, she was being assaulted pretty bad."
Someone called police, and when they arrived, Chody said he realized something crucial.
"I recall that deputy coming in and taking this man to jail and giving me a sense of security like I've never felt because I was really scared," said Chody.
That's why Chody said he couldn't just live the rest of his life off their lottery winnings. That's why he still gets up early and goes to bed late.
"We look at this as a calling from a higher power," said his chief deputy, Roy Fikac. "Any day at any time, he could walk away from here and never look back. But that's not what's in his heart."
As for Chody, he said the lottery does not define him.
"It was exciting when we won," he said. "It was very exciting, it was something unique. But it does not define us, no doubt it does not define us."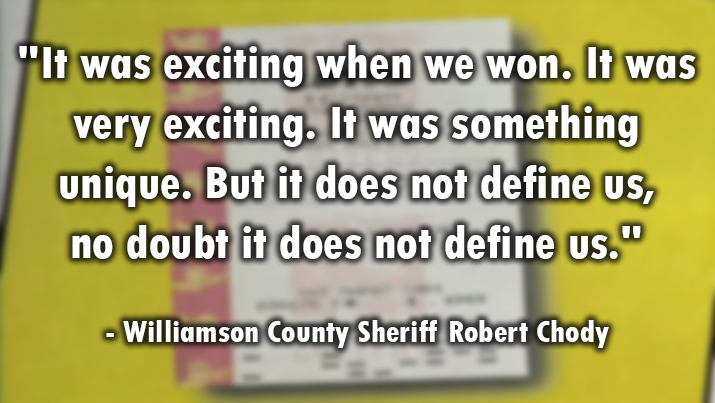 Chody said it's the things that can't be bought that define who he is.
"If I lived in a trailer to this day, as long as I have my children and my wife ... I'd be content with that."