AUSTIN -- Austin's police chief Brian Manley said "we are clearly dealing with a serial bomber" hours after officials responded to an explosion in Southwest Austin Sunday night.
Two white men -- identified by KVUE's partners at the Austin American-Statesman as Will Grote and Colton Mathis -- were sent to a hospital after an explosion that was possibly triggered by a tripwire went off March 18. As of March 20, a representative told KVUE the two men remain hospitalized in good condition.
Will Grote's father told WFAA reporter Rebecca Lopez that Grote and Mathis were the victims and declined to comment further except to say that there were "angels watching over them because they are going to fully recover."
Residents in the Travis Country neighborhood were asked to remain sheltered in placed until 2 p.m. on Tuesday. By 8:30 p.m., officials said the area was officially opened to traffic and activity.
Based on preliminary information, Chief Manley said the device that exploded March 18 has similarities between the devices that set off the three other blasts around the city during the month of March.
The latest attack came hours after the Austin Police Department increased the reward offering for the three prior explosion investigations to $115,000.
Officials said on March 18 they responded to the 4800 block of Dawn Song Drive in Southwest Austin at 8:32 p.m. for an explosion. Grote and Mathis -- both in their early 20s -- were transported to South Austin Medical Center with serious injuries, according to Chief Manley. At 11:30 p.m., hospital staff confirmed to KVUE's Christy Millweard that the two men were in good condition. They're expected to be OK.
Jeff and Amy Sasser, who live a house away from where the explosion happened, thought at first it was a car crash.
"I thought it was loud enough and big enough that it was a pretty serious accident, if it was an accident. I grabbed a flashlight 'cause it was dark, ran around the house next door, and saw [Grote and Mathis] sitting in the grass, and they appeared to be shaken up and maybe in shock," Jeff said.
They called 911 and then grabbed first aid materials to help the two young men as best as they could before first responders arrived.
"One of them had an injury on their lower leg and blood was streaming down, kind of from knees down on both legs. And the other boy, maybe a little more in shock, wasn't saying that much," Jeff said. "They at least knew where they were and what was happening."
Chief Manley said at a press conference Monday morning that they believe the two men were walking on a sidewalk or grassy area near a fence before the device went off. Police believe the device was sitting next to the fence. The ATF later reported the explosive may have been attached to some sort of sign.
A viewer submitted a video from a home security camera that captured the audio of the fourth explosion.
RELATED |
"That changes things in that our safety message to this point has been involving the handling of packages and telling communities 'Do not handle packages. Do not pick up packages. Do not disturb packages,'" Manley said. "We now need the community to have an extra level of vigilance and pay attention to any suspicious device -- whether it be a package, a bag, a backpack. Anything that looks out of place, do not approach it."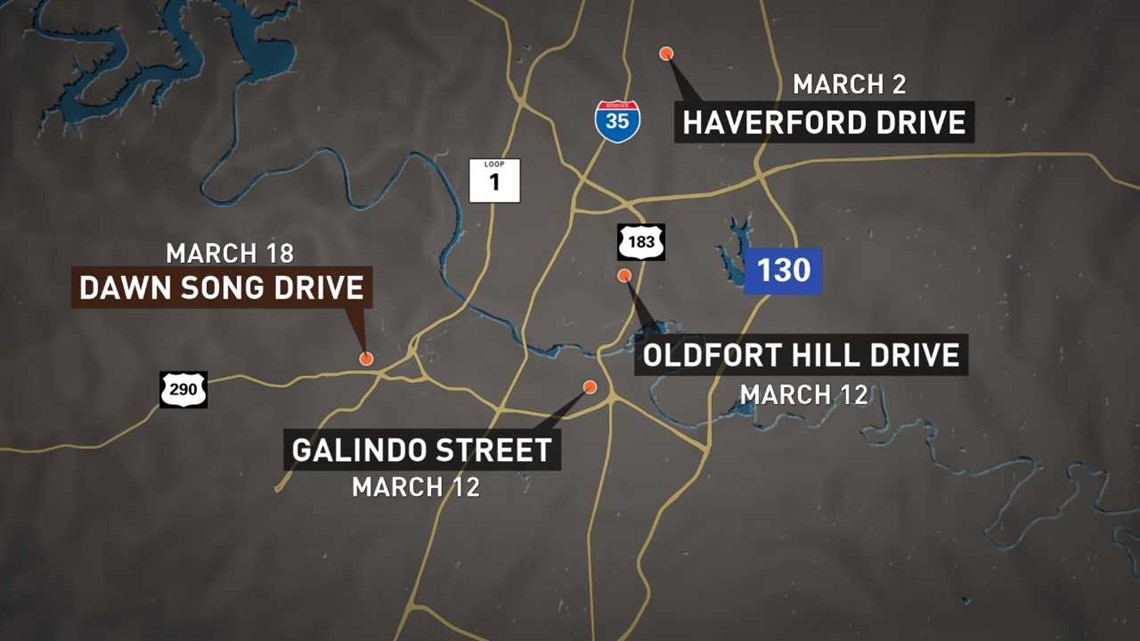 Police are asking anyone in the Travis Country neighborhood to provide police with video surveillance from their house if they have it.
Authorities are telling the public that, if they see anything suspicious that appears out of place, to not go near it and to call 9-1-1. Authorities also asked the public to be aware of the possibility of tripwires. They said it could be a fishing line or something similar, and that if it is moved or stepped on, it could go off.
PHOTOS: Fourth Austin explosion rattles Southwest neighborhood
This last confirmed explosion follows three others in the month of March -- two of which were deadly. The first was reported on March 2 in Northeast Austin in the Harris Ridge neighborhood. Anthony Stephan House, 39, an African-American man, was critically injured after finding a package on his front doorstep. He died the same day at the hospital. The second explosion happened at a single-family home in Central East Austin on March 12. A 17-year-old African-American boy, identified as Draylen Mason, was killed and an African-American woman in her 40s was seriously injured. A few hours after the explosion that killed the teen, a 75-year-old Hispanic woman, identified as Esperanza "Hope" Herrera, was injured in the third explosion in southeast Austin after picking up a package left on her front doorstep. She remains in critical condition. During the media briefings for the first three explosions, police said they could not rule out the fact that the explosions might be a part of a hate crime. Police did not allude to the possibility of investigating a hate crime in the fourth explosion.
"We said from the beginning we weren't going to rule anything out because when you rule something out, you limit your focus," Manley said on Good Morning America March 19. "So this does change the concerns that we had initially. We have not ruled out [that this might be a part of a hate crime] until we understand the ideology or motive."
Police said the difference between the fourth explosion and the previous three is that it was not created by a suspicious package left on a doorstep. He added that investigators will use lab results to determine if all four explosions are, in fact, related to the same suspect(s).
As police, the FBI and ATF investigate these possibly linked explosions, a reward total of $115,000 is being offered to anyone with information regarding the cases. CLICK HERE to find out how to submit a tip.
Chief Manley said they need the public's help as they work to find a suspect.
"That's why we're pushing the message out that we need every tip, every piece of information," he said on GMA. "However inconsequential you think it is, that may be the one piece of evidence that we need."
Officials with Regents School of Austin, located in the 3200 block of Travis County Circle, said classes for Monday, March 19 are canceled as police sweep the area for suspicious items. Officials said all school athletic and co-curricular events on and off campus are canceled too.
St. Andrews Episcopal School said there was a two-hour delay Monday at the Southwest Parkway campus as officials swept the campus for suspicious objects. Staff said upper school classes will begin at 10:55 a.m. All classes at the 31st street campus will begin as normally scheduled.
St. Gabriel's Catholic School said on their website school would start at 10:30 a.m. due to all of the police activity in the area. Officials said security would sweep the area for suspicious packages or items beforehand.
Just after 12:30 a.m. Monday, Austin Independent School District said they would not send school buses to the Travis Country neighborhood Monday because of police activity due to the explosion. School officials said tardies and absences on March 19 would be excused. Any person that sees a suspicious object of some sort is asked not to approach it, and instead, call 911, officials said.
This story will be updated as more information becomes available.