AUSTIN — The University of Texas in Austin is mourning the loss of one of their own.
UT student Nicky Cumberland died Tuesday after spending four weeks on life support. Cumberland was badly hurt in a car accident with five other UT students on Sept. 30 while driving back from a Texas Cowboys retreat near Killeen, Texas.
At just 20 years old, Cumberland's life may have been cut short too soon, but his legacy among friends, family and even strangers will last a lifetime.
UT has an official scholarship named after Cumberland now. You can donate here. There are signs all over West Campus that read, "Love Like Nicky."
That's because his friends will tell you Cumberland was one of the most kind, compassionate and caring people they had ever met who always had time for other people, despite his incredibly hectic schedule.
Cumberland was a junior at UT and was on track to triple major with a minor in business honors, finance and radio-television-film.
PHOTOS: UT student who died after crash will get a scholarship named after him
PHOTOS: UT student who died after crash will get a scholarship named after him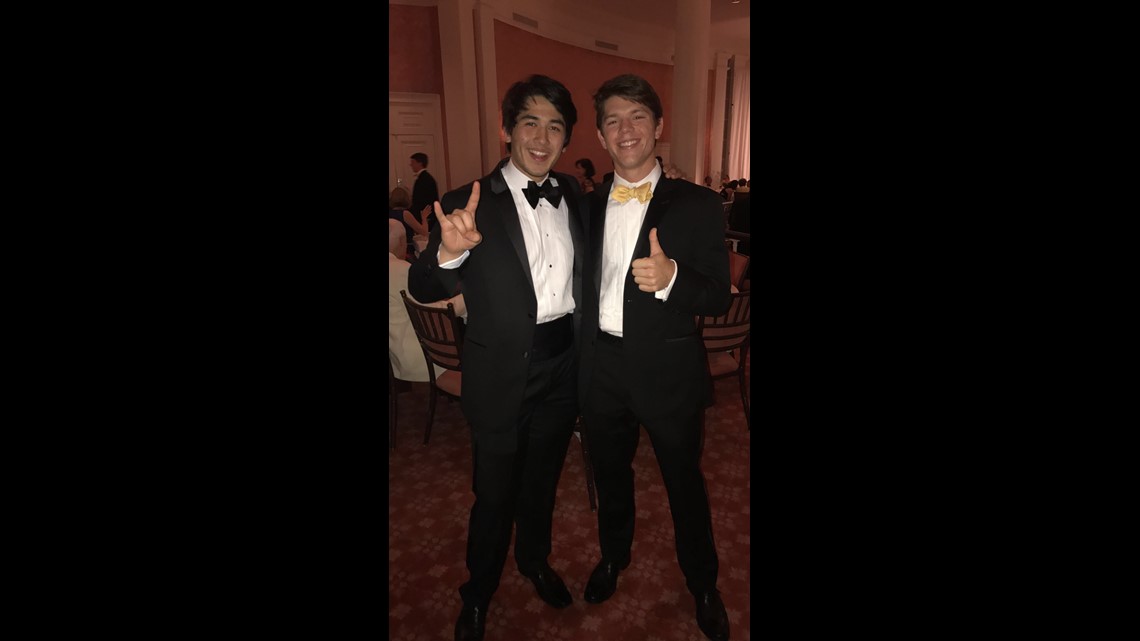 Additionally, he was a fraternity member of Kappa Sigma, a member of the service organization Texas Cowboys, Young Life, committee member of Genesis, Chase the World and Student Consulting Initiative, National Outdoor Leadership School, as well as a member of UT Cheer.
Cumberland served many leadership roles in high school and was valedictorian of Memorial High School.
"The kid would literally give the shirt off his back to anyone," said Ben St. Martin, Cumberland's fraternity brother and best friend since first grade.
"A lot of times when people pass away, their reputation gets polished and people use absolutes like 'He was the best' and 'He was the nicest.' But if you would have asked any of us six months ago before this accident, 'Who is the nicest kid you ever met?' almost everyone would say Nicky," St. Martin said.
St. Martin said Cumberland will always be remembered for his kindness toward other people.
"He taught me to be kind. It didn't matter to him who someone was or what they looked like, or how cool or popular they were, just be kind to everyone," St. Martin said.
Cumberland helped campaign for Colton Becker, UT's Student Government President. The two had lunch right before the car accident.
"Nicky was ambitious, but he was also not self-serving," Becker told KVUE. "He made people feel good, he made everybody feel like somebody."
One of Nicky's fraternity brothers, Brandon Chi, said he first saw Nicky during his valedictorian speech at Memorial High School in Houston. That speech, Chi said, was incredible. And so was Cumberland.
"He always put other people before himself," said Chi. "He would anything that he was doing to help you. If you needed him, he was there. I want to just love like Nicky."
Nicky was extremely proud of his girlfriend, fellow UT student Clio Harralson. The two were together for two years, and friends say he was always talking about her achievements.
"Nicky is someone we all describe in superlatives. He was the kindest, toughest, smartest, and friendliest, most loving, most selfless, most involved, and most dedicated person," said Harralson. "It seems impossible that one person can be all of these things, but Nicky most definitely was. It's hard to find the right words to describe someone like Nicky, and I don't know if there's anything we can say that can really do him justice. He was the most incredible person, and I was beyond blessed to have him as my boyfriend. No amount of time with Nicky could have ever been enough. We should all aspire to love like Nicky!"
There will be a vigil on campus Thursday evening to honor Nicky's legacy. It will take place at 7:30 p.m. on the Main Mall.