The Jarrell tornado: 20 years later
<p>Twenty years ago one of the deadliest storms ever hit the town of Jarrell, Texas.</p>
Twenty years ago, one of the deadliest storms ever hit the town of Jarrell, Texas. May 27, 1997 forever changed that town. The storm killed 27 people, 13 of them children.
The survivor's stories are heart-wrenching. They describe images that are unimaginable.
But to begin to understand how much they've lost, you have to know how it started.
It 'Just got bigger, and bigger and bigger': What happened May 27, 1997
May in Central Texas is the stormiest, and at times, the most violent time of the year. But the first few weeks of May 1997 were unusually calm.
"There were hardly any tornadoes anywhere on the plains," recalled Lon Curtis, a former TV meteorologist. At the time, he was also an assistant district attorney for Bell County and an experienced storm chaser. "Nobody was having big storms."
That all changed on May 27.
"The humidity was sweltering at 6:30 in the morning," he said.
The atmosphere was primed. Moisture content was high and there was an incredible amount of instability in the air.
"I had never felt that kind of humidity at that hour of the day," Curtis said.
Then a gravity wave -- a ripple in the atmosphere -- produced by storms in Oklahoma and Arkansas the day before collided with that muggy air mass over Central Texas. The fuse was lit.
"It looked like an atomic bomb had gone off," Curtis said.
That explosion in the atmosphere kicked off south of Waco just after lunchtime.
"This cumulonimbus that just went straight up in the air, before it spread out," he said.
In just 40 minutes, the first of 22 tornadoes would drop near Lorena, Texas and continue south over the next two hours.
"I just jumped out, and started rolling as fast as I could," recalled KVUE photojournalist Scott Guest.
He intercepted the storm as it moved into southern Bell County near the community of Prairie Dell.
"Initially, it was just a singular, thin cloud," Guest said. "Debris from the ground started going upward into it."
"It was like a pencil," Curtis, who chased the storms south, said. He was witnessing the same developing tornado about 10 miles north of Jarrell.
"And that just got bigger, and bigger, and bigger," Curtis said.
Watch deadly 1997 tornado move through town
"You just didn't have a sense how big it was until it hit one of the hay bails. It hit one almost directly, and flung it up into the air, like it was nothing," Guest said.
"I didn't know what this thing (was) going to do. I've seen the movie 'Twister.' That's all I know," a Williamson County resident said.
"The cloud base was getting wider, and wider," Curtis said.
"It was literally coming directly towards us. Straight down I-35," recalled Guest.
There was one more foreboding signature of this monster tornado. It was moving in an unusual direction -- southwest, along a stalled boundary, stretched west of the interstate.
"At that point, we were like, 'We need to move,'" said Guest.
"I decided I would go down to Jarrell, because that was the same way the storm was moving," said Curtis.
Guest and a reporter, Greg, moved farther north as the tornado approached the west side of Jarrell.
In a matter of minutes, it had grown into a F5 monster.
"It was huge. It was way bigger," Guest said.
"What I wasn't prepared for is the rapid intensification from what was a small, narrow, relatively weak tornado in Prairie Dale, and four miles down the road -- it's 600 yards wide," Curtis said.
That's three-quarters of a mile wide. Put another way, that's 13 football fields laid end to end.
"Now, instead it looking like a traditional tornado like you see, it looked like just a big wedge from the ground up," said Guest.

(Photo: Courtesy of survivor)
Inside the wedge, winds exceeded 260 mph.
"So I didn't know that when the wedge happened, that was in a neighborhood," recalled Guest.
The horror lasted for two to three minutes over the Double Creek Estates subdivision. The intense winds erased homes and lives. South of Jarrell, the tornado began to weaken before it eventually dissipated.
"There the debris starting falling out of the sky," Curtis said. "Dropping everything it had picked up in the swirling debris cloud just moments before. Pieces of shingles, pieces of two by fours, pieces of plywood."
Curtis continued south as the storm took aim at Cedar Park while first responders headed for Jarrell.
"What I heard sent chills up and down my spine," Curtis said. "Every highway patrol unit that check on to that frequency was going to Jarrell. 'You're needed in Jarrell.'"
"You know, when you look at typical tornado aftermath, it looks like a neighborhood has been blenderized," Guest said. "But when we got to the neighborhood, you couldn't even tell it was a neighborhood."
"There was nothing left," Curtis said. "There was nothing left. Where are the ranges? Where are the refrigerators? Where are the washing machines? Where are the outside air conditioning units? Nobody knew where they were."

(Photo: Courtesy of survivor)
Tim Marshall, a meteorologist and civil engineer, assessed the damage.
"They couldn't find the people who were in these houses, until they started looking more closely," Marshall said.
Every piece of debris was shrapnel. The intense winds within the storm shredded everything within its path: Homes, livestock, people.
Pieces were all that was left.
The Moehring home before after the tornado. (Photo: Provided by family)
"Basically they found a finger over here, or a wrist over there, and they were able to try to piece back together the people literally to try to identify them," Marshall said.
The unthinkable had just happened. The same storm system produced additional tornadoes as it continued its deadly path southward.
"Trees down, power lines down, everything is down," Curtis said as he drove to Cedar Park.
Cedar Park was hit by an F3 tornado which destroyed an Albertson's grocery store.
"Just jumped the road, came over here so quick, everybody just ran inside," Marshall said. "That's when the roof collapsed."
Thanks to a quick-thinking store manager, people inside survived the collapse by huddling inside the store's walk-in coolers.
Seventy mph winds and flooding rain roared through Austin. A 38-year-old woman was killed along Shoal Creek from flash flooding.
Then, on the south shores of Lake Travis, an F4 tornado appeared. It destroyed dozens of homes south of Briarcliff in the Hazy Hills Subdivision. A 25-year-old man died as his mobile home and pickup truck were destroyed.
By sunset, 30 people were dead, 27 in Jarrell. Twenty years later, some of the victim's photos are hard to get a hold of. Here's what we could put together:
Some of the victims from the 1997 Jarrell tornado that killed 27
"I said, 'There's nothing out there'": Stories from the survivors
When the storm warnings sounded in Jarrell on May 27, 1997, many rushed home, thinking that was the safest place to seek shelter, only to learn no place was safe.Something about mother nature draws human nature. It makes us stop and take notice even when we shouldn't."We stood and watched it coming at us," said Bonnie Hammet. "I had never seen anything like that."Four hundred people lived in Jarrell in 1997. Most of them, like Hammett, rushed home when the weather warnings sounded."I didn't realize that's what it was," Hammett said."I was scared to death," said Brenda Cooper, whose family owned Cooper Rock Quarry at the time.Hammett huddled with her family in a bathroom with her kids in the tub."It was the first day after school had let out and my daughter was staying with my mom," Hammett said. Cooper sought cover in her family's rock quarry."I said, 'Grab mattresses so we can cover with them.' We got down in the deepest hole we had dug. You could hear the wind blowing the debris, and of course we were looking."They had no idea how their lives were about to change."I think all together it lasted about 10 minutes, but it seemed like it was forever," Hammett said.A 10 minute tirade -- 7.6 miles long and three-quarters of a mile wide -- tore through their town.When the chaos subsided, Hammett and her family found themselves sitting in a pile of debris 4-feet high. She climbed on top of the debris."There wasn't a ceiling in the next room. I'm looking and I'm pushing myself back down. My sister is sitting there saying, 'What are you doing?' Hammett said. "I said, 'There's nothing out there.'" Three businesses and 38 homes were destroyed."We could hear the ambulances, but they never left. That was the hard part," Hammett said."It was unbelievable how houses were totally gone," remembered Cooper.Total devastation.
The damage left behind in Jarrell after 1997 tornado
"Everything was down to the slab," said Drew Sumner.Sumner, who has lived in Jarrell most of his life, is Jarrell Independent School District's athletic director."We saw a cow cut completely in half," Sumner said. "We just saw one-half of the cow and couldn't find the other half of the cow."The path of the tornado was clearly visible in the pavement stripped from the ground."It was a wide track. You could look over there and see houses, and look over there and see houses, but right down here in the middle a mile wide, everything was completely gone," Sumner said. "No trace of anybody there. No trace of houses other than the slabs. All the cars were gone -- everything was gone," said Sumner."The ferocity of that situation -- I can't begin to describe to you," said Mark McAdams, a retired firefighter who was one of the first on the scene.To this day, he has trouble describing what he witnessed."I'd just rather not talk about that," said McAdams.The toughest part is the people lost."The tornado just devastated them. It took all the hair off of them. Nobody could tell who they are, you could just barely see the figure," Sumner said. He was asked to help identify some of the victims."We didn't know that we were going to be picking up bodies or body parts," Cooper said.She and her team drove in their trucks among the damage."Families were just totally wiped out," she said.One of those families was the Igos. Patricia King, the town historian, showed KVUE where they lived prior to the tornado."The children and the wife were at school and they decided they'd better come home," King said. "They all came home and they all perished. All five of them."The Moehring family died too. Cindy, Keith and their sons Erik and Ryan along with two of their friends all died in the tornado.
A look back at the Moehrings, a family swept up in the 1997 Jarrell tornado
"We lost a lot of kids and I think that was one of the hardest things," King said.In all 27 people died, 13 of them children.WATCH FROM THE ARCHIVES: After deadly 1997 tornado Jarrell student remembers her lost classmates:"I think it changes your life," King said.In the days, weeks and months that followed -- help poured in.

A makeshift memorial on the Moehring family's property that grew every day after the tornado. (Photo: Family)"The tornado was beyond our control, but people just stepped up immediately to try to help, to try to donate, to try to comfort," King said. "Not just for a day, but for a long time after."
That day changed Jarrell
"When you mention the word Jarrell, Texas, it's like -- tornado," King said. It changed not just the conversations, but how people live."We probably have a higher number of storm shelters per capita that is average for any town," said King.For Hammett, her storm cellar is her security blanket."The storm cellar came before the house," Hammett said. "I won't go through one again on top of the ground."Something about surviving a storm like this changes your perspective."You never know when your days are coming and live it to the fullest while you can because the next day you might not make it," Hammett said. "You can come back from it. It's not the same, but you can come back."However, the questions linger."You start thinking of all of these other people who didn't make it. 'Why did we?'" Hammett said. "So I'm still trying to figure that one out. Maybe one of these days God will tell me."Home construction hasn't changed much in the 20 years that have passed since the Jarrell tornado. A lot can change in that time, technology, news -- we've seen some extreme advancements.But not much has changed when it comes to home construction."I had never seen that intensity of damage in my career," said Tim Marshall, the meteorologist and civil engineer. "Houses were obliterated. The destruction was so intense, it serves as a baseline for which other tornadoes are rated against."He surveyed the damage following the Jarrell tornado."Flooring was taken -- commodes, bathtubs that you would normally go into were gone," he said. "We have not learned our lesson about building better."Most homes then -- and even now -- are rated to withstand 90 mph winds."We still build houses basically the same," Marshall said. "And this is a problem."Jarrell's F5 tornado produced winds over 260 mph."Over a house, in the core, it was there for two to three minutes. Now that duration is an eternity," he said.The tornado crawled at only 9 mph. Not only did it destroy everything in its path, but it shredded the landscape."You can't really build against a Jarrell-style tornado, but very rarely are tornadoes Jarrell-style," he said.The majority of tornadoes in Central Texas are rated between EF0s to EF2s with winds between 65 and 135 mph. Building better and building smarter can make a difference."What you need to do is to anchor the wall down to the foundation with a strap. Then you need to solidly shield your home -- to lock it in like a box. Then you need to strap down the roof to the wall. Those three style connections are very important," he said.One of the most vulnerable areas? The garage."The garage door blows in, and then it pressurizes the inside, like a balloon. And then it removes the roof, because of that," Marshall said.The reality is that even hunkering down in a fortified house would not help in a monster such as the F5 tornado that struck Jarrell."Jarrell being such a high-end event was not really survivable above ground," he said.That's where a storm shelter would help. Adam Richter is the owner of Jarrell Storm Shelters, a business he and his father-in-law started after the Jarrell disaster.

Storm shelters from Jarrell Storm Shelters. (Photo: Jarrell Storm Shelters)"No one was expecting that storm, and if they would have had that -- a shelter like this or similar -- they'd be alive today," he said."They are rated for winds up to 250 mph, which is the Jarrell-style event," Richter said. "The dirt compacted around it, it's basically anchored to the ground."And the shelter doesn't have to be underground."You can incorporate them into your house. You can have one in your closet, or in the garage," said Richter. "For the cost of granite counter tops. I mean, it's really not that much. Something you get, and hopefully you'll never have to use it."Tornado straps and anchor bolts can also be used to secure your home against strong winds. The way homes are constructed hasn't changed much in two decades. But weather technology has, especially when it comes to how tornadic storms are tracked."Our computer models are much better than 20 years ago," said Michael Nathan with the National Weather Service."Back in 1997, our radar only updated every 5 to 6 minutes. Now we get updates every minute," he said. "So that again makes a big difference in determining where the storm is going."One of the newest upgrades of Doppler radar is dual polarization. This gives meteorologists the ability to look inside storms."We can now very clearly tell that it is producing a tornado because we see the debris actually inside the storm," Nathan said.The radar now sends both horizontal and vertical electromagnetic waves, spotting not only rain and hail, but tornadoes."They can actually see debris that has been lifted by a tornado. You will not see that debris, unless there's a tornado funneling up in the air," Curtis said.The new technology is leading to better, quicker warnings. That, along with having a plan of action, can save lives."A lot of people have smart phones now, and with the internet, we can get that warning out much faster," Nathan said.
Never Forget
For the people of Jarrell, the number 27 surrounds them.It is the day in May 1997 that the tornado ripped apart their small community.It is the number of people who lost their lives.It is the score of the high school's first football game the summer following the storm.For all the heartache that this community suffered from this storm, there is also a lot of good.Spring signals a fresh start. And no place is that more apparent than the community fields in Jarrell, where kids focus more on bats and balls than life and losses.
"Jarrell is a good place," said Jaysen Hobbs, a 9-year-old baseball player. "My mom said there's barely going to be any more tornadoes here."And yet it is these fields where so many are reminded of all that was lost 20 years ago. The exact spot where Double Creek Estates once stood -- where 27 people died in the Jarrell tornado. It is now literally a field of dreams.It is a place where kids like Mason Tschlerner are reminded of their own family's losses."Their house was pretty damaged," Tschlerner said.His grandparents rebuilt in Jarrell. And most other people did too. But there are some things time can't erase.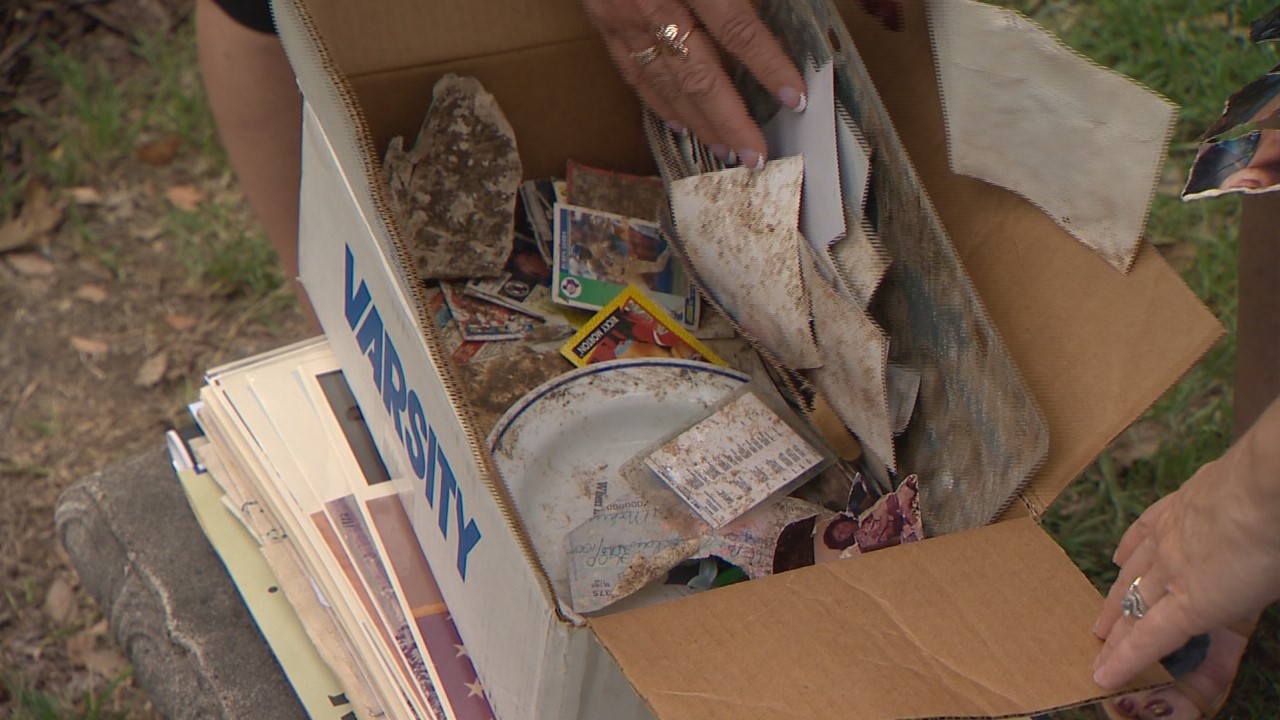 "This box has everything that was collected at the high school cafeteria. All the photographs that were found were to be turned in there. You see all the mud and debris on there," said Sheryl Moehring Steger.Steger and her sister Linda Moehring Barr lost their brother, sister-in-law and two nephews in the tornado."I know they are in spirit with us all the time," Barr said.Decades later it is the little things they treasure most. A family scrapbook triggers all kinds of memories."We were a year and a half apart so we fought a lot," remembered Steger. "It wasn't until I got older and we had kids that I came to appreciate more about him."They are photos that feel like a time capsule of sorts. Treasured memories of happier times. A family at home in a community they loved followed by the moment that changed everything.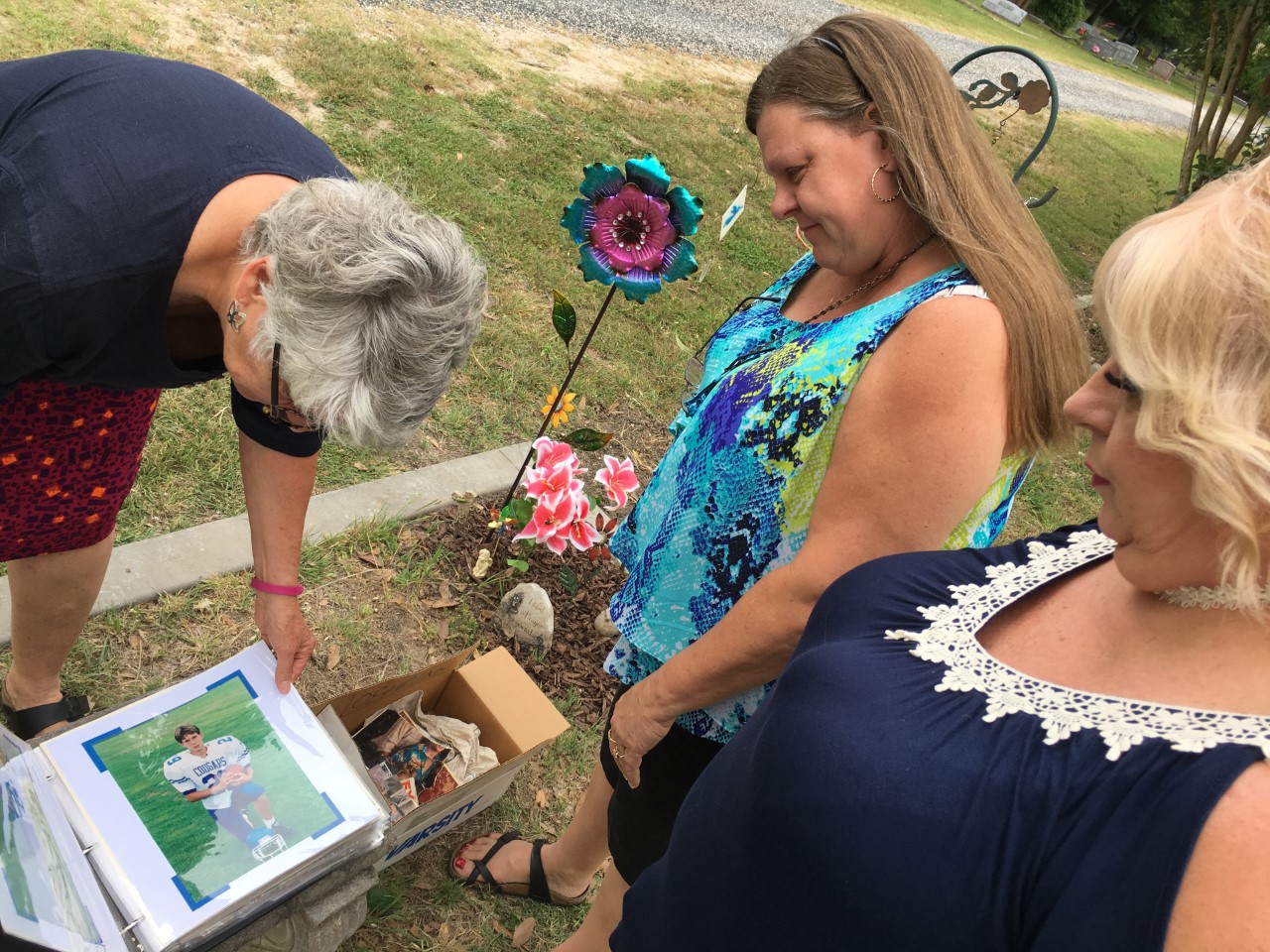 "We can wipe the tears away from our eyes but you cannot take the pain from your heart. The hole in your heart is there every day," Barr said.These sisters have rarely talked publicly about their loss. On this anniversary, they felt it was necessary."They did what they were told to do. They were in the middle of their house in their bathroom. It was just a big, bad tornado," Steger said.For all that the tornado took, it also gave something to the survivors."It's all about family. I guess I cherish what we have left -- what we have -- more than I did before," said Steger.In a small town like Jarrell -- where everyone feels like family -- that perspective will never fade.
Ways to help
The Williamson County Emergency Service District #5/Jarrell Fire Department invested thousands of dollars in replacement vehicles, hiring of paid certified firefighters, advanced training, fire equipment and hand tool needs. However, with the growing community there are many needs that are not met. Many of the fire trucks are 16-years-old and the firefighter gear is becoming obsolete. So the Jarrell Professional Firefighters Association set up a GoFundMe page in hopes of adding this equipment to their department:
2 Flir Thermal Imaging Cameras: Approximately $7,800 each
8 Scott Air Packs: Approximately $6,000 each
All proceeds from this fundraiser will go to Williamson County ESD #5. The GoFundMe page is owned and maintained by the Jarrell Professional Firefighters Association IAFF Local 514.