AUSTIN — Both are cases now running well more than a decade long: Rachel Cooke and Roxanne Paltauf, two Central Texas teens who went missing and have never been found.
Both of their stories and lives are vastly different, but they have at least one thing in common. No matter how many months or years may go by, their mothers are remaining determined to bring them home.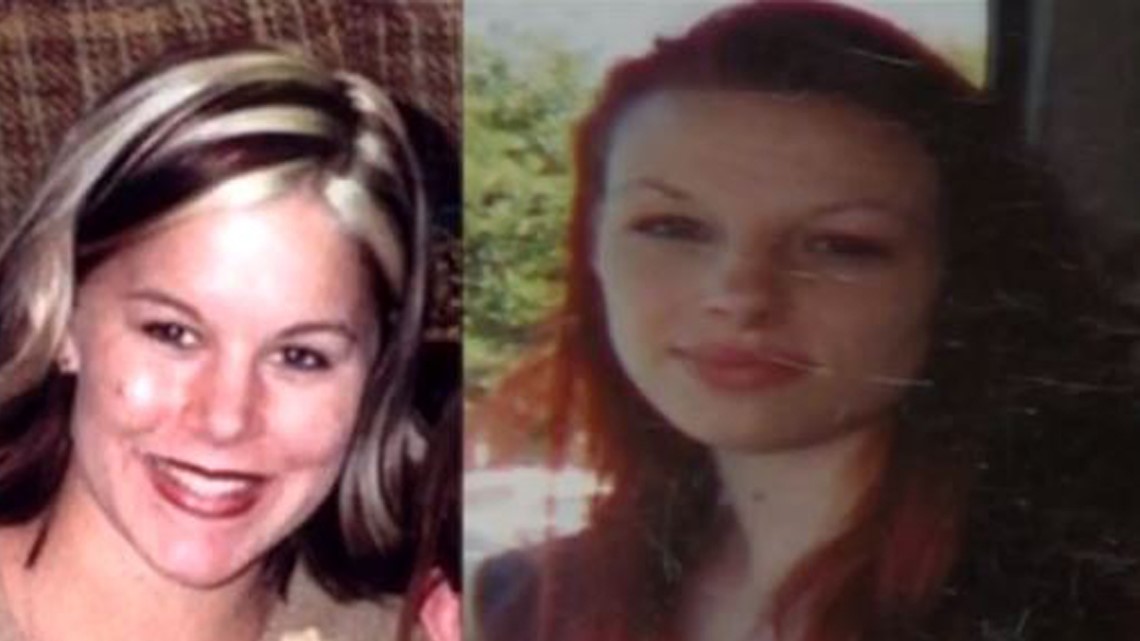 'Love you, have a good day': The last words Janet Cooke told daughter Rachel Cooke before disappearance
On Jan. 10, 2002 Rachel Cooke was last seen just a few hundred yards from her Georgetown home when she went for a morning jog. Nineteen at the time, the teen was home for the holiday break from her first semester at San Diego Mesa College in southern California.
Her mother, Janet, was taking Rachel Cooke's younger sister, JoAnn, to school when she saw Rachel Cooke fast asleep on the couch. It was the last time she saw her oldest daughter.
"I went and poked her and said, 'Love you, have a good day.' That was the last time I ever saw of her."
Nearly 17 years later, Janet keeps herself busy in her Georgetown home with her homemade art and writing, and visits with friends and her daughter JoAnn when she can.
There's a new addition inside the living room: A cut-out from her daughters' old playhouse. The cut-out has a child's small hand prints on it, a smiley face and "Rachel Cooke" written in gray paint. Janet Cooke said she received the cut-out about two months ago from the Williamson County Sheriff's Department.
Across the room are stacks of photo albums filled with childhood pictures of Rachel Cooke and the family. Next to that is a bin filled with tapes from over the years of news interviews and stories surrounding the search for Rachel Cooke. Janet Cooke said she can't bring herself to watch them.
Detective Jason Cox of the Williamson County Sheriff's Office is the lead case agent on the Rachel Cooke case. He works closely alongside seven other investigators, some who are even retired from the state and federal government that are able to provide a lot of history and investigative techniques to the case.
There are 14 cold cases within in Williamson County. Cox's focus is Rachel Cooke's case. While it may be "cold," it is still a very active, ongoing investigation.
"Everyone know about this case. It's not a huge town, so everyone knew Rachel at some point. The family -- her mom was a teacher for many years -- they're heard about the case," said Cox. "People want to see an end to this case, they want to see this get solved."
In April of this year, officials originally found the car linked to her disappearance in the Dallas area, a 1998 Pontiac Trans Am. In September, the recovered vehicle tested positive for the "possible presence of blood" on an item on the passenger floorboard and on an item on the passenger door. At the time, Sheriff Robert Chody said the Pontiac is tied to three to four people of interest in the investigation.
"I was just dumbfounded. I couldn't believe after all these years ... And I couldn't understand why they couldn't find the car earlier?" said Janet Cooke. "All these years, and they're just now finding the car. It just blew me away. These guys are really working. They're digging up anything they can try to find and they're finding things because they're going through the footwork."
"The MVAC gives us some ability that we were not able to do when she was missing. Previously, they would do tape lifts for different fibers from the vehicles. The MVAC gives us the ability to process that more thoroughly," said Cox. "It's a more thorough system in my opinion that's going to open doors for us that weren't open."
If you have information regarding Cooke's location, you are asked to call 1-800-CALL-FBI or submit a tip online here.
More than 10 years later, Roxanne Paltauf's mother visits Austin from Indiana to pass out missing flyers
"She was my first daughter, my first child. She was the one who taught me how to be a mother," said Elizabeth Harris, mother of Roxanne Paltauf.
She lives in Indiana now, but visits Austin every first week of July to raise awareness and pass flyers in the last place her daughter was seen.
On July 7, 2006 Roxanne Paltauf was last seen in North Austin, vanished under what has been described as "suspicious circumstances" near Rundberg Lane and Interstate 35.
At the time of her disappearance, she was only 18 and had been with then boyfriend, Louis Walls. The two had been staying at a hotel in the area. When questioned, Walls told Austin police that the two had gotten into a argument, that afterward she left and that was the last time he saw her.
"I received a call from Louis asking me if I had seen Roxanne, and what came out of my mouth was, 'What do you mean if I've seen Roxanne? She was with you," said Harris. "I just know that Roxanne didn't disappear from the face of the earth. Something happened that night."
Anyone with information is urged to contact the APD missing persons unit at 512-974-5250 or Crime Stoppers at 512-472-TIPS.
Harris said she's held firmly to her faith since the moment her daughter disappeared, but she's not alone in the fight.
Two mothers now 'in the same club'
For the first time in 10 years, Harris and Cooke had a chance to catch up and fill one on another in on each other's lives. The two mothers shared that while it's unfortunate they're "in the same club," they rely on each other's strength for inspiration and hope for answers.
"I know the sorrow you're going through and I would just love to take that away from you," Harris said to Cooke over a Skype interview. She said she tries to keep up with Rachel's case as much as possible as well.
"I just try to keep letting the public know this could be you. You could be 'in the club' and it's not something you want to do," said Cooke. "You keep fighting for Roxanne. She'd be very proud of us. She and Rach would be going 'yeah!'"
With the upcoming holiday season, both mothers say, "it's another empty seat at the table," and hope that if anyone in the public happens to know something related to either of these cases, that they will find the courage to speak up, regardless of how long it has been.
"I didn't ask to be on this journey, but I'm on it, and I'm going to try my very best to help find my daughter," said Harris.
"If you know something, let it go. I mean, if someone knows something directly, it's probably been eating at them."