AUSTIN — First stop, Taco Bell! And the second stop ... and the third stop... and the fourth.
That's exactly what Austin's first underground railroad would look like if this Redditor's plans came to fruition.
Jeff McGough, who you could say is a huge fan of mass transit, mapped out what it would look like if an Austin subway system made stops at every Taco Bell in the area. He posted the artwork on Reddit, where everyone is seeming to "taco" 'bout it.
"Being that I've always loved the Austin area and that I've always loved public transit initiatives, I thought it would be a cool thing to conceptualize a map for the area," said the original poster, Jeff McGough. "Taco Bell is one of the largest chains in the area, and it covers both inner-city areas and suburbs, so it was the perfect chain to use to create a transit map."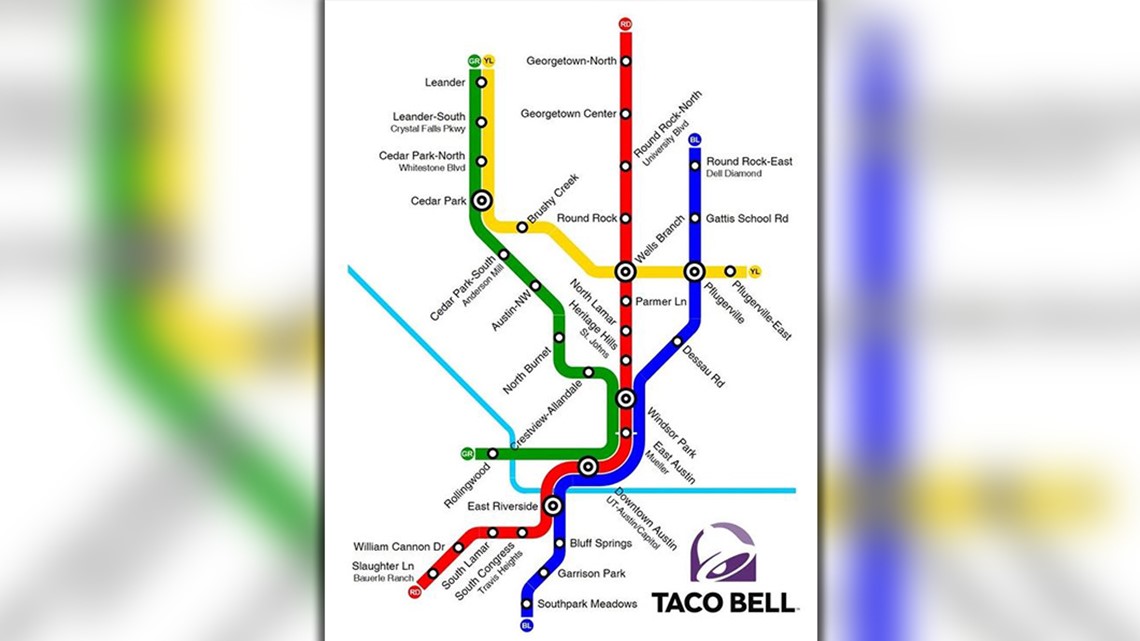 He said it only took him about four hours to make, first plotting out all of the Taco Bell locations in Austin, Cedar Park, Round Rock and more. Then, he said he used PowerPoint to plot out lines that would best represent commuter traffic patterns in the city.
"In the case of Austin, there are many highways that spur north from downtown that venture into the suburbs," McGough explained. "This is where a large number of Taco Bells are located."
Next, he had to name each of the stations. He said he either used a prominent neighborhood or a major road near the station. Finally, he just mapped out the Colorado River.
"While these maps are just fun concepts, it's always fun to see them spark a real conversation about mass transit," said McGough.
The next conversation: Would this "subway" run all night?