SAN MARCOS, Texas -- Authorities have recovered five bodies from the scene of Friday's deadly apartment fire in San Marcos, and officials said recovery efforts would continue until all areas were searched and cleared.
Officials said recovery teams completed their search of the remaining buildings at Iconic Village and Vintage Pads Apartments Tuesday afternoon and no additional victims were found.
Four victims have been identified.
Residents at the Iconic Village Apartments, located at 222 Ramsay St., who spoke with KVUE said they woke up to the sound of screams July 20. Just before 5 a.m., the city said emergency responders started working the large fire. Seven people were taken to hospitals, the city said. One person sustained critical injuries and was transported to Brooke Army Medical Center, while six others are expected to be OK.
Officials said at least 200 residents were affected by the fire and about 110 units were affected. Responding firefighters were not injured in the incident, authorities said.
As firefighters worked to put out the large fire, a resident recalled to KVUE what he saw during the fire, saying he witnessed "people jumping out of the second story." San Marcos Fire Chief Lef Stephens corroborated the resident's statement Monday and said that numerous victims had evacuated themselves and jumped from upper floors of the building to safety.
RELATED:
Texas State's KTSW Radio, University Star to host benefit concert for San Marcos fire victims
Officials identify four victims of deadly San Marcos apartment fire
'I'm lucky I got out alive': Residents jumped to safety during deadly San Marcos fire, witnesses say
'A new level of grief': Texas State student, parents worry about move-in days after apartment fire
Students upset San Marcos apartment complex didn't have sprinklers
Texas State student in search of missing friend after San Marcos apartment blaze
San Marcos resource center open for fire victims
Texas State University Provost and Vice President for Academic Affairs Gene Bourgeois could not confirm if the bodies recovered were students but said, "To the hundreds of people displaced in the fire, we are here to assist you in getting our lives back to some sense of normalcy."
The San Marcos River was briefly closed Friday after fire suppression foam made its way into the river, the city said. The river reopened at 5 p.m. Friday and no environmental impact to the river was expected, officials said. Power was temporarily disabled to nearby homes for safety reasons, the city said.
Authorities said they do not know where the fire started or what caused it yet but said that windy conditions early Friday morning made containment efforts especially difficult for first responders. Kistner said crews will be on the ground until Friday, July 23, doing scene work but the investigation could last several weeks or months because of the vast size of the scene. High temperatures and humidity in Central Texas are also slowing down the progress of the investigation, according to Kistner.
Kistner confirmed on Monday that the apartment buildings weren't equipped with sprinkler systems because the buildings were built in 1970, and they had not been updated since then. During that time period, he said, "It was not a requirement of the building code to have sprinklers." It's not currently a requirement in the code that buildings built before the code change have to update their safety measures, according to Kistner. Authorities could not confirm when the building was last inspected or if the apartment complex had any violations. Kistner said officials will review that information during the investigation.
"As a community, our hearts are broken. We've lost so much. We've lost the love energy optimism and potential of these young souls," said San Marcos Mayor John Thomaides. "So our sincere condolences go out to the families who've lost a loved one and our prayers for the victims who are still fighting for their lives."
Iconic Village Apartments posted a statement to their website that reads in part:
"We are heartbroken by the news of the lives lost in the fire at Iconic Village. Our focus continues to be on the families who have lost loved ones, as well as on relief efforts for those affected by the fire. We are assisting law enforcement agencies with their investigation of the incident and will share additional information as it becomes available."
Just down the street, Mochas and Javas coffee shop is collecting donations for those affected.
"Lots of our customers have lived there, it's been our neighbor," said Grace Mills.
Junior Kevin Ryan donated, saying he wants to support neighbors in need.
"San Marcos is a close community and we all are hurting from this," said Ryan.
Junior Kylar Northcutt donated a fan, clothing and water.
"They have absolutely nothing, so for me it was just really important to let them know that people cared," said Northcutt.
"There are people who lost everything," said Heidi Stuffleveme who dropped off a bag of stuff Monday.
She said her friends had to jump out of the second-story window.
RELATED:
'A new level of grief': Texas State student, parents worry about move-in days after apartment fire
On Saturday and Sunday, residents of the Iconic Village Apartment buildings 100, 200, 600, 700 and M were able to enter their apartment and retrieve their belongings.
"It's crazy that there's nothing there anymore," said Sabrina Flores, friends with two people who were hospitalized. "It's -- I mean -- it's devastating."
Others knew that there was nothing they would be able to retrieve out of their burned apartment, but they came to sit and take it all in.
"I've been sitting here awhile and trying to wrap my head around everything that happened," said Tyler Brockinton, roommates of Dru Estes, one of the unaccounted for residents. "I'm just trying to wrap my head around it, and that's pretty much it."
The San Marcos Activity Center located at 501 East Hopkins St. has been established as a resource center for people displaced by the fire. The hours of operation will be from Tuesday, July 24, and Wednesday, July 25, from 10 a.m. until 7 p.m. Thomaides said organizations will be there to provide information on assistance programs for residents who have been displaced. Those organizations include the American Red Cross, the Austin Disaster Relief Network, Texas State Dean of Students office, Student Emergency Services, Department of Public Safety, the Blanco River Regional Recovery Team, the San Marcos Regional Animal Shelter and other city departments.
Bourgeois said Texas State University has put together resources and support services for students and staff affected by the fire. The university is accepting donations here.
Rachel Ingle, Emergency Management Coordinator for the City of San Marcos, said that officials are working to determine if the buildings that did not retain structural damage are livable. She said when that is determined, they will work together to get those residents back into their homes.
An emergency hotline has been set up: 512-754-2291.
RELATED:
PHOTOS: At least 200 residents affected by San Marcos apartment fire
PHOTOS: At least 200 residents affected by San Marcos apartment fire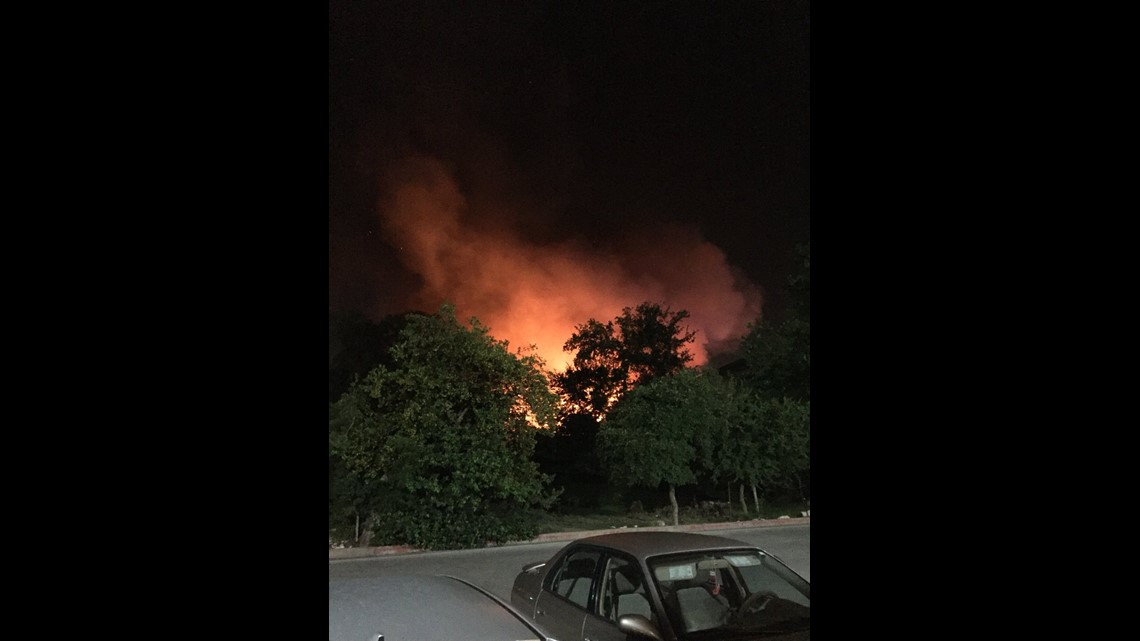 Donations of clothing and toiletries are being accepted at the Salvation Army in San Marcos, at 300 S. C.M. Allen Parkway, Suite 100.
The Porch, at 129 E. Hopkins St., Suite 110, will host a series of benefit concerts with the band Wezmer from 2 to 6 p.m. every Sunday in August. The venue is also accepting donations to benefit the victims.
Those who wish to donate to people impacted by the apartment fire can visit the following websites:
Blanco River Regional Recovery Team
Click Donate
Type in the comments "Iconic"
Texas State University Crowd Funding - Apartment Fire Relief
The Austin Disaster Relief Network will be deploying emotional and spiritual care teams to the San Marcos Activity Center on Tuesday and Wednesday from 10 a.m. to 7 p.m. Local congregations from ADRN's network are also preparing to sponsor survivor families through its Disaster Relief Shepherd program.
ADRN will provide Disaster Relief Shepherd training for pastors and churches in the San Marcos area on Wednesday from 6:30 p.m. to 9:30 p.m. at Promiseland in San Marcos located at 1650 Lime Kiln Road. Register online here.
The ADRN is also asking for monetary donations to be distributed in the form of gift cards, emergency housing, emergency transportation and/or building materials to meet immediate and long-term needs. Click here to learn more.
Iconic Village and Vintage Pads Apartments released the following statement Tuesday evening:
"We remain focused on the relief effort for those affected by the fire at Iconic Village and Vintage Pads, and on assisting law enforcement as they continue their investigation into this tragic incident. Attached you will find basic information about safety features at the two apartment complexes.
Every unit at Iconic Village has at least one smoke detector, dependent on floor plan:
Efficiency – one detector.
One bedroom – one detector in bedroom, one in adjoining hallway.
Two bedroom – one detector per bedroom, one in adjoining hallway.
Three bedroom – one detector per bedroom, one in adjoining hallway or hallways.
Every smoke detector in every unit is inspected on a regular basis. During these inspections, the maintenance team tests the functionality of every detector. If necessary, new detectors are installed. As part of this process, new batteries are placed in any detector where a battery has been removed or the battery level is low. The last inspections took place on May 4, 2018 for Building 500, May 9, 2018 for Building 300, and June 27, 2018 for Building L. Fire extinguishers are located in the breezeways of the apartment complex, with one extinguisher placed between pairs of units. Iconic Village contracts with Safequip Safety and Fire Equipment for the maintenance of fire extinguishers. Safequip Safety and Fire Equipment conducted its most recent annual fire extinguisher inspection on Jan. 8, 2018."