BASTROP, Texas — Filings show Rodney Reed has a new judge, after attorneys argued the case's former judge did not have the authority to order the execution because his assignment ended before he finished the case.
Reed was scheduled to be executed on Wednesday for the 1996 murder of Stacey Stites, but was granted a stay by the Texas Court of Criminal Appeals. Reed's case will now be reviewed in trial court for further development.
Langley's assignment notice filed in Bastrop County on Thursday said compensation for the case was authorized for no more than 15 days.
"If the case or cases you are hearing under this assignment extend beyond the authorized time for compensation you must obtain an extension of time in order to receive compensation for anything beyond that period," the notice said.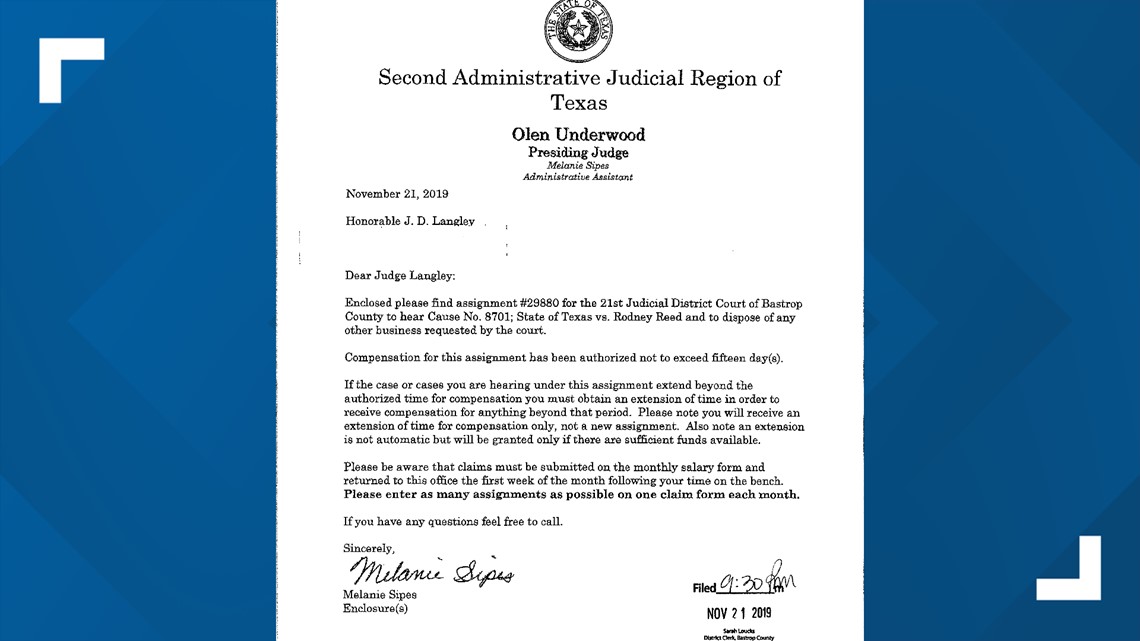 Langley served as a district court judge for Brazos County's 85th Judicial District Court for more than 30 years and was reelected five times before retiring in December of 2014. Previously, Langley worked as a county court of law judge and assistant district attorney.
Reed's case had been without a presiding judge since Shaver's retirement in August.
The trial court will likely have a series of hearings or one big hearing where they will comb through claims put forth by Reed's team and new claims.
The case will then go back to the Texas Court of Criminal Appeals, which ultimately has the final say about whether it agrees with the trial court judge or not.
Hearing dates for Reed's case have not been set yet.