AUSTIN -- Residents of a North Austin RV park are taking action against their new landlord over large increases in rent and utility fees.
RV Horizons, Inc. owns mobile home communities across the country. In January, the company purchased the North Lamar Mobile Home Park in North Austin. In April, about 10 out of the 70 residents received eviction notices.
Frank Rolfe, vice president of the RV Horizons, Inc, said the company wants residents to sign year-long leases instead of month-to-month. Those who didn't sign received eviction notices. As for the rent, it's now $450 a month, an increase of between $60 and $100.
While the previous property owner didn't charge water, Rolfe said charging for water promotes conservation.
"The folks are using an excessive amount of water. Again, I don't know why they do that but I think one big issue is there's no accountability, because they were not paying for the water," Rolfe said.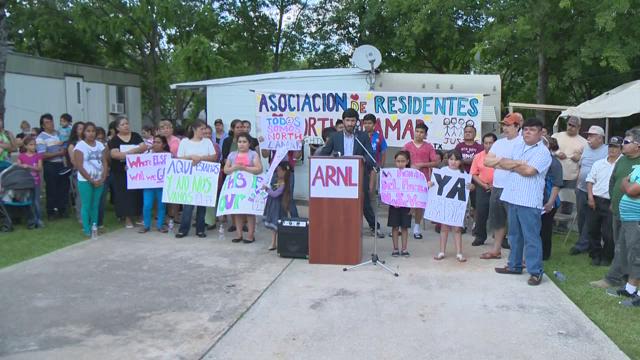 Resident Roberto Sanchez, who has lived in the park for 14 years, described the community as peaceful but said that changed last month.
"In April, they start making bad actions," Sanchez said through translator Mayte Salazar. "At first he started raising the rents. Then he started charging some fees for drainage and water and before none of us had actually paid for any of that."
When the eviction notices came, residents reached out to city council member Greg Casar.
"When these constituents of mine came forward and told me their affordability was being destroyed by what they saw as illegal practices and no respect for their leases, that's why I stepped in and said, 'I'm going to help them fight back,'" Casar said.
With Casar's help, the community created a residents association and teamed up with Texas Rio Grande Legal Aide to file a temporary restraining order against the eviction notices.
Rolfe said his company wants to work with the residents and city and has agreed to wait 14 days before enforcing the evictions. The residents, many of whom are-low income, say they need an affordable place to live. Both sides will now have to settle their argument in court.