Pictures have a way of capturing a parent's promise and hope for the future.
In 2015, Tim Siegel decided to give up his nearly 30-year tennis coaching job at Texas Tech to spend more time with his family. Twenty days later, everything changed.
"When I got to the hospital, it was very clear we were in a life and death situation," Siegel said.
A golf cart accident left his nine-year-old son, Luke, with a traumatic brain injury. He would never be the same.
Progress with a permanent brain injury is often measured in miniscule movements.
You learn something about strength and determination by watching those small victories. These are lessons even professional athletes like Patrick Mahomes appreciate.
"Luke is someone who dreams and works hard every single day," Mahomes said.
He knew Luke before the accident, when he played ball at Texas Tech, where Luke's dad coached tennis.
"Since the accident, Patrick has reached out to us, he's taken pictures with Luke, he's spent time with Luke."
Now, as arguably one of the best quarterbacks in the NFL, Mahomes is using his notoriety to help.
"My cause is Team Luke Hope for Minds," Mahomes said.
On his cleats this Sunday will be the charity Luke's parents created for kids with brain injuries, Team Luke Hope for Minds, which is based in Lubbock and Austin.
It's more than a mention for this star athlete -- it's personal.
PHOTOS: NFL quarterback helping kids with brain injuries through 'Hope For Minds' cause
PHOTOS: NFL quarterback helping kids with brain injuries through 'Hope For Minds' cause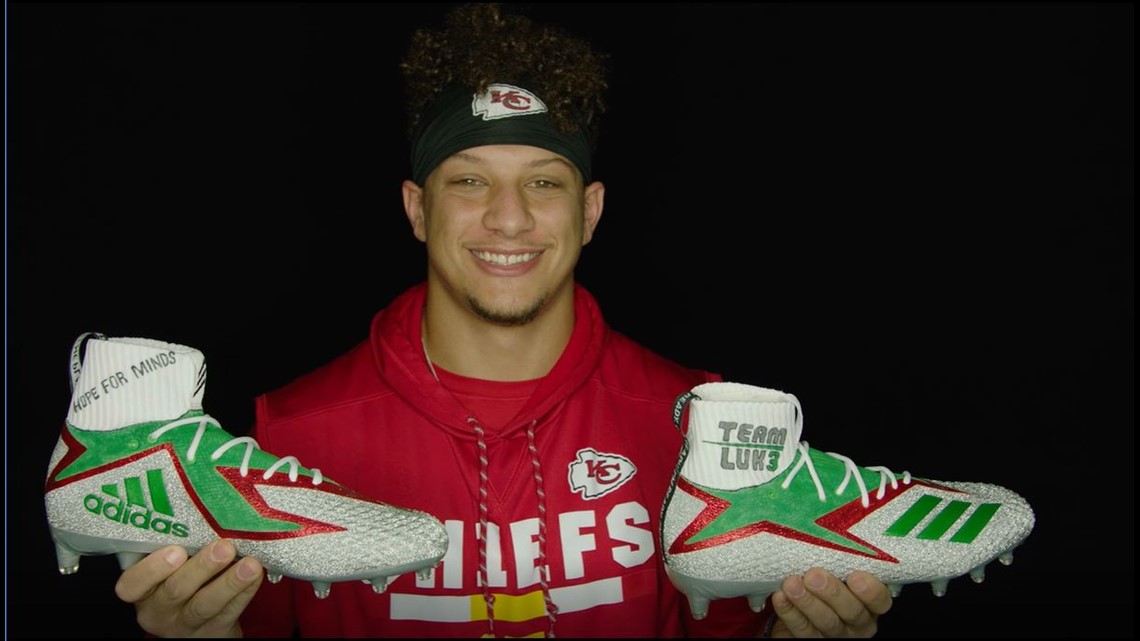 "I can see his fight and his will, how he's trying to get back every single day and so, for me, it's very important for me to use my platform to do that for kids everywhere around the world," Mahomes said.
This is the third year for the 'My Cause My Cleats' campaign.
Approximately 800 NFL players will showcase causes important to them.
VIDEO: NFL quarterback Patrick Mahomes helping kids with brain injuries
"It's incredibly special. He's done so much for us," Siegel said. "He hasn't changed because he has thrown 40 touchdowns and he has this big contract. He's still this great person."
It's an inspiring move by a player who's finding inspiration in another young man with so much life to live.
Luke was supposed to be at the game Sunday to cheer on the Kansas City Chiefs, but suffered a setback recently.
His dad said they'll be watching instead from the hospital.