AUSTIN — Dell Children's Comprehensive Care Clinic in Austin has their first full-time therapy dog that's bringing smiles to patients every day.
Meet Solo, the two-year-old therapy dog who works 40 hours a week comforting kids like Lian.
Lian cares diligently for therapy dog Solo during his weekly therapy session.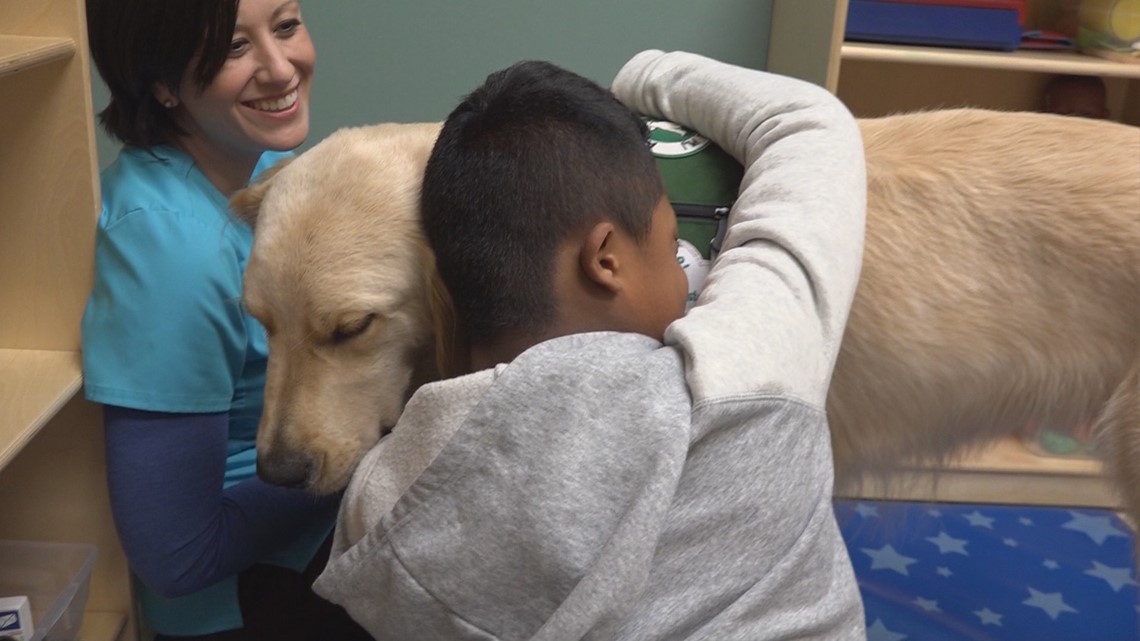 Lian likes to think Solo is his own patient during the session with the Labrador -- pulling out stethoscopes, bandages and scalpels.
Lian's mom Rosa Lott is extremely proud of how smart her son is.
"Talking like he's a doctor," she said. "(Saying) oh, my deltoid hurts. You know, name part of the body."
"But he cannot say it's too loud here," Lott said.
Lian has down syndrome, mild autism and had heart surgery as a baby.
"He has so many complications and had crises that I never thought he was gonna survive," said Lott.
Lian also has behavioral issues with people.
"But with dogs," she said. "Dogs don't have different facial features – like angry."
Solo spends most of his time with Allison Moore and Dr. Adam Rosenbloom at Dell Children's Children's Comprehensive Care Clinic. It is the primary care clinic for kids with complex medical issues.
"Whether they're about to have a painful procedure or maybe it was a difficult conversation," said Moore. "When Solo enters, the stress level immediately goes down."
Rosenblum said Solo was the single puppy in his litter. He was raised by a foster family in Atlanta and was trained through Canine's Assistants.
"Being with a dog, is so interesting because it allows you to be present in that moment," said Rosenblum. "Maybe forget about what you were worried about before."
It certainly helps Lian lessen his anxiety.