TEXAS — On Thursday, KVUE's and the Austin American-Statesman's Tony Plohetski obtained exclusive dashcam footage showing the moments a Leander school bus entered a low water crossing, then floated down a swollen creek until rescuers saved the driver and a student.
In the morning of Oct. 16, a bus driver with Leander Independent School District attempted to drive over a low-water crossing by driving around a barricade, resulting in his firing and arrest, the school district said.
Nathan Deyoung, 57, was arrested on charges of failing to obey warning signs/barricades over roads and endangering a child. His bond was set at $10,000.
Leander ISD said that at 8:28 a.m., Deyoung attempted to drive over a low-water crossing on County Road 177 while heading east from Ronald Reagan Boulevard toward County Road 175. The school bus got caught up in the high water, and Deyoung and a 12-year-old middle school student had to be rescued. The student was treated on scene and his family picked him up, officials said.
In a Facebook post, the boy's mother -- Ashley Ringstaff -- described getting a phone call from her son, saying, "I hope no one ever has to listen to their child or loved one preparing to die because of a stupid decision that should have never been made."
The boy's mother says she also thanks God and the rescuers who saved her son
KVUE's Tony Plohetski spoke with one of the officers who helped rescue the student.
"The child was concerned, but I think with the conversations and the comments of the crew and the interactions with our staff, when he came to the shore he was calm and he was collected," said Bill Gardner, fire chief. "He knew that people had a plan and that they were there to get him."
A viewer sent KVUE photos of a bus that was stuck in high water at County Road 177.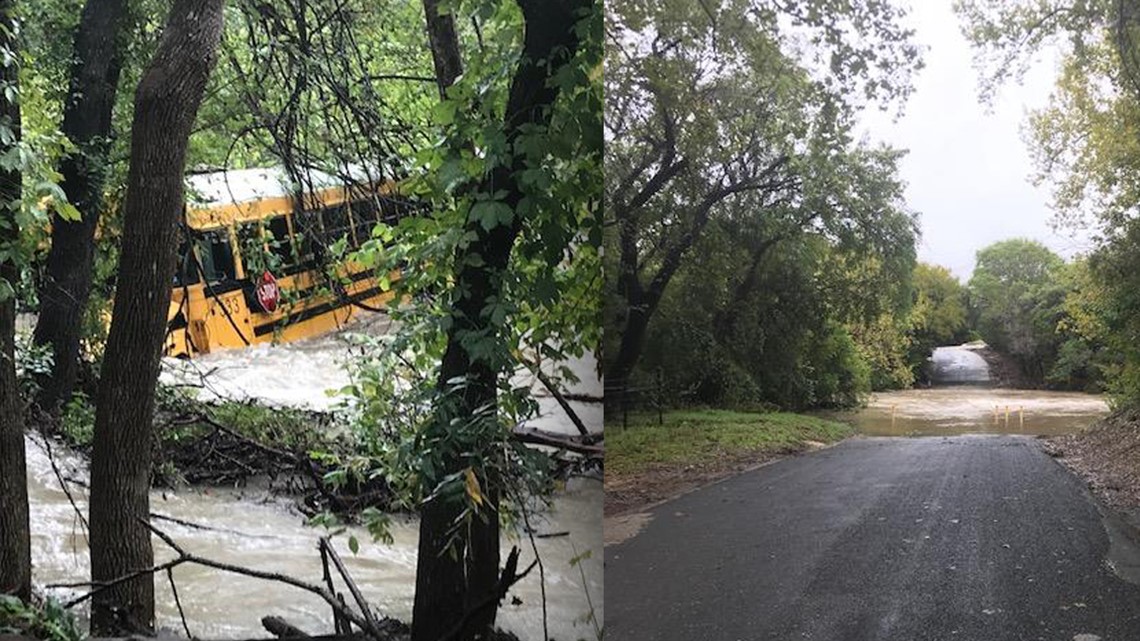 "The Transportation Department regularly reviews protocols for driving safely on roadways and instructs bus drivers to never drive through water over the roadway. Transportation dispatch reminded drivers this morning to be cautious and call for assistance if encountering water over the roadway," the school district said.
Officials said they responded to another water rescue in Williamson County the same day. Two people were sent to a local hospital after they were rescued from a vehicle stuck in high water off Country Road 251 in the Andice area, officials said.
At 1:22 p.m. Tuesday, KVUE's Jenni Lee shared of video of crews trying to rescue a car from rising water East of Marble Falls on MR 1431.
Williamson County officials said voluntary evacuations were happening in the Shady River RV Park off State Highway 29 east of Georgetown.
Meanwhile in Llano County, the Llano River saw major flooding. The Round Rock Fire Department, Cedar Park Fire Department, and the Williamson County Sheriff's Office were in Llano and Kingsland to assist with water rescues.