Editors Note: For the latest updates on this investigation, check the story here.
After a total of three explosions in 10 days in the Austin area, two of which were deadly, the Austin Police department said they believe the cases are connected and are urging residents to take extra caution when approaching an unknown package left on their front doorstep.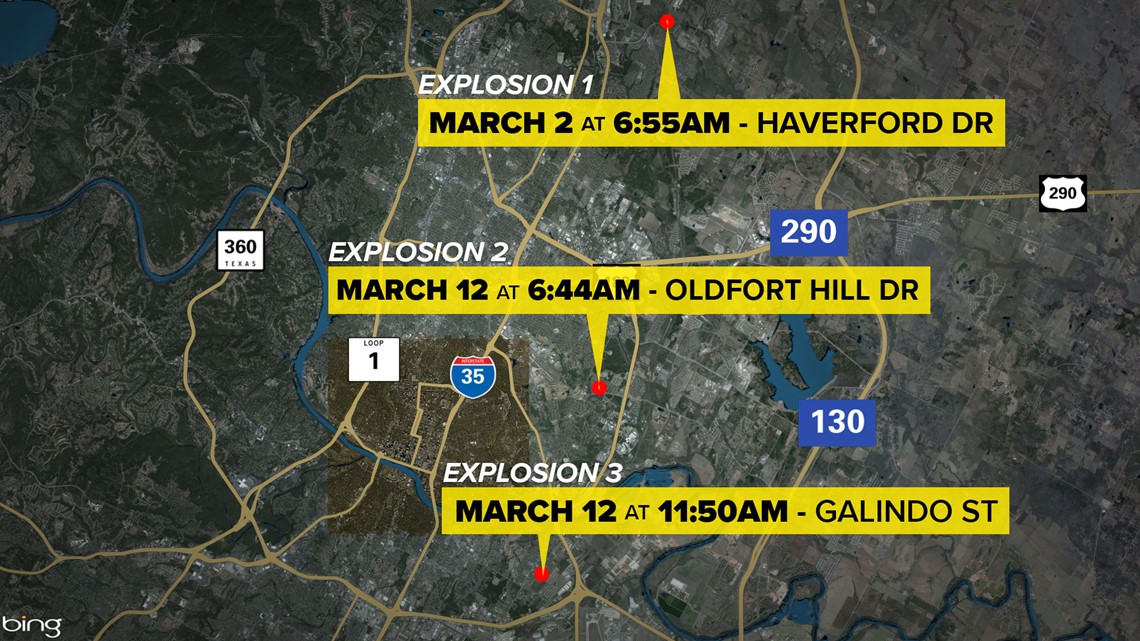 On Monday, March 12, Austin police responded to two explosions in different parts of town.
The first explosion was reported just before 6:45 a.m. at a single-family home in Central East Austin in the 4800 block of Oldfort Hill Drive, near 51st Street and Martin Luther King Jr. Boulevard. Police said they received a report from a caller that there was some type of explosion and that two people were injured.
"It was just a loud, loud boom," Cynthia Burdett, who lives across the street and knows the family, told KVUE. "Couldn't figure out what it was. I thought it was my heater exploding or something like that. It was just very loud."
When law enforcement arrived at the scene, they found that the explosion happened in the kitchen of the home. A 17-year-old boy, identified Tuesday at Draylen Mason, died from injuries sustained in the blast. Austin-Travis County Emergency Medical Services took a woman in her 40s to Dell Seton Medical Center, and she is expected to be okay, Austin police confirmed at a press conference. No one else was injured in the explosion.
"Very scary. Just in total shock. 'Cause the next thing I knew, I saw ambulance with my neighbor on the stretcher. That was very terrifying for me," Burdett said. "They're a very good family, so it's just a shock to have something like this happen."
Austin Interim Police Chief Brian Manley said based on the preliminary investigation, it is believed that one of the victims picked up a package from the front porch and brought it into the kitchen. Manley said the package exploded after they opened it.
Out of an abundance of caution, police said they evacuated neighbors on each side of the street due to the fear that there could have been a second package at the scene. After an investigation by the bomb squad, police said they determined later that the second package was unrelated to the device that killed the teen.
The United States Postal Service told police that they reviewed their records, and they confirmed that the package did not come through the postal service.
Police are investigating the Oldfort Hill Drive explosion as a homicide.
The second explosion on Monday happened while police were wrapping up a press conference for the Oldfort Hill explosion. Police said just before noon, they received several calls reporting an explosion in the 6700 block of Galindo Street, near East Riverside Drive and Montopolis Drive. The callers told police that there was a victim injured in an explosion.
According to the police department's investigation, the victim, identified as a 75-year-old Hispanic woman, exited her home and picked up a package left on her doorstep. The package exploded when she picked it up, Chief Manley said. The woman was injured significantly by the blast, and she was taken to a hospital where she remains in critical condition with life-threatening injuries. Family members identified her as Esperanza "Hope" Herrera.
"We are praying and thinking of her through her recovery in this incident," Manley said.
Both explosions Monday follow an explosion at a home in Northeast Austin on Friday, March 2 that killed Anthony Stephan House, 39. Police said they have reclassified that investigation as a homicide, and believe it is connected to the two explosions that happened March 12.
Police said they know what the explosives devices in each case are but could not elaborate due to the integrity of the investigation. Police said they don't believe the United States Postal Service or any other official mail carrier delivered the packages to the victims' homes.
"We are looking at these incidents as being related based on similarities that we have seen and the initial evidence that we have on hand here," Manley said.
However, a motive in the three incidents remains unclear at this time. Manley said all of the cases have happened in residential areas, and the victims were people of color. During the press conference for the Oldfort Hill explosion, police said they could not rule out a hate crime motive.
With the revelation that the three package explosions are believed to be connected, Austin police are issuing a warning to people who see packages outside of their home. Manley said in both cases, the suspect delivered the packages during the nighttime, and the victims found them in the morning on their doorstep.
"If you find any suspicious packages on your front porch, at your residence, call 9-1-1. And let us come out and take a look at those packages and ensure that they are safe," Manley said.
Manley added that it is best not to manipulate the suspicious packages because anything could trigger them to detonate.
Police said they are working in partnership with the FBI, ATF, and the United States Postal Service to determine who's behind the package explosions.
"We are not going to tolerate this in Austin, and you have seen every stop will be pulled out. The federal agencies are with us to lend us a hand and to bring this to as quick as a resolution as possible," Manley added.
Gov. Greg Abbott released a statement condemning the explosions and is offering a $15,000 reward to anyone with information that may lead to an arrest. To be eligible for a cash reward of up to $15,000, tips must be submitted to Texas Crime Stoppers using one of the following methods:
Call the Texas Crime Stoppers hotline at 1-800-252-TIPS (8477)
Text the letters "DPS"- followed by your tip – to 274637 (CRIMES)
Submit a web tip through the website
Submit a tip through the DPS mobile app
The APD said Tuesday that they will also be offering a $50,000 reward on top of the $15,000. Tips can be made to police at 512-472-TIPS (8477).
When there are new developments in this story, we'll send notifications by push alert. Download the KVUE app on iOS and Google Play to get those alerts.