LLANO, Texas — There are times where we see things that just don't seem possible. Rock stacks seem like one of those things – no wires, no glue, just gravity.
A stream of creativity can push people to do the unimaginable. Last weekend in Llano alongside the river, the creativity was flowing.
"We're building arches for the World Rock Championship team arches competition," a participant told KVUE.
"There's plenty of rocks and it's a great place to have it, and we decided we wanted to have the championship – so we made it happen," said Rich Houston. "You have to hold them up as you're building and hope that it doesn't collapse, and get it all into position and somehow they'll stick hopefully."
Some teams have been there since the beginning of the competition six years ago.
"This is our third year in a row to compete together as a team. We are the current world arch champions," said one of the members of the Tri-County Misfits.
PHOTOS: Llano rock stacking championship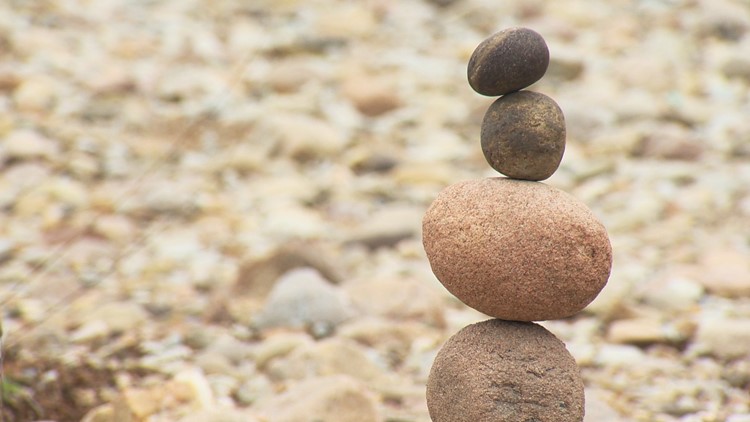 "All we can do is lose, right? All we can do is lose, boys," the group joked with each other as they built their arch.
They finished their 19-inch arch in just 10 minutes, but others didn't have gravity on their side.
"In the end, I don't really care," said Houston.
But those who did finish were judged by four judges – one of them Tex Toler.
"We judge it on how many rocks – one point for each rock for the main span," explained Toler.
They take into account height, span and level of difficulty. Adding all of those together, they decide their champion.
"First place, the Tri-County Misfits," said Toler.
Of course, there was some disappointment.
"I win where it counts, in my own heart and my mother's love," said Houston.
Everyone knows it's just a chance for creativity to flow.
"Good, clean fun – you know, out in nature and nice people, and what can I argue with," said Houston.