AUSTIN, Texas — K2 drug overdoses. Thefts. Violence.
We hear a lot of bad in the news about the homeless in Austin. Which is why we decided to spend a year sharing the human side of homelessness.
As Austin Mayor Steve Adler, other government leaders, non-profits and businesses put homelessness at the top of their lists of immediate issues to address, we at KVUE want to contribute facts and tell stories about the human side of life on our streets.
While spending time in Austin, you have likely passed someone standing or sitting on the side of the road asking for help. Sometimes, it's an individual and sometimes, you see camps set up under overpasses. You also notice the trash left behind.
You may have kept going past them. Maybe you tried not to notice them or even make eye contact — for several reasons. And maybe you asked them to leave you alone if they became aggressive, seemed mentally unstable or just needed a bath.
There are so many questions and rumors about the homeless in Austin. We want to tell those stories with information based on facts; look into solutions; see who is helping and how can you help; plus learn more about who these people are.
Homeless through the eye of a photographer
KVUE's photojournalist John Gusky started walking around different parts of Austin in December, walking up to people who appeared homeless to get to know them better.
With a camera and tape recorder, he asks for permission to photograph people while asking them about their story.
How did they get here? What happened? How long have they lived on the street?
"For some people, they hope that the overall project will reduce some of the prejudice and indifference," Gusky explained. "Other people don't want to [be photographed], and I get that."
Gusky said in the three months so far he has worked on this year-long project, it's already changed how he feels toward the homeless.
"There is a mental illness component to this, but that's just one variable out of hundreds, maybe thousands of variables," Gusky said.
Each person he interviews has a different story to tell.
"Even if it connects with only a small percentage of our audience, I think we've done our job."
PHOTOS: Our Homeless: Struggle on the Streets
PHOTOS: Our Homeless: Struggle on the Streets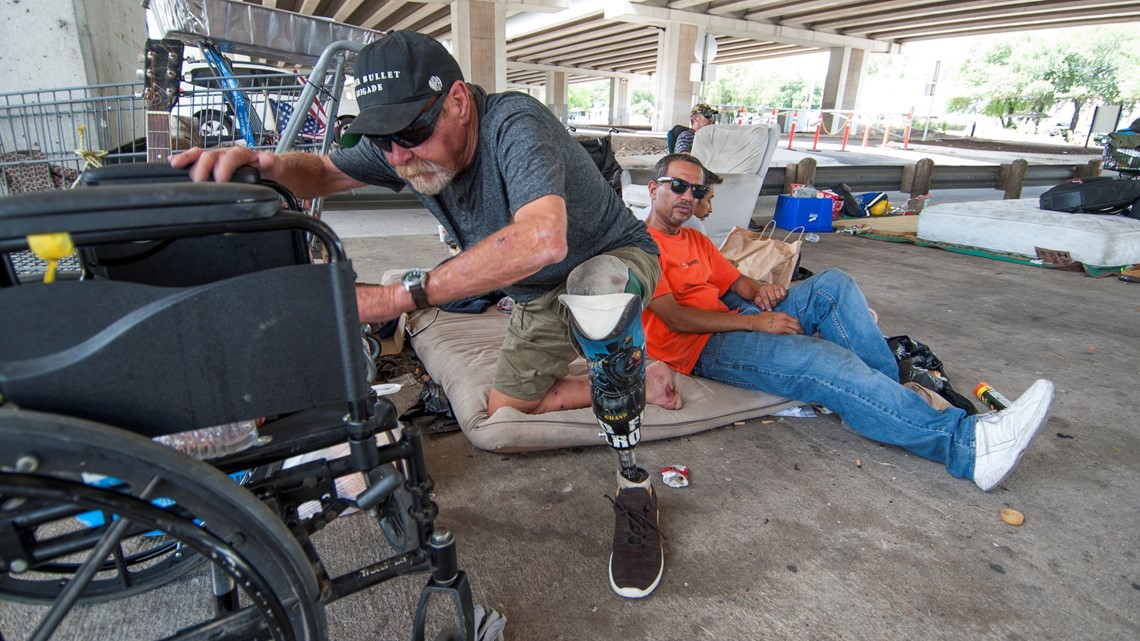 Is the homeless population growing?
Austin ECHO is a nonprofit organization that plans and implements community-wide strategies to end homelessness in Austin and Travis County. The organization compiles an annual report, and in January 2018, more than 500 volunteers counted 2,147 homeless individuals in the city of Austin and Travis County. Those volunteers counted 1,014 individuals not in homeless shelters and 1,133 individuals in homeless shelters. The 2018 total is up slightly from 2,036 in 2017. The organization did its 2019 homeless Point In Time Count on Jan. 26. The final count has not been finalized yet.
Where are the concentrated homeless areas?
Of the homeless not found in shelters, 1,003 were within the 10 Austin city council districts. Districts nine and three had the highest amount of homeless with 605, which is more individuals than the other eight districts combined. Districts nine and three include Downtown Austin and stretch into South Austin.
District nine Council Member Kathie Tovo told KVUE that her district has the largest percentage of homelessness in the city, and the data from Austin Echo confirms this.
Austin ECHO
She is working with the city to bring in more funding for the area to help with the action plan to end homelessness. When asked how to solve the homelessness issue, Tovo suggests providing enough resources to give them a way to not just get off of their feet, but to also be stable. Her opinion is that the community as a whole needs to step forward providing both financial and physical help through volunteering.
RELATED:
Austin City Council members call for project to create new shelter, services for the homeless
From homeless to award-winning employee: Why his 90-minute commute 'is worth it'
John Gusky, KVUE
Who is helping?
Mobile Loaves and Fishes is one area nonprofit organization providing food, clothing, hygiene products and other life-sustaining items to the homeless.
Communications Director Thomas Aitchison said something similar to Tovo, declaring that it takes a village and the homelessness issue in Austin is like a complex puzzle. He stated their organization is just one piece of the puzzle. Multiple organizations may do different things, but they are all important to help the homeless community.
While some organizations receive money from the city, Aitchison stated Mobile Loaves and Fishes is an organization that is privately funded.
Three years ago, Mobile Loaves and Fishes began moving people into their 'Community First Village,' a 27-acre village that can be called home to more than 200 formerly homeless men and women.
John Gusky, KVUE
Mobile Loaves and Fishes' website has plans for an additional 24 acres for its 'Community First! Village,' which will house nearly 500 formerly homeless people, representing about 40 percent of Austin's chronically homeless population.
John Gusky, KVUE
One of Austin's largest resources for the homeless is the downtown shelter referred to as the ARCH.
The ARCH, or the Austin Resource Center for the Homeless, is run by the Front Steps organization.
Outside on the often crowded sidewalks, you'll often find people on drugs or selling drugs. It's an area Austin police often target for undercover drug stings.
"It's a problem for us. If we could help clean up the outside area, we could do a lot better work," Greg McCormack, the Executive Director of Front Steps, said.
They can't control what goes on outside the building, but step inside the building, and you'll find it's a whole different world.
On an average day, there's just a quiet hum as people sit or sleep in chairs lining the first floor. The air smells clean, like bleach and laundry detergent.
That's because there is a large laundry room available to use for free on the first floor, so people can wash their clothes.
There's also a resource desk on the first floor for services people need to find jobs and housing.
"We have to help them, we have to figure out a way," McCormack said.
He told KVUE they are in constant need of more resource managers to help people who come to the ARCH.
The center also offers medical help and free hot meals, along with a place to shower and sleep.
When it was first built, the ARCH had bunk beds for up to 100 men to sleep in. But all along, McCormack said they've needed more beds. That's why they keep more than 100 washable mattresses with built in pillows in covered storage.
"We have slept up to 230 people, and we're now currently sleeping up to 190. We do that by getting mats like this and moving them back and forth each day," McCormack explained.
They use any available space they can on the first and second floors to let people sleep at night using a lottery system for available beds.
Each day, anywhere from 350 to 500 people come through the ARCH for help.
One of those people is D'Juan Davis.
"I went to jail, lost my job," Davis said. "It's hard to get a job with a felony and hard to find housing with a felony so that put me homeless."
After nearly two years in and out of the ARCH, the organization was able to find him housing in the 'Community First! Village.'
"We know if we get someone into housing, create that stability, that ultimately they will not become homeless again. Eighty percent of people who go into rapid re-housing do not become homeless again," McCormack said.
John Gusky, KVUE
RELATED: Austin Resource Center for the Homeless set to cut down on beds, move in new resources
To help the homeless individuals each year, the organization receives funding from different areas including a large grant from the VA to help veterans experiencing homelessness.
McCormack said their primary funding comes from the City of Austin Public Health with a $2 million grant each year.
Below is a list of other local organizations offering support for the homeless community:
John Gusky, KVUE
John Gusky, KVUE
John Gusky, KVUE
John Gusky, KVUE
According to Austin ECHO, some of the common causes of homelessness include:
Lack of affordable housing due to the cost of living rising in Austin and Travis County. In Travis County, you would have to work 109 hours a week at minimum wage to afford a one-bedroom home.
Employment factors are a big issue from unemployment, low wages, and limited job skills.
Poverty impacts many of the homeless with 60 percent of individuals reporting they do not have any income.
Lack of access to services for mental health, substance abuse, and healthcare also contribute to homelessness with 5,133 individuals of the homeless population in Texas suffering from severe mental illness and 4,373 individuals experiencing homelessness in Texas suffer from chronic substance abuse.
Domestic violence is also a big issue, as 3,768 homeless individuals in Texas reported they were victims of domestic violence.
Racial inequality is a problem where African Americans are incarcerated and experience poverty at significantly higher rates compared to the general population, which correlates to the homeless population.
Follow kvue.com/homeless for more stories, progress, and photos in our ongoing series.
John Gusky, KVUE
RELATED:
Single mother makes documentary about being homeless, finds housing in the process
Volunteers gather for homeless count, survey in Travis County
'SafeHorns' wants to make West Campus safer for students and pedestrians