AUSTIN, Texas — A pair of statues of homeless people have been unveiled at the Community First! Village on Hog Eye Road.
Homeless advocate Richard Troxell explained the statues.
"This is called 'The Homecoming.' It is the story of a chance encounter between a veteran, John, and his daughter, Colleen, and an African American woman, Ms. Anateen," Troxell said.
They have been his vision for the past four years.
RELATED: Austin crews taking over homeless camp cleanups under highways
RELATED: Who's in charge of cleaning up homeless camps? An Austin neighborhood wants answers.
"And that's what this story is about. It's about people who don't have anything [but] are willing to share whatever they have, the warmth of their fire and their humanity with others," Troxell said.
The statues represent every homeless person Troxell has met the past 40 years.
On Saturday, they were officially unveiled to the world.
They sit in the middle of the Community First! Village, a 51-acre property where the once chronically homeless live in tiny homes and trailers.
On hand for the unveiling was Congressman Lloyd Doggett.
"These statues are a reminder that our homeless are not nameless, faceless. They're real people," Congressman Doggett said.
RELATED: City looks to help new Austin homeless shelter running out of money
RELATED: Austin homelessness continues, but youth, veteran stats down
The unveiling of the statues kicks off to a campaign that is trying to put a positive face on homelessness.
Something that is easy to do for Daryl Ball, who moved into the Community First! Village in January.
He's a volunteer but experienced homelessness when he was younger.
"My initial goal was to help other people," Ball said. "The amazing thing is my life is the one that has changed the most."
Troxell plans to retire as the executive director of House the Homeless and move out of Austin.
His next passion project is to build similar statues in Washington D.C., furthering the Community First! Village vision.
PHOTOS: Our Homeless: Struggle on the Streets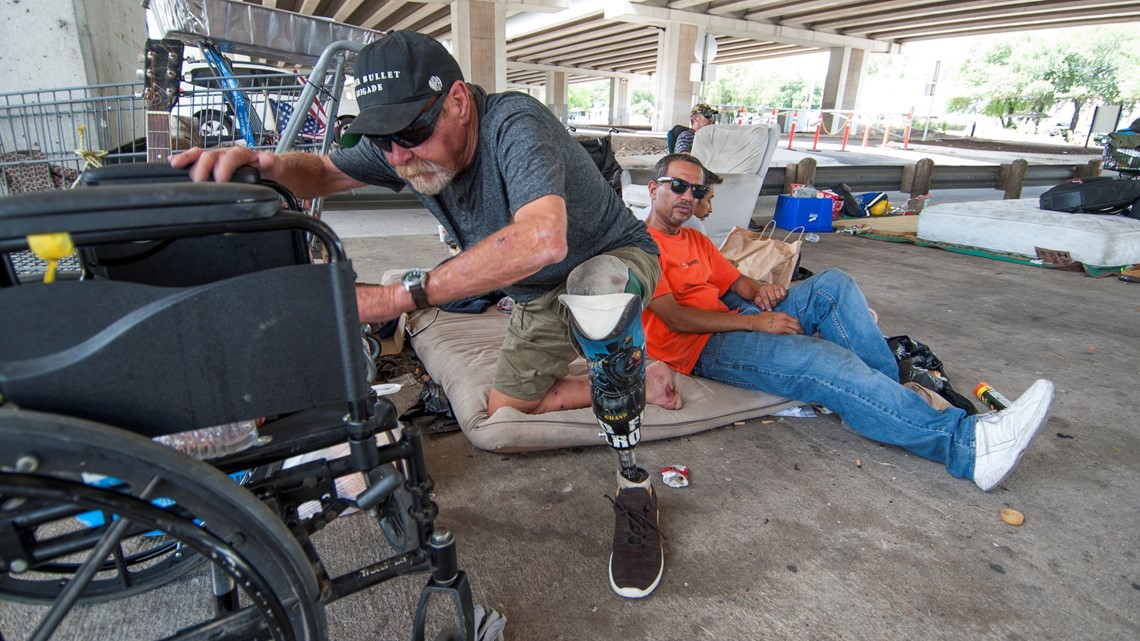 RELATED: Homeless woman gifted new house by real estate group
RELATED: Home for the homeless | Apartment complex built to house homeless people
Those statues will have QR codes where as soon as you take a picture, images will appear.
"All of a sudden, they will be in a drone, flying over this garden and they're going to see the same statue now on the screen in front of them," Troxell explained.
The screen will show scenes of the blacksmith shop, trailers, salon, tiny homes and more.
The idea is to promote the miracle, as Troxell puts it, of this community so others around the country can one day replicate what Troxell and founder Alan Graham dreamed of.
Troxell will still be "Education and Outreach Officer" for House the Homeless, zipping into Austin every once in a while.
PEOPLE ARE ALSO READING:
'There was more to the story than pictures of the crime scene' | Remembering the victims of the 1991 yogurt shop murders
VERIFY: Are Californians really 'invading' Austin?