AUSTIN, Texas — Homelessness is one of the biggest issues in Austin and Tuesday we found out there has not been any improvement on the number of homeless in the city from 2018 to 2019.
A point-in-time homeless count by Austin ECHO took place in January. From 2018 to 2019 the number of homeless counted in Austin jumped from 2,147 to 2,255.
The 2019 total shows a 5-percent increase in homelessness from 2018.
While the jump is not high, it shows the homeless issue is on-going.
The district that had the largest decrease in homelessness was District 3, with 35 fewer homeless individuals counted in 2019 compared to 2018. District 9 had the largest increase in homelessness with 46 more homeless individuals counted compared to 2018.
PHOTOS: Homeless count in Austin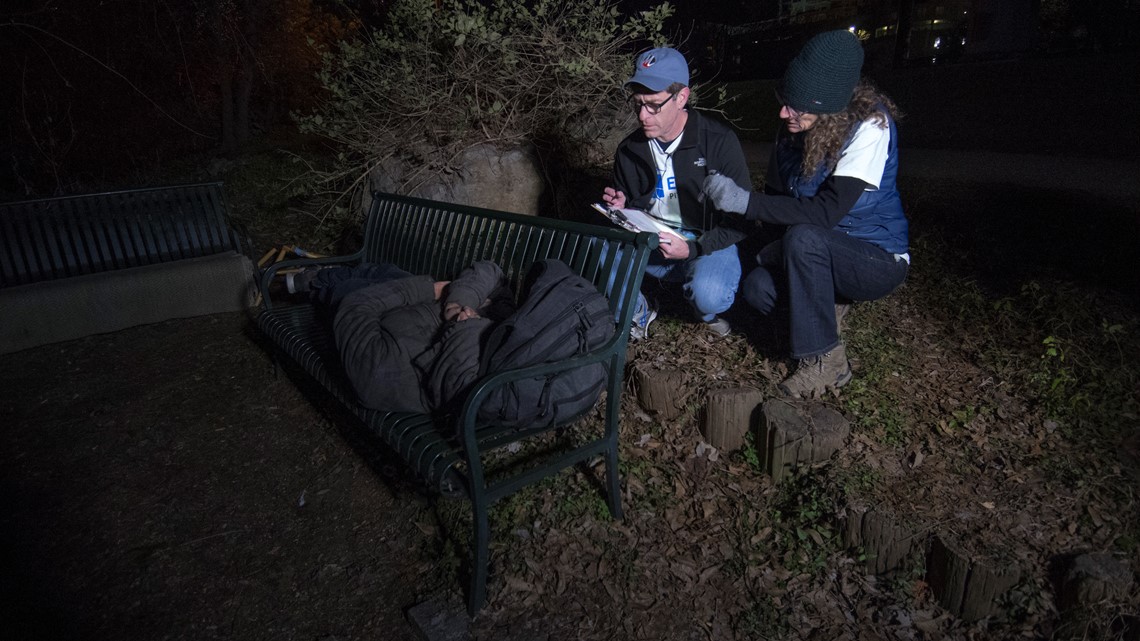 While the increase in homelessness may not seem like good news, Austin ECHO's study does show some positive results in the city's action on the problem.
There was a 25-percent reduction in youth homelessness overall and a 56-percent reduction in unsheltered youth homelessness, according to Austin ECHO's study.
The city began a program to end youth homelessness in 2017, which helped lower these numbers.
"Ending youth homelessness requires a relentless and collaborative focus on providing safe, immediate housing options and access to the kinds of services our most vulnerable youth need," said LifeWorks Executive Director Susan McDowell, in the study. "The reduction of youth experiencing homelessness in this year's PIT Count validates that together, we are building a system that is working. We have to scale this success now and reach the youth still waiting to be housed."
The study also found the city's approach to house homeless veterans continues to work with a 15-percent reduction from 2018.
In January, city leaders and volunteers went around Travis County, counting the number of homeless people sleeping on the streets or in the tunnels.
RELATED: Tunnel under Riverside in East Austin shows 'city-wide' homeless problem
RELATED:
Our Homeless: Struggle on the Streets
Volunteers gather for homeless count, survey in Travis County
Non-profit offering jobs in Austin parks to those facing homelessness
At the time, advocates told KVUE the point of the count is to find out how many people need a safe place to stay.
"They might be sleeping under bridges and alleys or tents in the green belts. They might be in their cars, but they're not in a shelter and they're not in a place meant for human habitation," said Ann Howard, executive director of Austin ECHO.
Austin ECHO and their partners said in their study they are taking important steps in implementing their "Action Plan to End Homelessness," which they said includes:
City council provided $4 million in additional funding for rapid rehousing and other priorities in 2018 and identified $30M for homelessness capital projects from the Waller Creek TIF, is transforming shelter services at the ARCH and exploring how to add shelter and housing resources.
The Salvation Army will soon open new shelter and transitional housing for families.
SAFE secured a new $633,000 grant from HUD to provide housing and supportive services to domestic violence survivors.
Lifeworks, Integral Care and Foundation Communities have housing developments under construction that will provide housing for people experiencing homelessness.
Mobile Loaves and Fishes is working to expand Community First!
The new Affordable Housing Bonds will deliver low barrier housing to expand housing options for people experiencing homelessness
PHOTOS: Our Homeless: Struggle on the Streets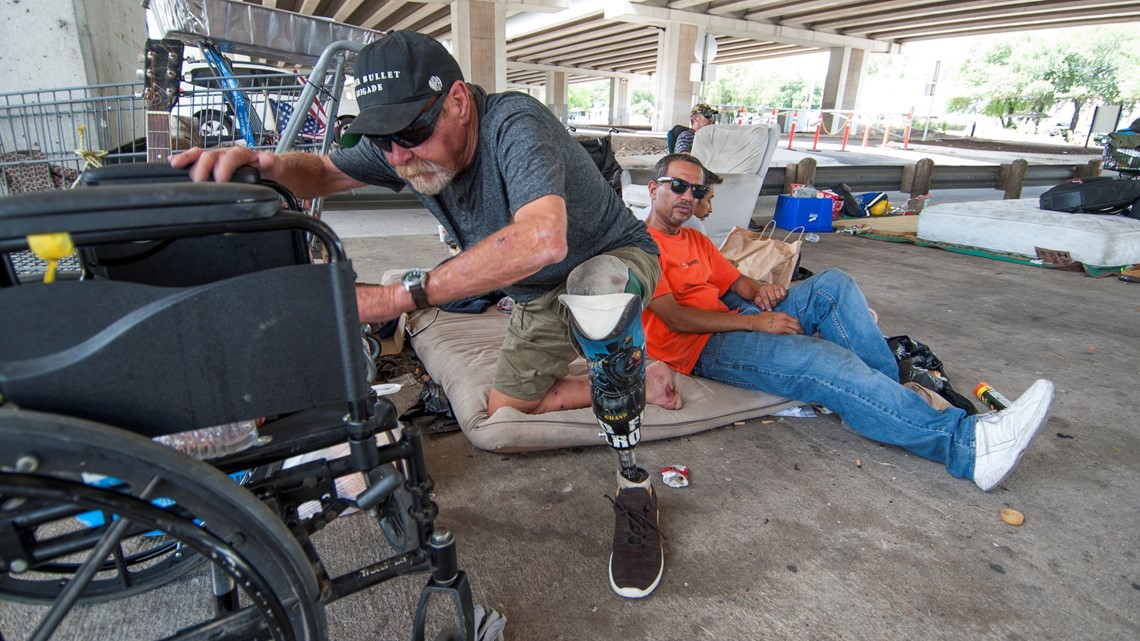 PEOPLE ARE ALSO READING:
Did you see the B-2 Stealth Bomber fly over COTA near Austin?
Police: Dad goes into Austin middle school to 'beat up' two students
Texas elementary school art teacher makes dress featuring her students' drawings