HAYS COUNTY, Texas — The fight to keep a natural gas pipeline out of the Hill Country continued Wednesday night in Hays County, just one day after the San Marcos City Council approved a resolution to oppose Kinder Morgan's Permian Highway Pipeline.
It's not necessarily the pipeline itself that homeowners are fighting, says Hays County landowner Lucy Johnson, it's the current route that Kinder Pipeline has proposed that they're concerned about.
You can see the latest route proposal here.
Speaking at the Hays County meeting Wednesday night at the high school, Johnson noted the pipeline's proximity to homeowners and natural resources.
"There are a lot of people who live out here; it has dense population, particularly around the Kyle area. It doesn't make sense for pipelines to be going through this area."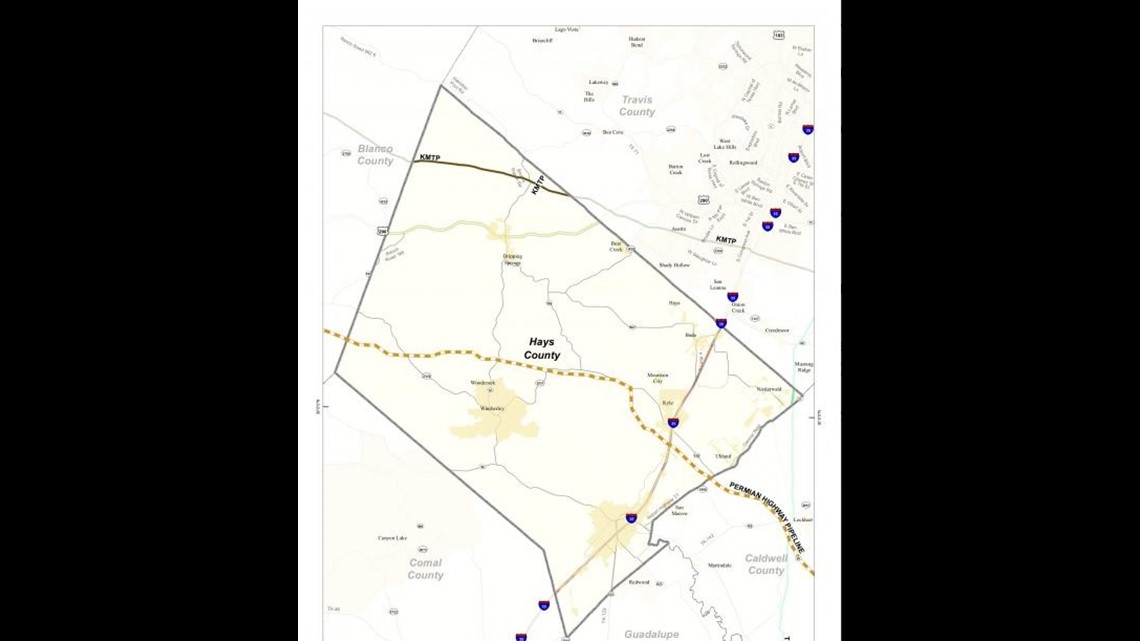 The Permian Highway Pipeline would run through the Blanco River, Middle Trinity Aquifer and Edwards Recharge Aquifer zone. Homeowners and local officials have expressed concern about the pipeline's impact on those crucial water sources, especially if there was a leak.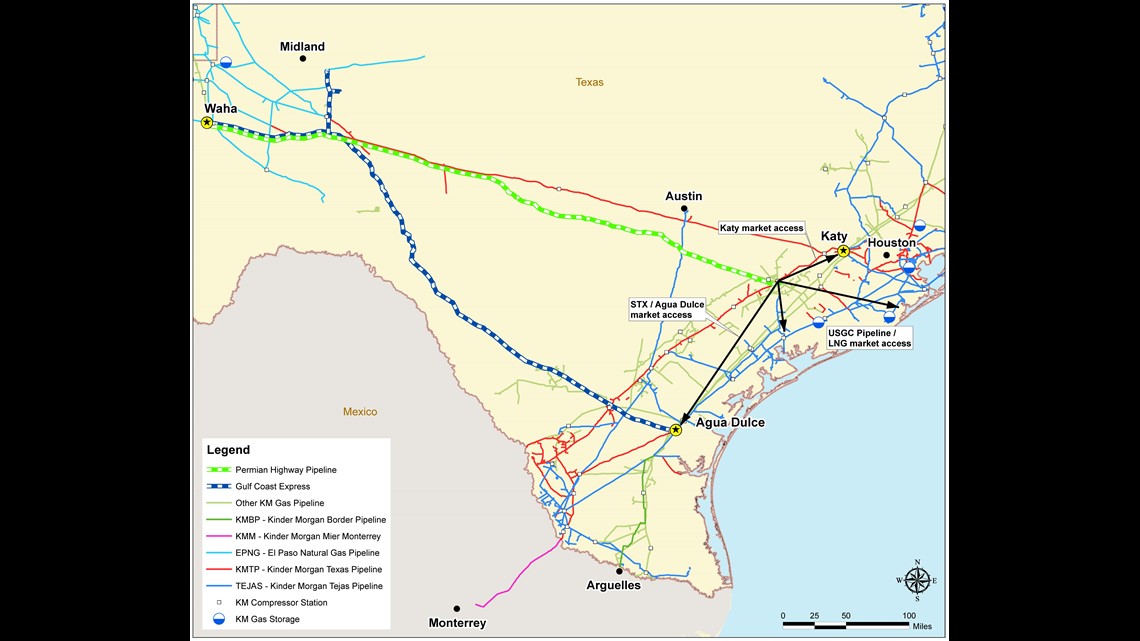 Pointing out the natural gas pipeline explosion in Missouri earlier this week (that pipepline is not run by Kinder Morgan), Kyle city manager Scott Sellers also told the audience Wednesday night the proposed Permian Highway Pipeline would go near city-annexed land platted for up to 20,000 future homes. A potential blast like that in Missouri, Sellers says, could impact at least half those homes.
Kinder Morgan has said the pipeline would be buried in nine-foot-deep trenches, and could be as shallow as 2 to 3 feet in some areas, according to State Representative Erin Zwiener.
Even though Hays County, Kyle, Buda and now San Marcos have all opposed the pipeline, only state legislators can put a stop to it, said Hays County Commissioner Mark Jones.
Jones told the crowd their goal is "to make all of this as uncomfortable and expensive as possible so that Kinder Morgan has no choice but to move the pipeline."
KVUE spoke to Allen Fore after the meeting. Fore is the vice president of public affairs for Kinder Morgan.
"We've met with a lot of folks, elected officials, the aquifer authorities, conservation groups and landowners and we've made over 120 routing adjustments on this already," said Fore.
Fore says they are working with all the necessary state and environmental groups to make sure they are moving forward appropriately, and points out they may still make additional adjustments as they continue to hear community feedback.
For now, Johnson says they will take their fight to the legislature.
"Kinder Morgan isn't budging, but neither are we," said Johnson.
They plan on being at the Texas State Capitol Monday morning to support Senate Bill 421.
SB 421, filed by Senator Lois Kolkhorst, addresses current eminent domain laws in Texas.
State law currently allows companies like Kinder Morgan to use eminent domain to build the pipeline.