CEDAR PARK, Texas — A community is mourning the loss of a popular and well-liked Vista Ridge High School student.
Seventeen-year-old Myles Hutcheson died in a car crash on Monday.
On Tuesday, Vista Ridge students and parents visited the memorial site off Brushy Creek Road, where Hutcheson crashed his car. Parts of his car still littered the ground.
Visitors laid balloons, flowers and even a pair of Vans shoes -- which friends say Hutcheson wore every day -- at the site.
PHOTOS: Vista Ridge High School students remember classmate killed in car crash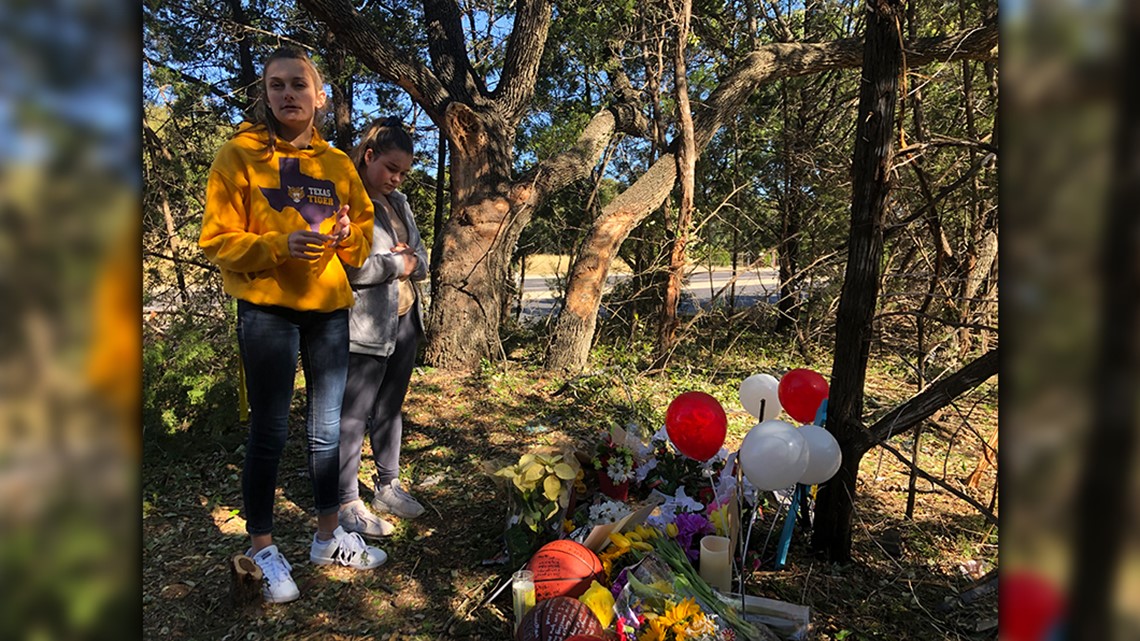 Hutcheson played on the Vista Ridge varsity basketball team. The Vista Ridge Basketball Twitter account tweeted a touching tribute to Hutcheson.
His good friend, Mackenzie Manak, read what other friends wrote on a basketball.
"'You were the kindest person I have ever met'...'God needed you more, I love you so much, fly high angel, I'll see you soon.'"
His friends can't believe what happened.
"I couldn't wrap my head around it. I was in shock for like, an hour. Like, everyone was crying. There was so many things going on at one time, I thought it wasn't real," Manak said.
"He was so joyful and happy, and I loved the way he treated everyone and we all are going to try to be like the way he was," Payton Locke said. "He had so many friends, but the thing was, he didn't just have those friends to say that he did. He really cared about everyone, and that's the important thing. He was such a sweet kid, but he actually meant everything he said and he did."
RELATED: Vista Ridge varsity basketball game pushed back after player dies in car crash
Earlier on Tuesday, hundreds of students at Vista Ridge High School observed a moment of silence in honor of Hutcheson.
"The more that we got to know him, the more that we realized that he truly was genuine," Varsity Basketball Coach Clint Anderson said.
Coach Anderson said Myles was always positive, always bright. Breaking the news to the team on Monday was difficult.
"He'll truly be missed on the basketball program because he was our voice. If we did get upset or yelling at the team, he was the first to say, 'Let's go guys, let's fix it,'" Coach Anderson said.
"We joke and told this story a couple of times that I don't understand how Myles can get to class in six minutes because every person that he sees he's going to ask, 'How's your day? Is there anything i can do for you?'"
His is a life taken too soon -- but a good heart that will live on.
You can find information about Hutcheson's visitation, service and funeral below:
Visitation and Rosary Service – Wednesday, Dec. 5th
Wednesday - Visitation at 4:00 PM
Catholic Rosary Service at 6:00 PM - Beck Funeral Home, 1700 E. Whitestone Blvd., Cedar Park, TX 78613
Boys Varsity Basketball Game - Wednesday, Dec. 5th, 7 p.m. at McNeil High School (game changed from Tuesday, Dec. 4)
Funeral – Thursday, Dec. 6th
Hill Country Bible Church at 10:00 AM - 12124 RR620 North., Austin 78750.
- Reception to follow
- A private burial for family only