AUSTIN, Texas — Prepping for Tuesday service at Foreign & Domestic was busier than usual this week.
Besides dinner, the owners – Nathan Lemley and Sarah Heard – were getting ready for a party of nearly 300 off-site.
But what was really preoccupying the couple was the thousands of comments they've been dealing with the past two weeks.
Plenty of negative online comments are targeting the restaurant's voluntary 3% surcharge that customers are seeing on their bills. That surcharge helps Lemley and Heard pay for health insurance for their full-time employees.
"We've gotten some comments that are so disgusting and disheartening toward our employees, saying that they don't deserve to have access to health care and that they knew this coming into the industry," Heard said.
For example, one Yelp reviewer wrote, "Will not return. Employers pay their own employees health care. Some 'slight of hand' trick for owners to put a little extra in their pockets."
Others wrote "expect to see lower tips for your staff" and "nice try, libs."
One person even posted a fake reservation on Open Table just to write the headline, "Pay Your Own Insurance."
PHOTOS: Health care surcharge leads to fake reservations, negative reviews for Austin restaurant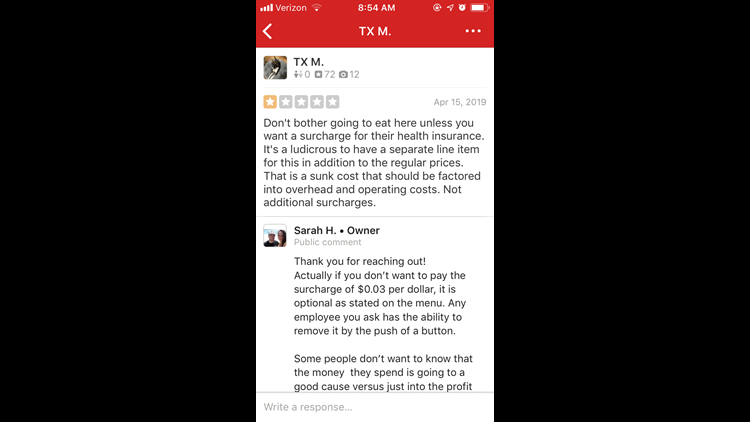 "They're hiding behind computers. They're very quick to comment before seeing the rest of the story," Heard said.
"Reviewers need to absolutely be careful when posting reviews of businesses," said Laura Prather, a first amendment attorney.
Prather specializes in defamation cases. She said if you're going to post reviews of businesses, especially negative ones, you need to follow these rules:
"What they say needs to be based on their own personal experience, it needs to be truthful, they shouldn't embellish and if they have an opinion, they should explain what the basis of that opinion is," Prather said.
For now, Heard doesn't plan on taking any legal action. Business, after all, is still on a slow but steady incline.
Prather also said reviewers need to be careful about what they click on as well. Sometimes, websites have terms and conditions that have the reviewer signing a non-disparagement agreement without them knowing it.