The father and daughter who were killed as they were crossing Gattis School Road in Round Rock Saturday have been identified as 43-year-old Tyrone Price and 12-year-old Cheyenne Price.
Tyrone's sister, Juanita Price, tells KVUE the family lives nearby, and the father and daughter were walking home from the store.
"They walk this street everyday, and then they come down this street one day and you have some really really crazy people that decide to drive really crazy on a busy street and this is what happens," said Price.
Police said the two were crossing the street at 3:48 p.m. at A.W. Grimes Boulevard at Gattis School Road.
Then say a silver van and red Ford Mustang crashed at the intersection, hitting at killing the father and daughter.
Initial reports said the red Mustang and another blue Mustang were racing and caused the wreck. Police now said they aren't sure if that's what happened, but say speed was a factor in the crash.
Four other people were taken to the hospital, but are expected to be okay. The driver of the red Mustang suffered life-threatening injuries in the crash, but as of Monday afternoon, is doing better.
Police are searching for the driver of the other car, described as a grabber blue Mustang with a model year between 2010-2013.
Round Rock police told KVUE Monday that they believe the driver has important information regarding the crash.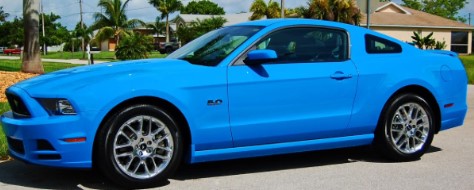 People have placed flowers, balloons, and signs at the crash site.
Tyrone and Chyenne's family visited the site Monday.
"For me it's pure hell being here, this is where I lost my son and my granddaughter," said Janice Bell, Tyrone's mother.
The family says Tyrone was a great father, and described Cheyenne as always having a smile.
Price said she still can't believe her brother is gone.
"Just to know that he is no longer here, it tears me up," said Price.
Bell said they want answers, so the family can find closure.
"It kills me to just stand here and it makes me angry, because this is the spot where my family lost their life at," said Bell.
An investigation into the crash is ongoing. If you have any information about the blue Mustang or the whereabouts of the driver, contact Round Rock police immediately at 512-218-5500.
Go here to donate to a GoFundMe created by Tyrone's sister.