'Constant heartbreak.' Family remembers daughter who died in Cedar Park pool incident
In June 2019, the DelaPeñas got a call they hope no one ever has to get. Now they're hoping their loss can push for change to save others.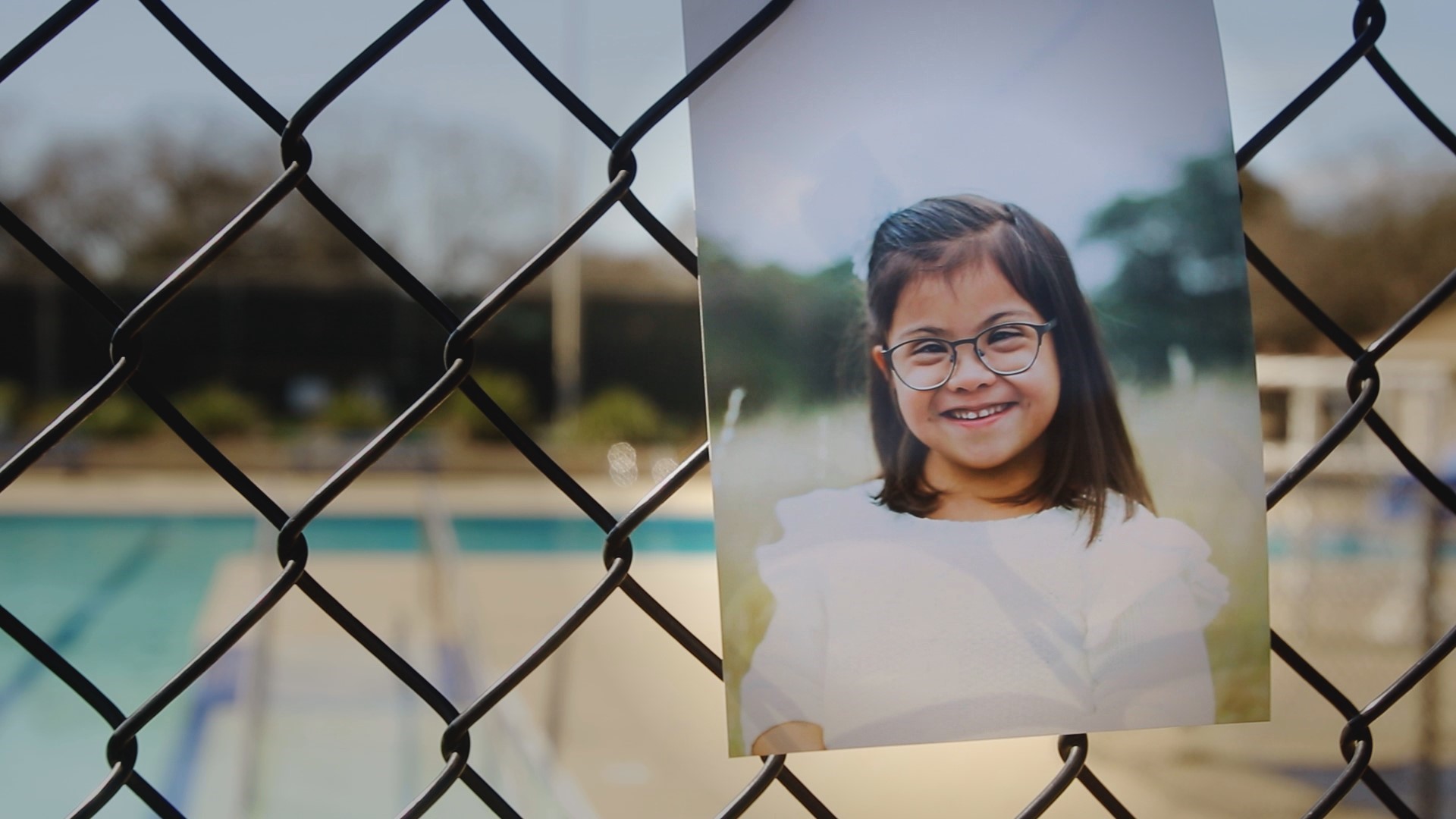 Eighteen months ago, we covered the death of a young girl swimming at a Cedar Park pool. She was part of a summer camp that was there on a field trip.
Six-year-old Cati DelaPeña was found at the bottom of the pool and died the next day at the hospital.
Now there's a place that will always make the DelaPeñas think of their daughter.
"Constant heartbreak"
:
Reliving what led up to Cati's death
"Our Cati was very social and she was very go-getter," said Kori DelaPeña.
"Very popular at school, very friendly," added John DelaPeña, as Kori echoed.
"She would always ask me, you know, 'Dance with me, Daddy,'" said John DelaPeña before realizing he would never get those nights again. "But, yeah, full of joy."
They're both going through what no parent would ever hope to go through. Something they said can't be described.
"If you're a mother who's lost a child, that's the only way. I can't explain it to you," said Kori DelaPeña.
"Constant heartbreak," added John DelaPeña.
Constant heartbreak. It's a story that began two years ago when deciding on a summer camp for their two daughters.
"So we found, High Hopes Summer Camp here in Cedar Park, and they had spots available and, you know, we went and took a tour," said John DelaPeña.
"Any mother is going to go check out the summer camp, ask those specific questions," Kori DelaPeña added.
"The staff knew that, you know, Cati looked like a normal little girl, she acted like a normal little girl, but she did have Down syndrome," John DelaPeña said. "We asked about, you know, what kind of activities they did. They said we do take pool trips twice a week. We said, you know, Cati has Down syndrome, so she's got lower muscle tone, she can't swim."
This is why the DelaPeñas said they told the camp if Cati went to the pool, she needed to wear a life jacket.
They said the director at High Hopes told them the pool staff had them covered and there would be a life jacket placed on all of the non-swimmers before they got in the pool.
But what happened the second day of camp, they'll never forget.
"A perfect storm"
:
June 5, 2019, and Cati's death
"I dropped her off and I asked the director specifically on what their plan was," said Kori DelaPeña before choking back tears. "We were told again the protocol was pretty easy, that they would have all the little ones, that included Cati, at the non-deep end."
But, according to the family, that didn't happen.
"They called us and told us that there had been an accident at the pool," said John DelaPeña. "We were working so we both rushed to the hospital."
Cati was first taken to St. Davids North, then transferred to Dell Children's the next day, where she died.
"She was just leaving," remembered Kori DelaPeña.
"There was no brain activity really, so we just trusted in their opinion and said OK," added John DelaPeña.
But how could this happen? Cati's parents described it as a "perfect storm" of things gone wrong.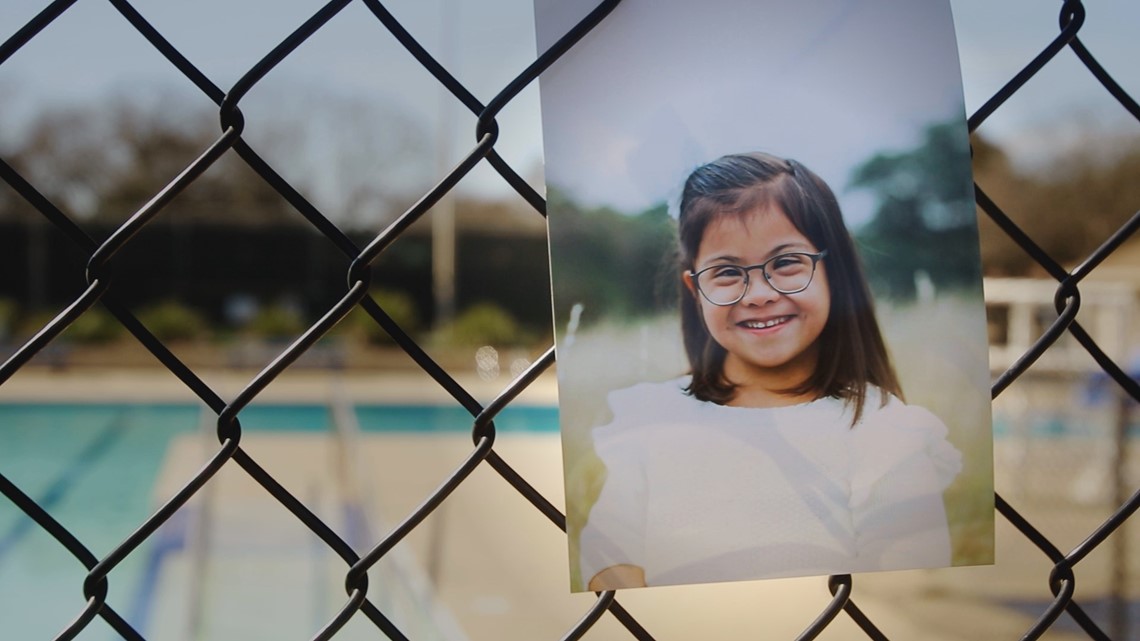 "So, first of all, you know, the campers had more kids than they were allowed to, according to their license," said John DelaPeña.
According to the Texas Health and Human Services Commission assessment form from the incident, the camp was licensed for 110 campers. Yet the day Cati was found at the bottom of the pool, there were actually 112.
According to Cedar Park's pool rules, they should have been asked to leave.
"Failure of any agency to comply with the provisions of this policy shall result in denial of access to the pool," said the pool rules online.
"There weren't any life jackets put on any of the kids that would have needed them, even if the parents requested," he said.
"I don't know what else we could have done, we did everything," said Kori DelaPeña.
PHOTOS: Flowers, balloons placed at pool where child nearly drowned
Statements and the investigation
:
What those involved say, and what came out of the criminal investigation
We asked High Hopes Summer Camp for a comment. The current director, Nina Pena, sent the following:
"Thank you for your inquiry. Due to ongoing litigation, we are not making any statements nor taking questions regarding this matter at this time."
The City of Cedar park gave us a similar response. Their media and communications manager, Jennie Huerta, said:
"We must respectfully decline your request for an interview, as it is the policy of the City of Cedar Park to not comment on pending legal matters."
Cedar Park police investigated what happened. Their spokesperson said that the case was presented to a grand jury, which indicted Seth Owen Carthel for criminally negligent homicide. Carthel was the director of the camp when Cati died.
The DelaPeñas have now filed a lawsuit against the camp and the City claiming that their negligence led to Cati's wrongful death.
In the lawsuit, they also claim one of the campers said: "All five of the childcare staff members had their backs turned to Cati as she struggled and drowned."
"We don't want this to happen to another family again, I do not wish this on our worst enemy. So our job right now is to make sure no other child has to die because of negligence," said Kori DelaPeña.
Pushing for more
:
What the DeLaPeñas are doing now
The goal to have no family going through this again is why they're also pushing for more regulations.
According to Goodwin's legislative director, Mike O'Connor, this bill will deal with situations where the organizations that care for children take them swimming. It will require that these organizations do the following:
Determine which of these children cannot swim or are at risk from swimming
Provide the owner of the pool, lake, etc. – if it does not belong to the organization – with a list of those children
Ensure that the child is fitted with an appropriate, properly-fitted lifejacket whenever the child has access to the water.
"The idea is that in order to keep the children safe and, indeed, protect their lives, those who cannot swim must have a lifejacket on when they are near the water," said O'Connor. "A whole bunch of children running around can be chaotic. Under those circumstances, it is not good policy to trust anyone to remember to put the lifejackets on when it is the proper time for a child to get in the pool."
They're hoping this can push to save kids like Cati and others who can't swim.
"My child drowned and I did everything I could as a mom. There are policies in place for things like this and, if you can not follow them, then something needs to be corrected. End of story," said Kori DelaPeña.