AUSTIN — School can be tough with trying to do homework and making friends. Now imagine all of that if you have a disability.
Imagining that is what a school in Cedar Park is doing.
Students at Reagan Elementary in Cedar Park are going through a program called Kids First, through Texas PTA, to help them learn how to include everyone.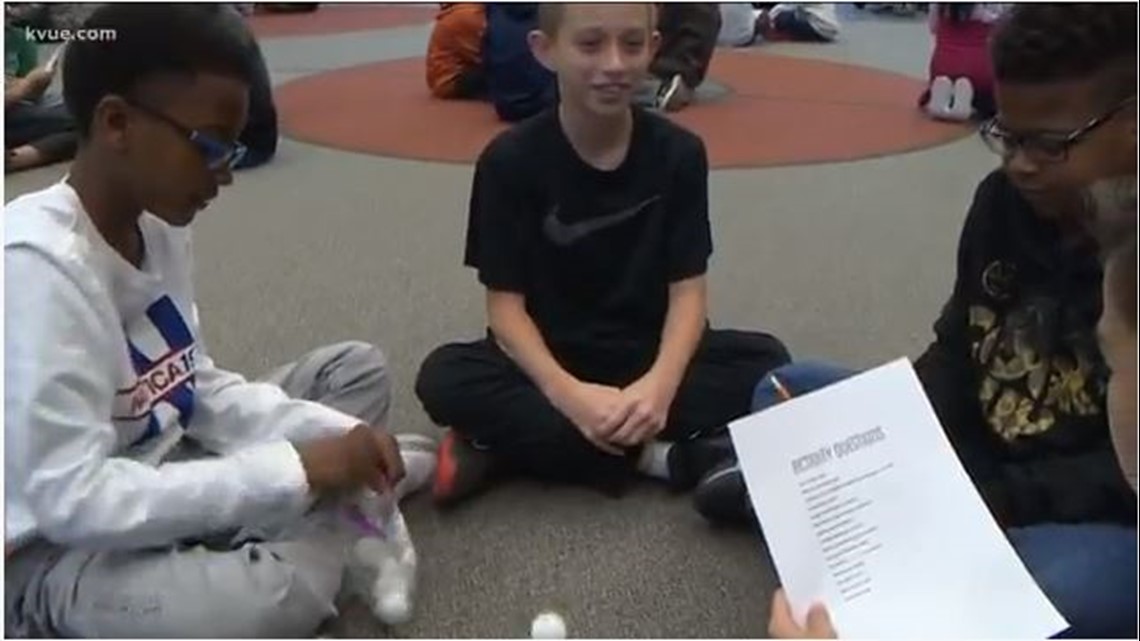 They're doing exercises to understand dyslexia, visual and hearing impairments, mobility challenges, and ADHD.
They had to try to talk with marshmallows in their mouth to see what it's like to have speech problems.
They also had to listen to a story while someone sang in their ear, scratched their neck, and patted their shoulder to better understand Autism.
"A lot of times with Autism there's sensory overload, so the lights are too bright, the sounds are too loud, their hearing is usually really good, the smells might be too much," said Krista Spurgeon, an SLE teacher at Reagan. "That's all that going on while you're trying to listen to someone talk to you, or learn about something."
One Cedar Park students said it can be confusing with distractions.
"I didn't think it'd be that hard, but someone whispering in your ear, someone tapping on your shoulder, you're like confused, you've got to look around and see what's going on," said fourth grader Langley Franks.
"I paid attention, but I couldn't really focus on one thing," said fourth grader Jonah Spikes.
"It was really hard," said second grader Bayla Cunningham.
With each exercise, they're hoping the students can flex some understanding.
"Maybe they can be patient and give them processing time cause they realize that all of this is overwhelming," said Spurgeon. "They kind of understand oh that's why they're screaming or flapping or whatever they're doing right then, so yeah it does give them better understanding."
Spikes said after doing those exercises, he realized how difficult things can be for students with disabilities.
"They just have that like every single day, it must be very hard for them," said Spikes.
"Now I know what people feel like whenever they have to go through that, it was kind of overwhelming," said Franks.
"When these kids know to include, and not to exclude, they stop making fun, and they start protecting their friends, and becoming one big equal group," said mom Jenni Sellers.
That's what they're going for, focusing not on the differences, but what they have in common.
"I don't want other people to feel left out, cause they're all people, we're all human," said Spikes.
Sellers said she's glad her daughter had this opportunity so she can learn to treat others equal.
"Having to learn these things teaches her to treat them equally and to not leave anybody out, and to include all to make sure that people have those opportunities and grow into fully functioning adults so she grows up to be an adult who doesn't judge or disparage anybody," said Sellers.