TRAVIS COUNTY, Texas -- State officials have arrested several employees of the Travis County Tax Office for suspected fraud on Friday, according to Tax Assessor-Collector Bruce Elfant.
On Monday, the Department of Public Safety said they started investigating Tax Assessor employees and non-employees in March, who were believed to be connected to fraudulent activity related to license plate issuance.
DPS Regional Commander, Freeman Martin explained one of the allegations.
"If you have an employee who is working with a particular title company and they are lowering the value of that vehicle so they're paying less taxes to the tax assessor collector," said Commander Martin.
Martin also said, "this is something we don't tolerate, this is taxpayer money, we're government employees, this is a priority for us at the department."
During the multi-agency operation, the following people were arrested and booked into the Travis County Jail: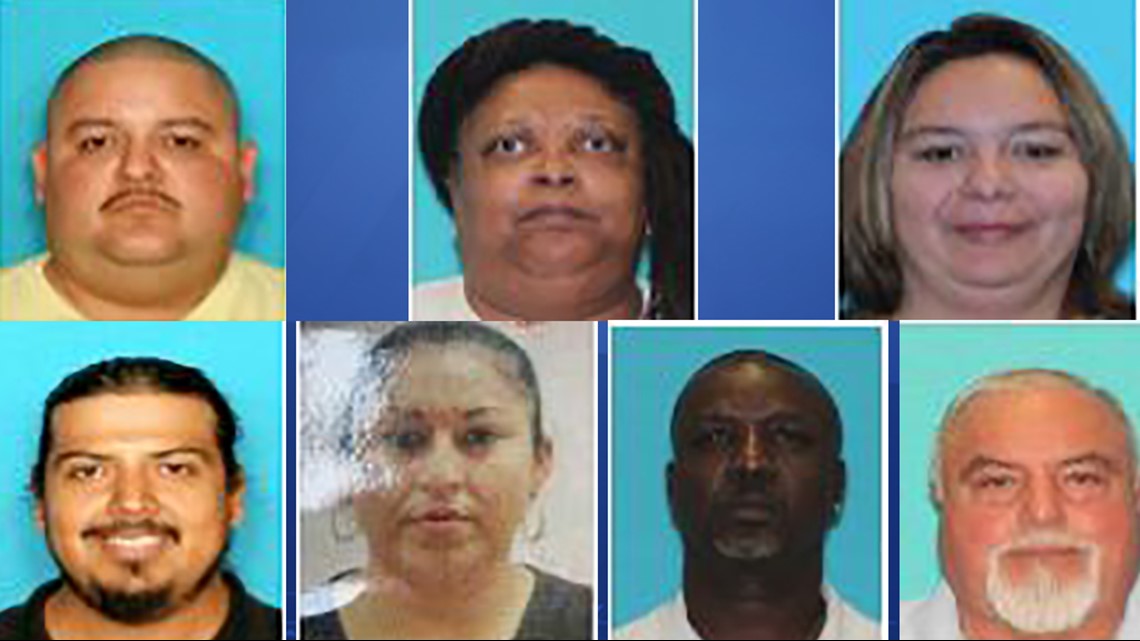 Shell Kenneth Prieto-Reese, 43: Engaging in organized crime
Cathy Lynn Wilson, 57: Engaging in organized crime
Susie Alvarez Araujo, 43: Forgery
Steven Hernandez, 35: Forgery
Hipolita Tiquet De Dios, 41: Bribery
Cecil Leary, Jr., 61: Engaging in organized crime
Eulalio Hernandez, 72: Forgery
Here's the statement from Tax Assessor-Collector Bruce Elfant:
"I want to thank the Texas Department of Public Safety (DPS), Criminal Investigation Division, the District Attorney's office, and the Travis County Auditor for their part in rooting out a problem that has plagued the Motor Vehicle Division of the Travis County tax office. Since Friday afternoon after I was notified of the investigation, with the help of the Texas Department of Motor Vehicles, we have been able to implement contingency plans to make certain the main tax office was up and running Monday morning and open for business. The satellite tax offices will remain closed until further notice. I encourage any Travis County resident looking to renew vehicle registrations to do so via our online portal or at any of the several HEB locations throughout Travis County.
"Additionally, it is my intention to brief the Travis County Commissioners Court on Tuesday, May 22nd
at 9:30 am. There I will be able to provide details on the contingency plans that we have put in place and what the next steps are for the tax office moving forward. Lastly, I also want to thank Travis County Judge Sarah Eckhardt, Travis County Attorney David Escamilla, and the executive team at Travis County for their assistance these past several days. Because of their all-hands-on-deck approach, we have been able to accomplish a lot in a short period of time."
Authorities said that the crimes occurred at the Precinct One and Precinct Two Tax Assessor satellite offices.
KVUE'S Jenni Lee visited the Precinct Two satellite office in Pflugerville where she met several disappointed people because the office was closed.
"It's hard to believe we can't use the services of an office that's closed because of 7 individuals. It's very frustrating," said Mike Phillips.
"I think it's ridiculous you know, shouldn't be doing that. Taxpayers money, shouldn't be doing that," Leroy Bell said.
The temporary closure of the satellite offices created an even busier scenario at the main tax office on Airport Blvd. Monday afternoon, staffers had to stop taking new customers at 4 p.m.