AUSTIN — It's a serious accusation from the head of the Austin Police Association. Kenneth Casaday said Austin Council member Greg Casar is skewing data to make the Austin Police Department appear racist.
On Monday, Casar tweeted: "We must confront the racial disparities in arrests by Austin Police."
There is a link in the tweet to data that is sourced from the Austin Police Department and a picture with the statement "Austin Police discretionary arrested Black residents at double the rate of white residents."
The tweet is part of Casar's argument that Austin should pass a resolution to become the state's first "Freedom City," so people of color are treated as fairly as possible, especially immigrants. That resolution passed unanimously at a tense city council meeting early Friday morning. That makes Austin the first "Freedom City" in Texas.
However, Casaday said Casar's data is misleading and incorrect.
"I think Greg Casar is using this to grandstand. I think it's nothing but a bunch of race-baiting. I think it's very dangerous for officers and the community because he's trying to stir up hatred towards police officers," said Casaday.
Casaday told KVUE he agrees with Casar that they should look at more areas to cite and release offenders rather than taking them to jail when it comes to misdemeanors. But, Casaday says he's worried about the data Casar is using to promote his agenda item.
"The (APD) chiefs have talked to him privately about it, and when I say him I'm talking about Greg Casar. He knows that his numbers are skewed," said Casaday.
This is the data KVUE received from the Austin Police Department.

According to this chart, in 2017 for Class A and B misdemeanors, 78 percent of black people were cited and released while 22 percent were arrested.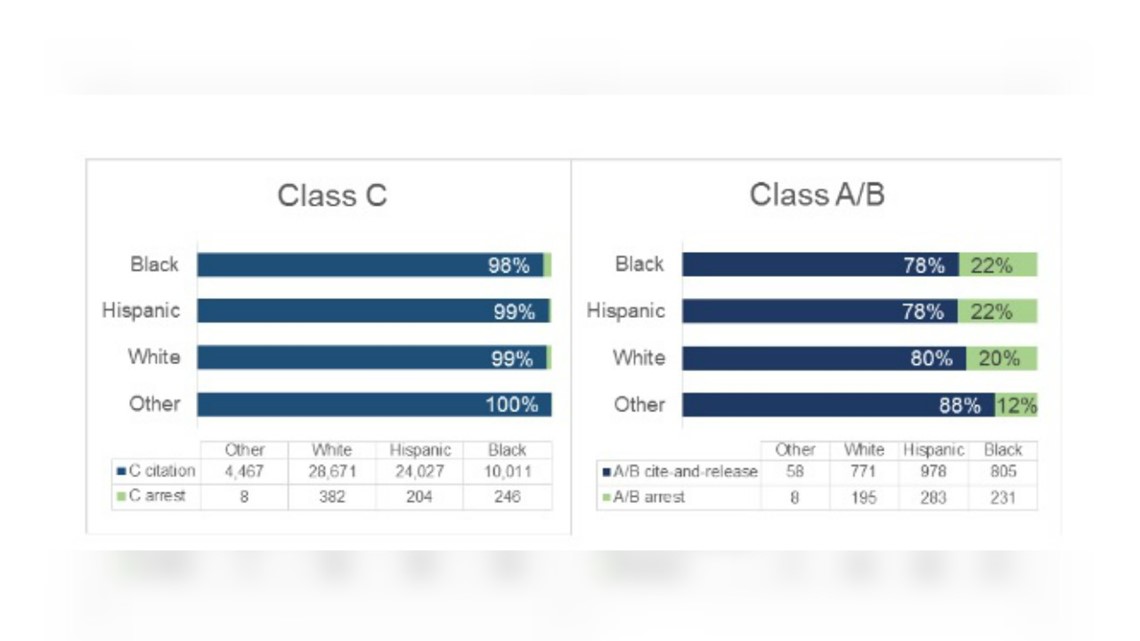 It's the same metric for Hispanics.
The chart also shows 80 percent of white people were cited and released while 20 percent were arrested.
For Class C misdemeanors, 98 to 99 percent of black, white and Hispanic suspects were cited and released with only one to two percent of people going to jail.
KVUE understands there are many ways to interpret data. For instance, the council member may be comparing the overall population of the races in the city with tickets and arrests.
On Tuesday, Casar and Austin Mayor Steve Adler spoke at a press conference about the Freedom City agenda and about how they interpreted the department's data.
"There's real racial disparities in how the Austin Police Department arrests people in our community and stops people in our community," said Casar.
"The numbers are clear: there's disparities that are shown," Adler said.
Casaday said they're not opposed to looking at ways to improve policing, but he is asking city council to have third-party experts look at the data for accuracy.
"We believe the numbers have been skewed intentionally by Greg Casar to make the officers of the Austin Police Department look like a bunch of racists which is absolutely a bunch of BS," said Casaday.
KVUE spoke with Casar Thursday and he said he stands by his accusations that Austin Police are tougher on black suspects than white suspects.
"If you go down to the jail, it's really clear that there is racial disparities in the use of arrest in our city," Casar said.
When you combine all classes of misdemeanors -- A, B, and C -- data does show black suspects are discretionarily arrested four percent of the time, versus just under two percent of the time for white and Hispanic suspects.
"When you look at the number of arrests vs. citations, as a matter of fact, black folks for those sorts of offenses were arrested at just over four percent compared to cited whereas whites and Latinos were arrested at two percent," Casar said.