CENTRAL TEXAS — Halloween 2013, Wimberley 2015, Hill Country 2018. Three 100-year flood events in five years' time.
Trent Chastain has lived on Lake Travis for more than a decade in a home his great uncle owned.
After going through five floods, he and his wife opted to build up. Way up. They now have to climb 46 steps just to get inside.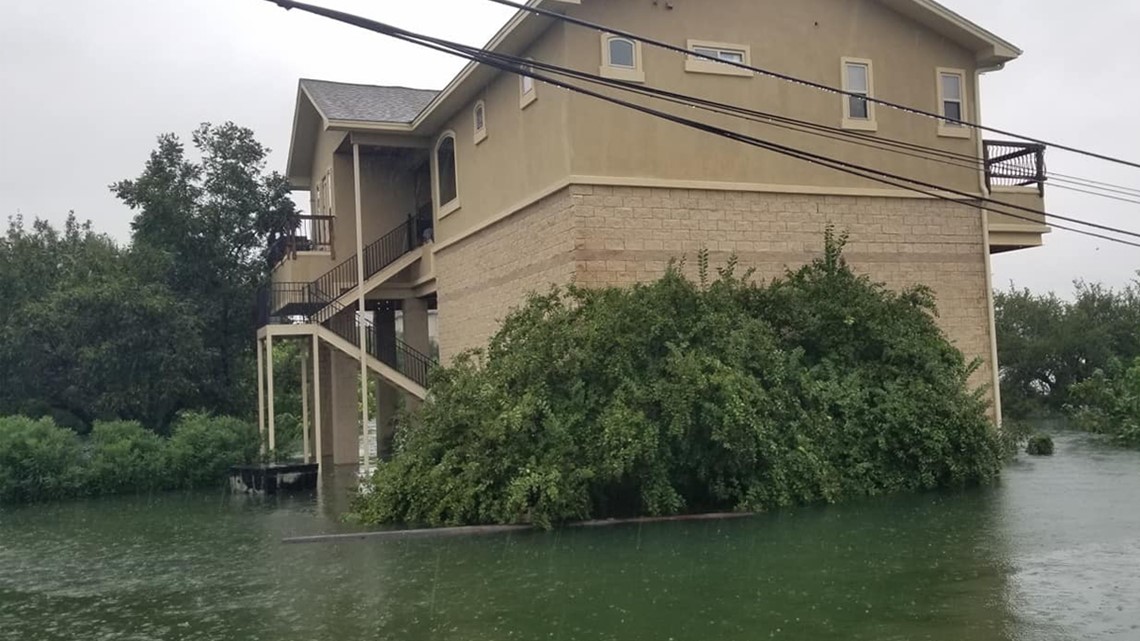 "We usually keep our oxygen tank right here," joked Chastain, walking halfway up the staircase.
It takes work to get into his home, but it pays off.
"We enjoy the view for sure," he said.
Weeks ago Chastain watched as Lake Travis rose to 710 feet.
WATCH: Lake Travis man watches waters rise in historic Central Texas flooding
His home was one of the few on his street to stay dry.
"We had no structural damage, no interior damage," he said.
"The water was up to, well the flood lights got water in it," he said.
PHOTOS: Flooding devastates Lake Travis homes
Living 33 feet in the air was a requirement when he decided to rebuild.
"FEMA and LCRA (the Lower Colorado River Authority) had a flood elevation level we had to adhere to and we did a foot above that," he said.
More and more people are moving into floodplain
Development means thousands more families are moving to places like this. A recent study found growth in flood plains across the country is up 14 percent since 2000.
It's not just development. We're getting more rain in shorter amounts of time.
FEMA is currently redrawing flood maps for a good chunk of Central Texas. Those maps that will likely be out in two years.
You can search here to see if your home is in a flood plain.
More rain means more floods in Central Texas
The National Weather Service has been looking at rain patterns across the country. It's a study called Atlas 14.
Before the study, it was believed that in any given year there was a 1 percent chance of 10.2 inches of rain falling in 24 hours in Austin. That was the official definition of the 100-year storm. Following the Atlas 14 study, researchers discovered that amount of rainfall is now likely to occur more frequently. The new 100-year storm will be closer to 13 inches of rain in some parts of Austin.
"More severe rainfall events are likely to occur," said Kevin Shunk who manages the flood risk for Austin.
Onion Creek, a neighborhood in Austin, an example of what can happen when there is no plan
Since 1999, Austin has spent $150 million buying out and helping 848 homeowners in Onion Creek. Here's how that breaks down:
In upper Onion Creek, we've spent $17.3 million since 2017 and have acquired 25 properties.
In lower Onion Creek, we've spent $133 million since 1999 and have acquired 823 properties. Approximately $46 million of the $133 million is the Army Corps' share of the buyout portion of the project (which comes in the form of reimbursements). And in addition to the $133 million, FEMA has spent $8.8 million in lower Onion Creek. Millions more has been spent on relocating benefits, real estate services, asbestos testing and abatement and demolition.
This area is where homes were built before rules were put in place. An area that flooded again in 2015.
Floodplains in Central Texas are getting bigger
"Floodplains are going to get bigger and flood risks for people is going to change," said Shunk.
Right now 4,000 homes and businesses are currently in areas considered "at risk of flooding."
When FEMA redraws the floodplain maps, that number is expected to grow to 7,000.
That means homes in neighborhoods like the one at Loyola Lane and U.S. 183 will have stricter rules if homeowners want to renovate. And in some cases, these homeowners will have to have flood insurance.
"I think just the foundation was $80,000 to $90,000," said Chastain.
For some it's the price of living on the lake.