AUSTIN — The unprecedented boil water notice for Austin Water customers ended Sunday, and the West Travis County Public Utility Agency lifted their boil water notice Saturday. Both water utilities issued precautionary boil water notices on Monday, Oct. 22, following bleak conditions in the Colorado River due to floodwaters. Officials from both utilities said they were able to lift the boil water notices after their water lab results passed the turbidity or water clarity requirements of the Texas Commission on Environmental Quality this weekend.
Note: This story will no longer be updated as of Sunday. Oct. 29. Click here for the latest information on the boil water notice for the Austin area and what people are being asked to do next.
PREVIOUS COVERAGE:
For the City of Austin, officials said storage water reservoirs were at 50 percent capacity Friday and are continuing to climb, which the city officials said was likely because of the reduction in personal water use by Austin Water customers. The improved conditions reflect what Austin Water said Thursday. The water utility stated that while there is still a lot of work to be done, their target end date for the notice is Sunday, Oct. 28. Their goal was achieved, with the notice being lifted Sunday afternoon.
The water utility said while the boil water notice could be over Sunday, the water restrictions could remain because they said they "don't want people, for lack of a better term, to go crazy."
On Thursday, the fourth day of the boil water notice, Austin Mayor Steve Adler issued a formal disaster declaration for the City of Austin, as a result of the severe weather and prolonged flooding and boil water notice in the area. The declaration is a "necessary administrative step that allows the City to seek reimbursement for expenses related to our recent weather emergencies."
On Wednesday, three days after the initial boil water notice, the water utility announced that the advisory was mandatory, based on orders from the Texas Commission on Environmental Quality -- which is the environmental agency for the Lone Star State.
Austin Water Director Greg Meszaros said water quality was improving, according to KVUE's media partners at the Austin American-Statesman later Wednesday. The Statesman reported that Meszaros said turbidity levels at Water Treatment Plant 4 dipped below 100 for the first time since the notice began, though it is still much higher than the normal level of five.
Austin Water said they issued a precautionary city-wide boil water notice Monday following historic flooding that brought in high levels of silt into the city's water supply. But -- it wasn't until Tuesday, Oct. 23 that Austin Water said they "failed to meet the minimum treatment technique requirements for turbidity": a measure of water clarity. Austin Water said the public didn't need to change anything that they began doing Monday under the precautionary boil water advisory. Austin Water customers are still asked to not water outdoors, limit personal water use and boil all water before consumption.
Here's a map of the Austin Water service area:
Austin leaders announced during a press conference Tuesday afternoon that Austin Water is producing more water than it's using and said they anticipate the water boil notice to only last a few days. This comes after officials issued a water restriction notice Monday, due to the fact that residents were using too much water. Austin City Manager Spencer Cronk said it's believed this is the first time in the water utility's history that they've issued a boil water notice for Austin.
Officials said during the press conference that the main thing residents should be aware of is that they still need to conserve the amount of water they're using each day.
"The more people conserve, the faster we will get out of the water boil notice," Mayor Steve Adler said.
City Manager Spencer Cronk said officials are working hard to make sure that the needs of Austin residents are met.
RAW: Austin officials provide updates on day two of boil water notice
"We understand that this has had a significant impact on the community, but staff from the city and county are working around the clock to make sure that the basic needs of residents are being met," said City Manager Spencer Cronk. "The most important things for the community to do is to conserve water and to boil water for drinking and cooking."
Austin officials added that they anticipate the water boil notice to last "days, not weeks." A Travis County official said at a meeting Tuesday morning that the advisory could last 10 to 14 more days, but Austin Water clarified that the possible two weeks was more of a planning time frame. Austin Water said variables like weather and consumption demands could change the time frame from a handful of days; and if that happens, the utility company said they are already working on a long-term plan. The city plans to lift the boil water notice once the treatment systems are stabilized. Austin Water said that could happen as soon as Sunday.
NEED TO KNOW
To ensure that water is safe, the city is asking all customers to boil water for at least three minutes before drinking it, cooking with it, using it as ice, brushing teeth, food preparation and water for pets. Austin Water said the water right now could contain harmful microorganisms, which could cause symptoms like diarrhea, cramps, nausea, headaches or other symptoms; the water utility added that the inadequately treated water could pose a significant health risk for infants, young children and some elderly people with compromised immune systems.
In regards to dishwashing, the Emergency Operations Center said people should wash dishes with hot, soapy water. Afterward, the dishes should be rinsed with boiled water.
Austin Water said the boil water notice does not affect laundry or bathing.
Once the boil water notice is lifted, Austin Water said they encourage people to change out the ice from their ice machine. Austin Water said it's not required to run the tap water for a time period after the notice is over, but it's up to the residents to decide what they want to do for their household.
Austin Water issued emergency water use restrictions Monday afternoon. Austin water plants use 105 million gallons of water each day and customers are currently using 120 million gallons per day, Austin Water said. All residents are asked to reduce their water use by 15 to 20 percent.
Austin Water said customers should not:
Use water for irrigation or testing of irrigation equipment
Wash vehicles, including at commercial car wash facilities
Wash pavement or other surfaces
Add water to a pool or spa
Conduct foundation watering, or
Operate an ornamental fountain or pond, other than aeration necessary to support aquatic life
The high level of debris, silt and mud in the water supply requires an extended filtration process. Austin Water Director Greg Meszaros said crews have been working non-stop to get water levels where they need to be, and it has taken a toll on the city's three drinking-water plants.
In a news release, the city said, "To provide necessary water pressure for fire protection, [water] plants must distribute water at treatment levels not typical of the utility's high standards for consumption."
Meszaros said Austin Water has reduced capacity at those plants to try and treat the "high turbid or very cloudy water." Turbidity measures the degree of clarity for water, and Austin Water said Monday the level the river water is at is unprecedented.
"Typical drinking water is 0.3 NTU of clarity. The river water is over 400, and we've never seen it to that level before," Austin Water officials said.
On Tuesday, Austin Water said the water quality had improved from Monday but the river quality was still pretty poor, as a result of the flooding of the Llano River.
The City of Austin released video of a water treatment plant as it took in dirty water, according to KVUE reporter Jenni Lee.
Meszaros said Monday the water looks like "chocolate milk or a milkshake."
Mayor Steve Adler echoed Austin Water's comments, "I think we've all seen the Lady Bird Lake as it has begun to turn more and more into something that looks like a milkshake. The sediment is just overwhelming the system. We have too much mud."
RELATED:
Outdoor water use in Austin banned following boil water notice
Grocery stores' bottled water shelves cleared after boil water notice for Austin Water users
Austin Water said there have been no positive tests for bacterial infiltration in the water system as of Tuesday, Oct. 23, but they believe a violation could happen under the current conditions.
Mayor Steve Adler and Austin Water are asking anyone who uses the city's water to conserve it until the event is over.
"No one should be watering their lawns," Mayor Adler said.
Outdoor water use is banned until further notice while the boil water notice advisory is ongoing.
Austin Public Health Director Stephanie Hayden said Monday her department has been in communication with all Austin food and restaurant establishments. She said it would be at the restaurant's discretion if the business chooses to remain open during the boil water notice.
Austin Travis County Health and Human Services said Wednesday they would be enforcing the boil water order for 6,000 locations that sell food. As of Oct. 24, officials said they have not shut down any restaurants for violations.
Friday the city said the Public "Health department has been working with restaurant partners to find alternative hand washing and dishwashing practices that are still safe. The city said the following procedures are approved by the Austin Public Health Authority and are listed as a best practice by the Centers for Disease Control for restaurants and food handlers.
Commercial dishwashers providing a hot water rinse (165°F - 180°F) or a chemical sanitizing cycle may be used. Machines must be properly maintained and operated as required by Texas Food Establishment Rules. Air-dry all wares after sanitizing.
All food handlers handling or preparing foods are required to wash hands (using existing water sources) as required by the Texas Food Establishment Rules, then apply an alcohol-based hand sanitizer, followed by the donning of single-use (disposable) gloves. No bare-hand contact with ready-to-eat foods is allowed.
Austin Water said they are working with the state and the TCEQ, Texas Commission on Environmental Quality, to get the problem resolved.
WIDER AUSTIN-AREA
Friday, Oct. 26, Austin Water and the West Travis County Public Utility Authority said that due to them failing to meet minimum requirements for turbidity, more service areas would be added to the mandatory boil water notice.
The following Austin locations were added:
Travis County Water District 10
Well Branch Mud
North Austin Mud 1
Northtown Mud
The boil water notice for customers of the West Travis County Public Utility Agency ended Saturday, Oct. 27. The following areas were impacted by the initial notice:
Travis County Mud 11
Travis County Mud 12
Travis County Mud 13
Travis County Mud 18
Headwaters at Barton Creek
Lazy 9 Mud 1A
Lazy 9 Mud 1B
Crystal Mountain Water Supply
The West Travis County Public Utility Service Agency said while the boil water notice is over, customers are still asked to conserve their water due to stage 4 emergency water restrictions.
The Brushy Creek Municipal Utility District is not affected by the boil water notice. Officials said the district doesn't purchase any water from the City of Austin.
Cedar Park officials said they are not impacted by the boil water notice. If things change, the city said they will notify the community.
All Travis County Water District 10 customers are affected by Austin's boil water notice. Officials said they purchase water from the City of Austin. Their customers are asked to boil water.
The City of Pflugerville said their water is not impacted by Austin's city-wide boil water notice.
"Due to the benefits of the Lake Pflugerville surface water and our treatment process, there is no concern for Pflugerville water customers at this time. If you receive water from a source other than the City of Pflugerville, please contact them directly for additional information about your water. City of Pflugerville water customers are NOT affected by Austin's boil water alert," the city said in a release.
The City of Round Rock said their customers are not impacted by the boil water notice, and their drinking water is safe to drink.
RAW: Austin city officials explain reasoning for city-wide boil water notice
Wednesday afternoon, the Lower Colorado River Authority (LCRA) announced that it is unlikely they will have to open any additional floodgates along the Highland Lakes since it didn't rain as much as they anticipated.
This boil water notice affects thousands of people in Austin, including schools, businesses and facilities.
SCHOOLS
Austin ISD
School leaders said all schools will run as normal with some adjustments Tuesday. Officials said campus drinking fountains are covered and closed off to students. Austin ISD said they've informed cafeteria managers of the boil instructions for safety. As a result, officials said they won't offer a salad bar for students and would adjust the menu to focus on hot vegetables and fruits -- apples and oranges. Austin ISD said they would provide water for students, but they're also encouraging students to bring their own drinks from home. All campuses are also accepting water donations, Austin ISD said.
Austin Community College
Officials said they are aware of the situation, and they've already taped off water fountains at impacted campuses within the city limits. All ACC campuses will remain open and students and employees are encouraged to bring water bottles to school.
Dripping Springs ISD
School officials said three of their campuses are following along with the boil water advisory issued by the West Travis County Public Utility Agency. Those include Rooster Springs Elementary, Sycamore Springs Middle School and Sycamore Springs Elementary School. Officials said nutrition services is going to provide safe drinking water and lunches for the campuses.
Eanes ISD
School officials said they would remain open during the boil water notice. However, if things change, the district said they would alert parents, students and staff. In the meantime, all water fountains have been covered at the campuses, and water bottles have been delivered to all campuses and buildings, including ATS. School leaders said they brought enough water for kitchen operations to continue Tuesda, and they are working to have enough water available for the following days. Parents are encouraged to send their children to school with bottled water and a prepared lunch if possible. All campuses in the district are accepting bottled water donations or gallons of water if available.
Lake Travis ISD
School authorities said the following schools are impacted by the boil water notice, according to the Western Travis County Public Utility Agency: Bee Cave Elementary, Lake Pointe Elementary, Lake Travis Middle School and LTISD Transportation/Distribution/Information Technology Center. Lake Travis ISD said district staff will cover water fountains and provide bottled water for students and staff. Officials said the food and the nutrition services department would make adjustments to comply with the boil water advisory.
Leander ISD
School leaders said five of their campuses are impacted by the boil water notice, and they don't expect any additional campuses to have water issues at this time. The affected schools include Grandview Hills, River Place, Rutledge, Four Points and Vandergrift. Monday Leander ISD said they worked with each school to get them clean water and food.
Manor ISD
Officials said some of their campuses have been impacted by the Austin Water boil water notice. Officials said all impacted campuses will provide bottled water for students and staff. Manor ISD said the school cafeterias would take the proper steps to make sure that all water used for meals is safe. Parents are encouraged to send their children to school with bottled water.
Pflugerville ISD
Officials said several of their campuses are affected by the boil water notice. They're asking students to bring bottled water to school with them. Officials said they have a plan in place for on-campus meals, and they would provide bottled water and sanitizing stations.
Round Rock ISD
Officials said on Twitter that some of their schools are impacted by Austin's boil water notice. As a result, they said they would provide bottled water for students and take precaution with their food preparation.
Here is a list of schools and facilities that are affected by the boiled water notice accordingly to Round Rock ISD:
Anderson Mill Elementary
Canyon Creek Elementary
Canyon Vista Middle School
Caraway Elementary
Deerpark Middle School
Elsa England Elementary
Forest North Elementary
Grisham Middle School
Grounds Maintenance
Joe Lee Johnson Elementary
Jollyville Elementary
Kelly Reeves Stadium
Laurel Mountain Elementary
Live Oak Elementary
McNeil High School
McNeil Performing Arts Center
Pearson Ranch Middle School
Pond Springs Elementary
Purple Sage Elementary
Sommer Elementary
Spicewood Elementary
Transportation West
Westwood High School
Wells Branch Elementary
University of Texas at Austin
UT Austin said they would keep their normal schedule during the boil water notice. Monday night, school leaders said they encourage students to bring either bottled water, bottled drinks, and food to campus; school leaders said some off-campus restaurants might not be operating during the boil water advisory. All drinking fountains on campus are covered and the University Housing and Dining provided bottled water to students and staff at mealtime. UT Austin said other food vendors on campus were notified of the boil water notice and given safety guidance. School leaders said they are also in the process of developing a contingency plan to provide bottled water at stations on campus. Officials suggested on-campus residents boil water in their microwaves for three minutes.
BUSINESSES AND FACILITIES
Austin-Bergstrom International Airport
ABIA said they've covered and turned off all water fountains at their airport.
Austin Humane Society
The shelter said due to the boil water notice, they'll need at least 50 gallons of water daily to keep the animals hydrated and healthy. Representatives said they'll accept boiled water, bottled water and clean water containers at their shelter located at the 124 block of West Anderson Lane. People can also donate money to help with the costs of purchasing safe water for the animals. Go here to donate.
Austin Pets Alive!
The shelter is asking for bottled water donations. Representatives said they've ordered bottled water from Amazon, but they don't believe it will be enough. People who would like to donate can bring water to the area outside of building C in the medical clinic.
Seton Healthcare
Representatives said they are continuing operations at all care sites following the boil water notification. They said they are working closely with the city, emergency management and other experts to evaluate the situation and address needs.
PHOTOS: Grocery stores in Austin packed after boil water notice issued
PHOTOS: Grocery stores in Austin packed after boil water notice issued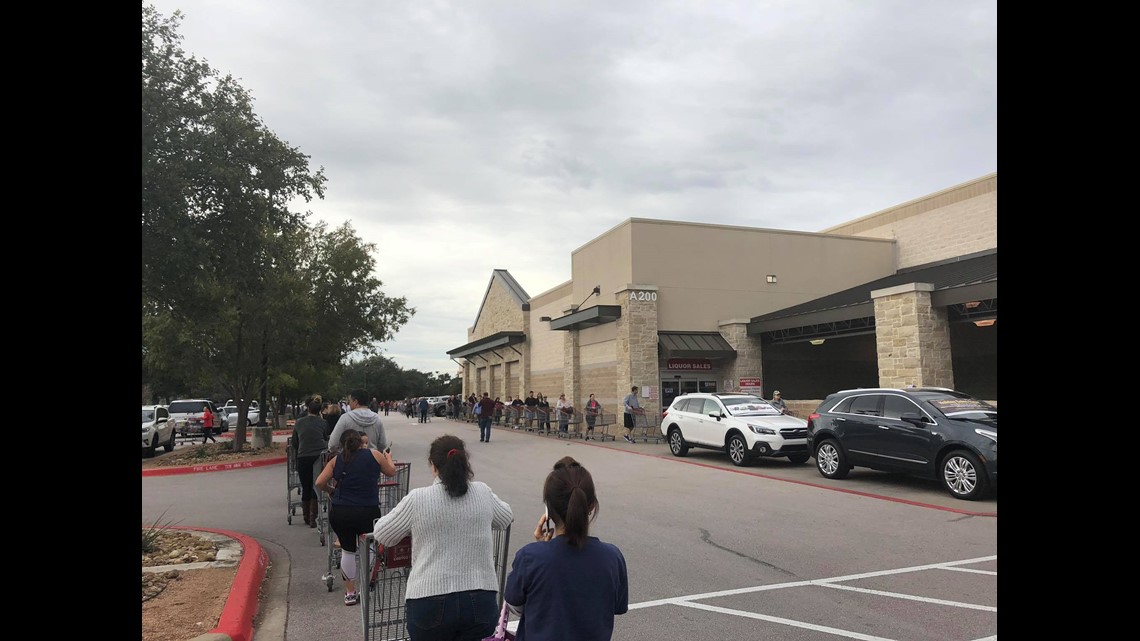 Starbucks
The coffee chain said they would only serve bottled beverages and packaged goods at their Austin-area locations until the boil water notice is over.
Travis County Jail
The Travis County Sheriff's Office said all inmates at the jail in Del Valle have been instructed not to drink water from the faucets. Authorities will provide them with bottled water, and officials said they should be set for several hours. The Travis County Jail in downtown Austin has boiled water and is cooling it for distribution. Officials said additional water is on the way from adjacent counties. In the coming days, the Travis County Jail expects to receive nearly 5,000 cases of water, which totals to 15,000 bottles per day in seven days. Travis County is also working with the Office of Emergency Management to get a water tanker with the capacity of holding 3,000 to 5,000 gallons of potable water.
HELP ON THE WAY
The city said they are working with multiple agencies and looking at several contracts with the state to bring clean drinking water to the city during this time. Some of those resources are reserved for emergencies, the city said.
The City of Austin has seven free water distribution sites for people with special needs, who are unable to boil water, and for people who need bottled water for work. This does not include schools, which are providing water at their campuses for students. Officials said supplies are limited to one gallon of water per person and up to four gallons of water for a family of four. You can find the pickup area at the driveway of the distribution sites.
The following locations will be open from 7 a.m. until 7 p.m.
Walnut Creek Park (12138 N Lamar Blvd)
City of Austin Warehouse, formerly Home Depot (7211 N IH 35 SVRD NB)
Roy G. Guerrero Park (400 Grove Blvd)
Onion Creek Soccer Complex (5600 E William Cannon Dr)
Dick Nichols Park (8011 Beckett Rd)
Kelly Reeves Athletics Complex (10211 W. Parmer Lane) -- Here, each vehicle is able to take four cases. (The site closes at 5 p.m. on Friday
Circuit of the Americas (9201 Circuit of the Americas Blvd)
Note: To receive bottled water, you may be asked to provide your ZIP code and the total number of people in your household.
Travis County has also opened up a water distribution site at Circuit of the Americas. Bottled water will be available for underserved communities, people with special needs and those who are unable to boil water. The site is open in Parking Lot A from 7 a.m. to 7 p.m.
"Our priority at Travis County is the safety of our residents. We want to make sure we are doing everything we can to help the community as we all navigate this emergency," said Hector Nieto, Public Information Officer for the Travis County Commissioners Court. "Travis County would like to thank Circuit of the Americas for their assistance and making their facility available."
San Antonio Water System said they're bringing a 5,000-gallon water tanker to Austin while the city deals with a boil water notice. San Antonio Water said the tanker will come and go as needed, and they would update the status of the tanker on their social media page, here.
Richard's Rainwater, a Dripping Springs bottled rainwater company, said their business is not impacted by the boil water notice. Their company is donating as much real rainwater to the city of Austin as needed. They're asking schools, non-profits and shelters in need to send an email to this address for help.
Randalls grocery store said Monday that their shelves were restocked at Austin-area Randalls. The grocery store chain said they would deliver truckloads of water Tuesday to the Central Texas Food Bank, Austin Salvation Army and Austin Red Cross.
H-E-B said they worked overnight Monday to start sending fleets of trucks full of water to the Austin-area. The grocery store chain said they will continue to send trailers of water until it is no longer needed.
This is a developing news story. This page will update as more information becomes available.