AUSTIN — Note: This blog is no longer being updated as of Saturday, Oct. 20. Stay up to date with the latest weather coverage, here.
While most of Central Texas is staying dry for the start of the weekend following "historic" flooding, Texans are still keeping an eye on the dangerously high levels at Lake Travis.
The morning of Saturday, Oct. 20, Lake Travis was recorded at 146 percent full at 704.3 feet. It currently sits at the fifth highest level on record. And the lake is expected to climb to 706 feet Saturday. Saturday afternoon, KVUE Chief Meteorologist Albert Ramon reported that Lake Travis is slightly decreasing for the first time since Monday morning. At roughly 3 p.m., Lake Travis was reported to be 704.26 feet, which is a few inches lower than it was Monday morning.
In 1991, Lake Travis reached its highest crest on record at 710 feet.
RELATED:
Austin's Lake Travis reaches highest level in more than 21 years
VIDEO: Texas restaurant Shack 512 nearly submerged by floodwater on Lake Travis
As Lake Travis rises, here's a look at how water flows through the Highland Lakes
The question on many minds is whether the Lower Colorado River Authority will open additional floodgates at Lake Travis' dam. The agency, which oversees the operations of the Highland Lakes and their corresponding dams, currently has four open floodgates at Lake Travis' Mansfield Dam. On Saturday, the agency said the LCRA does not expect to open more floodgates at Mansfield Dam on Oct. 20 or Oct. 21. "However this is a dynamic situation and conditions could change," LCRA said.
The LCRA also said Saturday that flood releases from Lake Buchanan have been reduced as inflows to the lake have declined. This means that one floodgate is open at Buchanan Dam. That may change with more rainfall, the LCRA said.
'Historic flood': How flooding has impacted Central Texas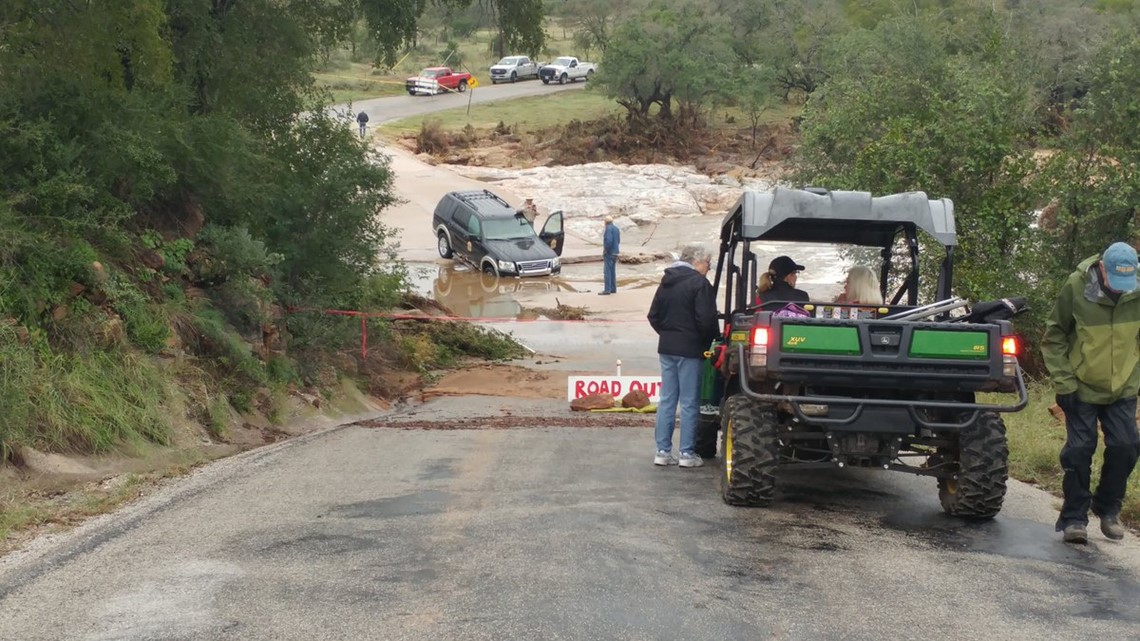 RELATED: Here's what could happen if more floodgates open at Austin's Lake Travis
If Lake Travis reached 714 feet, water would spill over Mansfield Dam. Currently, Mansfield Dam is releasing 11.2 million gallons of water per minute. The LCRA is urging anyone living downstream of Lake Travis to remain vigilant.
The additional opening of floodgates at Mansfield Dam would create flooding problems for homeowners who live along Lake Austin, Lady Bird Lake and Lake Travis.
"I wouldn't want to be the person that has to make those decisions because we know when water is released we know it's serving a purpose and the dam is doing what it's supposed to do, but we know it's going to cause problems for people and property on down the line so it's a hard decision to make," said Steiner Ranch resident Michael Spooner.
Check out Friday, Oct. 19 coverage in our previous weather blog, here.
NEED TO KNOW
The National Weather Service said the region is already saturated due to recent heavy rainfall. So, additional moderate to heavy rainfall will lead to rapid runoff, cause new river rises and additional flash flooding, the NWS said.
RELATED:
Strong odor coming from the Mansfield Dam area at Lake Travis
Lake Travis could reach historic height this weekend, more floodgate openings on hold
ROAD CLOSURES
As of Saturday morning, ATXFloods.com showed that 126 low water crossings were closed across Central Texas.
SHELTERS OPEN FOR EVACUEES
Lago Vista evacuees can visit the Lago Vista High School Performing Arts Center for help. It's been set up as a temporary shelter.
If you live in Llano County, two shelters are open for people. The Llano County Office of Emergency Management said the John Kuykendall Arena & Events Center at 2200 W Ranch Road 152 and Lutie Watkins Memorial United Methodist Church at 800 Wright St.are both taking in evacuees.
PHOTOS: Striking photos taken above Longhorn Dam and Tom Miller Dam
PHOTOS: Striking photos taken above Longhorn Dam and Tom Miller Dam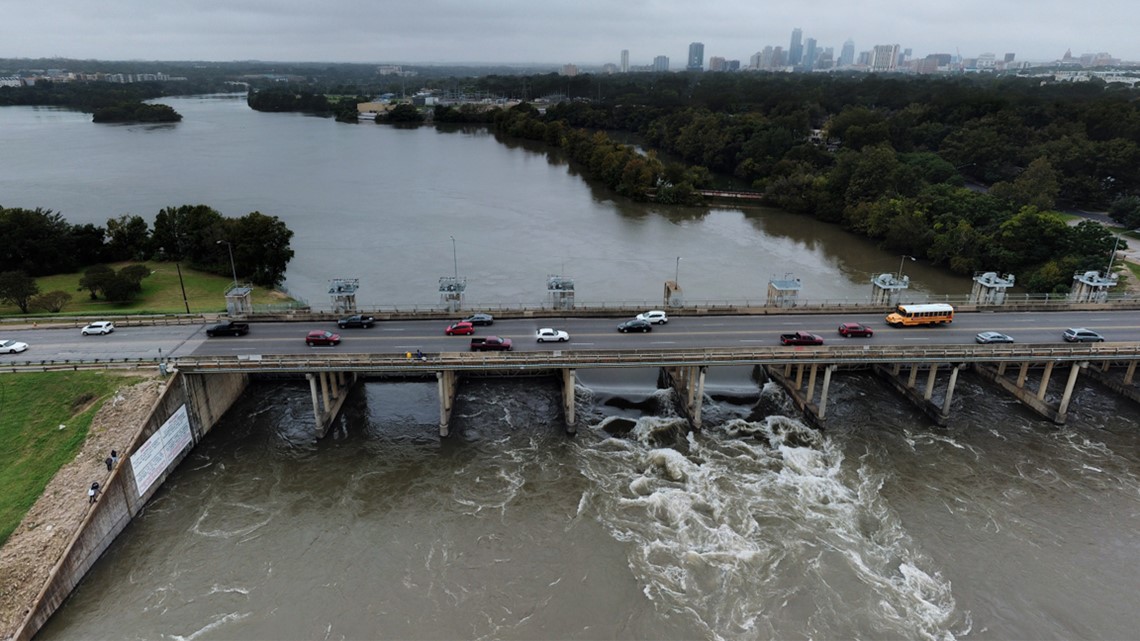 Llano County Office of Emergency Management said shelters are being set up at the 1st Baptist Church and Inmans Kitchen in Llano. The Kingsland Community Center is also taking in evacuees.
Llano High School opened at 9:30 a.m. Tuesday for evacuees.
If you need to be evacuated, officials recommend contacting the Llano Police Department.
Granite Shoals evacuees are asked to head to the 1st Baptist Church, located at 505 south Phillips Ranch Road.
In Meadowlakes, evacuees can seek shelter at the City of Meadowlakes City Hall. Shelters in place are also available at First Baptist Church Marble Falls and the Burnet Community Center. The City of Meadowlakes and Pecan Valley are not accessible at this time.
The flood response shelter located at Marble Falls Middle School is now closed. Community members can refer to the City of Marble Falls Emergency Alert Center for shelter and residential updates.
RELATED:
Explainer: How do the Highland Lakes and dams work?
Drone video shows water flooding through Highland Lakes in Texas Hill Country
Striking 360 photos, video show floodwaters above Austin-area dams
MORE INFORMATION
Click here for the flood operations report from LCRA.
Click here for more information on water levels being released from various dams compared to previous days.
Click here for historical water information from Lake Travis.
KVUE will update this story as more information becomes available.