AUSTIN, Texas — Ahead of a winter storm that is brewing, people across the Austin area are flocking to grocery stores to prepare.
A Winter Storm Warning is in effect for Bastrop, Blanco, Burnet, Caldwell, Gillespie, Hays, Lee, Llano, Mason, Milam, Travis and Williamson counties for Thursday, Feb. 3, from 12 p.m. until 9 p.m. After a cold front moves in Wednesday night, freezing rain and sleet will likely cause icing issues Wednesday into Thursday.
Subfreezing temperatures in the forecast are also a concern.
In the event that you need to hunker down or don't have power, it's necessary to have a seven-day supply of non-perishable food, a can opener and one gallon of water per person, per day.
Photos spreading on social media show bare or nearly-bare shelves at H-E-B and other favorite grocery stores in Central Texas.
This all comes almost one year after the February 2021 winter storm, which led many across Texas to lose power and eventually water. Many on social media are referencing last year's event, saying residents are "traumatized."
Twitter user @t_steinwald tweeted a photo of lines of cars outside an Austin H-E-B.
"Lines of cars just trying to get into H‑E‑B today here in Austin," she said. "Texans are straight up traumatized from last years [sic] storm."
Another Twitter user said she spent two hours at her H-E-B, with most of her time spent waiting "in a line that went back two aisles."
Bryan Miller said on Twitter, "People are not playing this year about the freeze coming."
KVUE was sent a photo of empty shelves in a Leander H-E-B: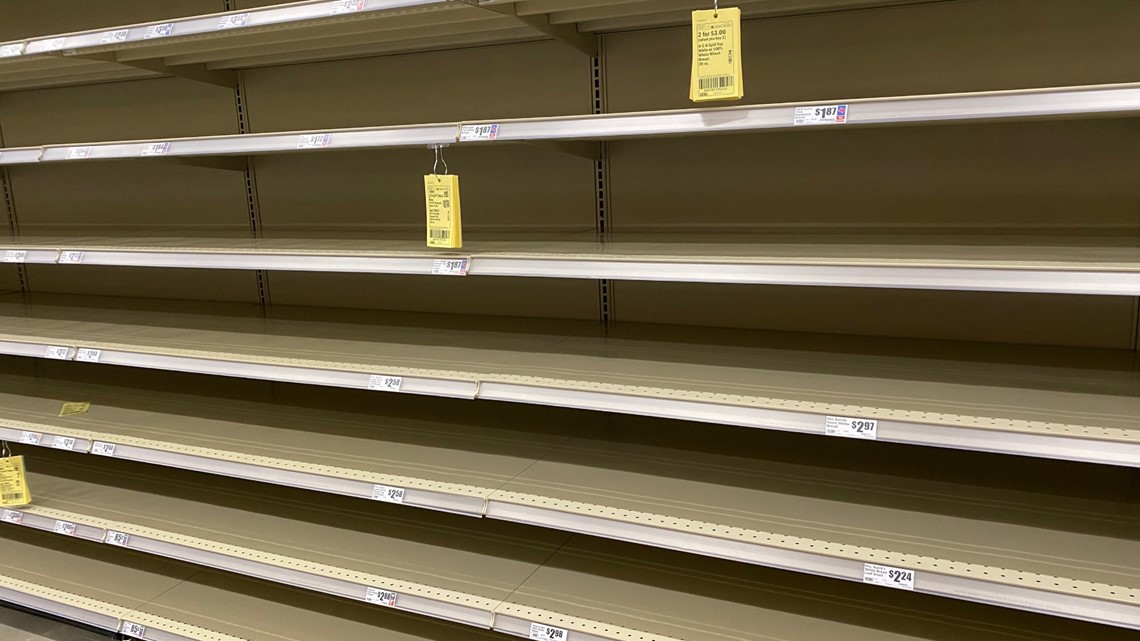 H-E-B provided the following statement Wednesday:
"At H-E-B, our top priority is taking care of Texas, and we are committed to help our fellow Texans in any situation our company and communities might face. Across our business, we are familiar with and regularly prepare for extreme weather events. Our dedicated Partners – at our stores, warehouses, manufacturing facilities, and transportation team – are ready and well-equipped to serve our customers with the products they need.
"In preparation of the winter storm, we are taking precautions to protect and support our Partners and our stores, which are open and have additional stock to ensure product availability. Any out-of-stocks are temporary. Our Partners restock shelves with more product throughout the day. Additionally, H-E-B has prioritized conserving energy across our business to do our part to help preserve the energy grid in Texas."
Randalls said it shifted both its warehouse and direct-to-store deliveries this week so that more product could be delivered to stores on Tuesday and Wednesday – and available for guests to purchase. The supermarket chain said it has plans to increase deliveries on Friday and Saturday, weather permitting. Randalls has also opened its in-store receiving hours to include Sunday for the coming week, to ensure it can get product into the stores and re-stocked for guests.
Randalls stores will open at 8 a.m. on Thursday, two hours later than normal.
"We will remain open as long as it is safe to do so," a Randalls spokesperson told KVUE. "However, our associate, vendor and customer safety is a priority. If it is necessary to close a store early or open late, we will notify customers through social media, Google maps and the automated phone system – as soon as possible."
Randalls' Drive Up N Go & Delivery will be closed on Thursday and on Friday.
Meanwhile, Walmart released the following statement regarding the winter weather:
"With the chance of severe winter weather possible during the next few days, we understand our customers will rely on us for essential items to help manage the storm. We'll continue to closely monitor the weather forecasts and will be prepared to serve our customers the best we can."
Target said its stores are also prepared for the weather: "Target stores are equipped to serve our guests in all weather conditions and we work quickly to make sure that high-demand products like bottled water, batteries and flashlights are available for guests whenever there's a bad weather event. The safety of our team is our top priority, especially for those team members who work outdoors, and we proactively provide training to teams on working safely during these periods."
However, it's best to prepare for freezing temperatures and the possibility of power outages. We put together a guide for preparing your home and car.