AUSTIN, Texas — The City of Austin on Wednesday officially entered Stage 5 in its risk-based COVID-19 guidelines, marking the final and most strict stage of recommendations.
This comes after the area surpassed the hospitalizations threshold on Dec. 21, with a rolling seven-day average of 50.1. County health officials previously said they would consider moving to the next stage once that metric rose above 50.
While hospitalizations were a big driving factor, other metrics that play a role in moving stages include how many people are in the ICU, how many ventilators are being used, the positivity rate and the seven-day moving average of new cases.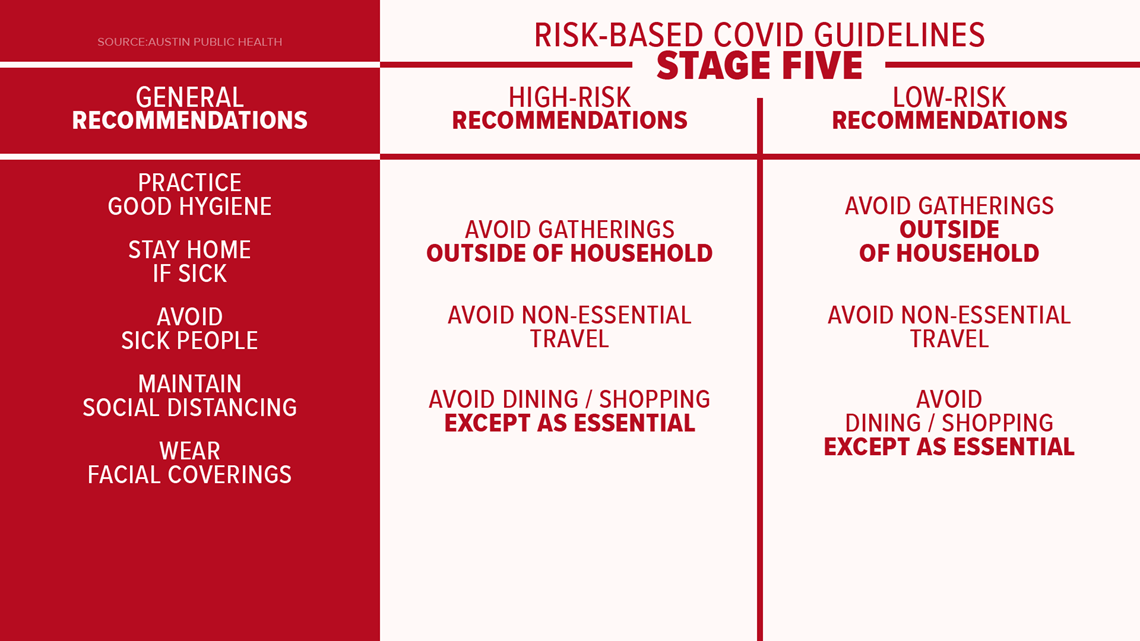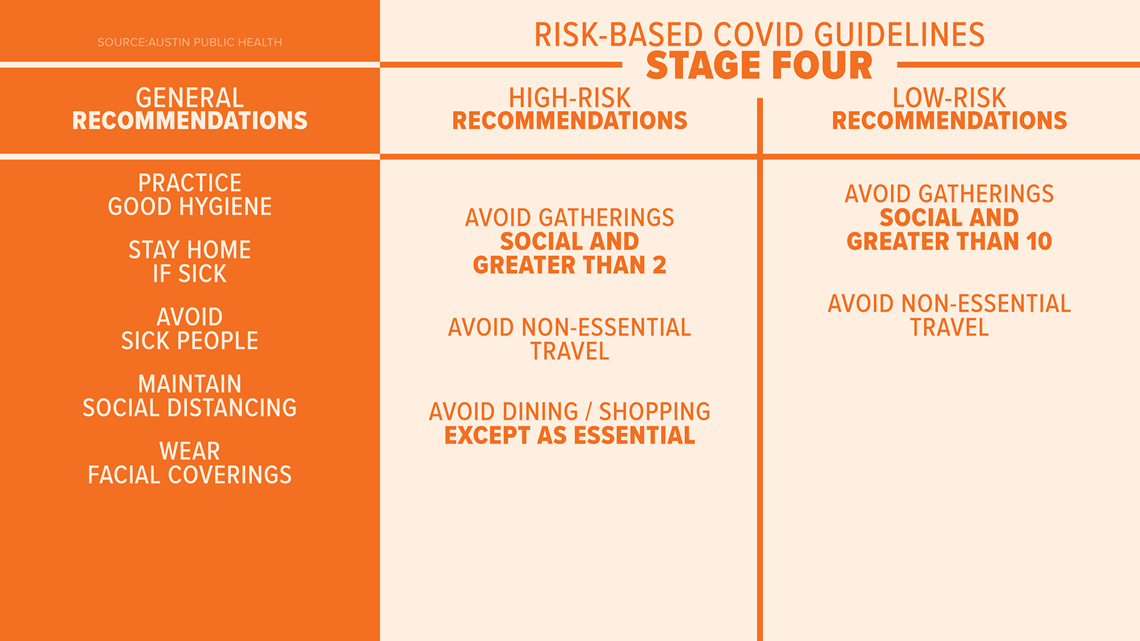 On Dec. 22, Interim Medical Director and Health Authority Dr. Mark Escott said Austin Public Health would be monitoring trends for a few days before making the call to move from Stage 4 to Stage 5.
In Stage 5, everyone is advised to avoid all gatherings with anyone outside of your household and avoid in-person dining and shopping. Businesses, including restaurants, are also recommended to only operate through contactless options such as curbside and delivery.
GRAPHS: Coronavirus data Dec. 22
As of Dec. 22, COVID-19 has become the third-leading cause of death in Travis County, trailing only cancer and heart disease.
525 – total deaths reported in the area since the start of the pandemic
672 – new cases reported on Dec. 22
70 – new hospital admissions on Dec. 22
462 – 7-day moving average of new cases
54 – 7-day moving average of new hospital admissions
326 – 7-day moving average of current hospitalizations
90 – 7-day moving average of those currently in ICU
50 – 7-day moving average of those currently on a ventilator
Escott said in the Dec. 23 Austin Public Health press conference that there was a 97% increase in new cases since Dec. 1. There has also been an 80% increase in hospital admissions and a 50% increase in the use of hospital beds for COVID-19 patients since Dec. 1, as well, according to Escott. The positivity rate for Travis County the past two weeks has been 9.9% and 9.1%, Escott said.
The Austin-area coronavirus dashboards from the City of Austin can be viewed here.
The current orders associated with Stage 5 can be viewed here. The orders do not constitute a change in regulations for the City of Austin, but instead serve to highlight strong recommendations that Austin Public Health, the City of Austin and Travis County encourage individuals, businesses and organizations to take.