The seven-day average of new COVID-19 cases in Austin-Travis County is up 131% from one month ago. More than 300 are in the hospital, and 100 of those are in the ICU.
Dr. Mark Escott, Austin's health authority, said if we continue to see new cases at this rate, the city may need to scale things back even more by the start of the Texas legislative session on Jan. 12.
Austin and Travis County are currently in Stage 4 of the city's risk-based guidelines. In Stage 5, everyone is advised to avoid all gatherings with anyone outside of your household and avoid in-person dining and shopping. Under Stage 5, businesses, including restaurants, are also recommended to only operate through contactless options such as curbside and delivery.
Escott said he also might recommend pausing extracurricular activities at schools and imposing a city curfew if Stage 5 is deemed necessary.
"We have seen this played out in cities across the state, and we simply cannot take the risk of having a substantial, catastrophic surge like we have seen," Escott said.
If new cases don't slow down, the City of Austin may soon move to Stage 5. These are the guidelines for people who are at high risk and low risk of contracting coronavirus. As you can see, the guidelines are the same.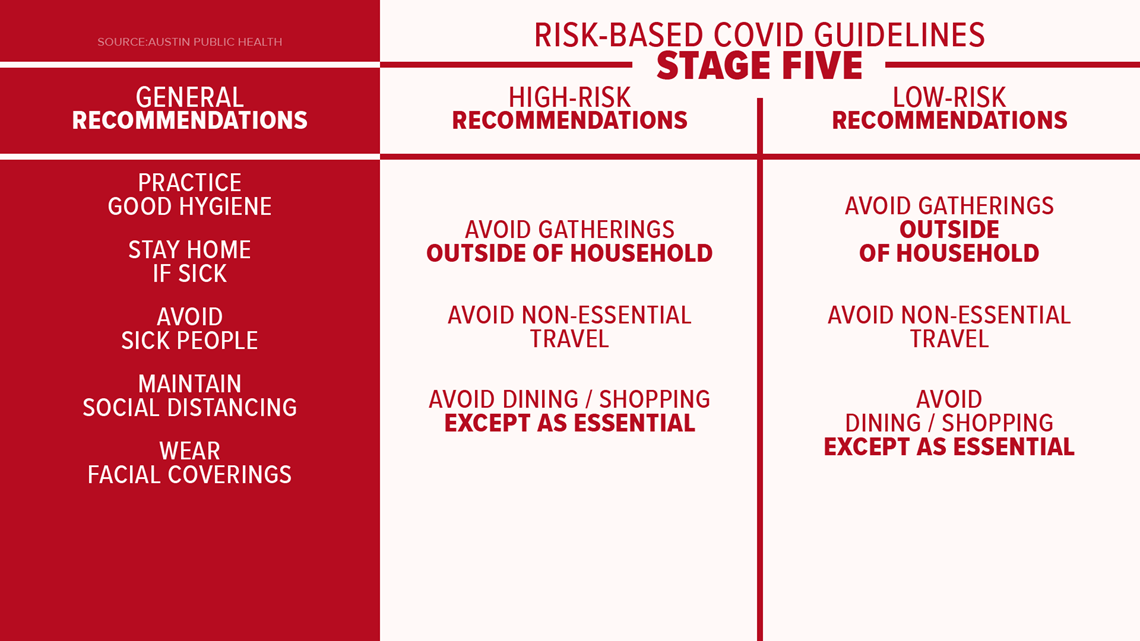 On Nov. 19, Austin-Travis County took a step backward from Stage 3 to Stage 4. Under Stage 4, Austinites are urged to avoid all social gatherings and any gatherings of more than 10 people. People are advised to avoid non-essential travel and businesses are recommended to operate at up to 25 to 50% capacity.
New cases are also rising on a state-wide level. On Dec. 10, state health officials reported more than 12,000 new cases. The seven-day average of new cases in Texas is up 55% from one month ago. According to the state, 9,000 people are currently in the hospital with the virus.
Eight hospitals in Travis County are expected to get the first round of the COVID-19 vaccine once it is authorized. Austin State Hospital said all of its staff will be offered the first round of the COVID-19 vaccine. The other seven hospitals said they are still finalizing their distribution plan but will be using a tiered system created by the CDC. It prioritizes medical staff who are working directly with COVID-19 patients.
Austin Public Health said it is concerned about Travis County's hospital capacity as we wait for a vaccine to arrive. According to data from DSHS only 9% of ICU beds in our area are still available. That's the lowest we've seen since the start of the summer spike in May.