AUSTIN, Texas — Austin Police Chief Brian Manley stepped down on Sunday after more than 30 years with the department and in the midst of a policing crossroads in Austin and across the nation.
Manley's announcement comes after he marked three decades with the department Feb. 1, a goal he has said he wanted to reach before leaving. At a press conference, Manley said that his retirement is "truly a leap of faith," and that he does not know where he will end up next, or whether it will be in the public sector or private sector.
In a memo sent to the city manager on Feb. 1, Manley said, "Today marks 30 years to the day my father pinned my Austin police Department badge on me for the first time. The sense of pride he had, along with that of my mother and brothers, can only be matched by my sense of gratitude for having been able to serve our community these past three decades. As most things in life come to an end at some point, my career with APD will do so as well with my retirement on March 28, 2021."
Manley mentioned the officers, the "true heroes," he has worked alongside, in addition to the opportunities he has been given during his time at the APD.
"I will forever remember the amazing opportunities this career has afforded me, whether assisting life saving measures that resulted in reviving a heart attack victim, years of child abuse investigations that led to children being removed from harmful or abusive conditions, my time in homicide seeking justice for families who had lost loved ones to violence, and too many others to list here," his memo read in part.
He said during a press conference on Feb. 12 that, when looking back at his 30 years, it's difficult to name one call or one memory that stands out. But his years of work in the child abuse division do stand out, he said.
."... I wholeheartedly believe it when I look at my 30 years and I try to define that moment or that time where I feel I really made the greatest difference and gave back and really exemplified that service would be my years in the child abuse division as both an investigator and a supervisor, because at the end of the day, you are dealing with children that are in horrible circumstances by no fault of their own, and you are that person that can make a difference," Manley said. "So I know in the years that I spent there that in some small way I was able to play a role in helping those children."
City Manager Spencer Cronk recently announced the interim APD chief, Joe Chacon, who has been with APD since 1998. Cronk is expected to conduct a national search for Manley's successor. Both the interim and next chief require council approval.
During the press conference, Manley mentioned cadet classes. Upcoming classes have been put on hold after recent budget cuts.
"I know that all of the hard work that has been put in over the past year and a half to ready our agency for the next cadet class so we can start that process again, is coming to a culmination and reports will be coming out in the very near future so we can get that cadet class started," Manley said.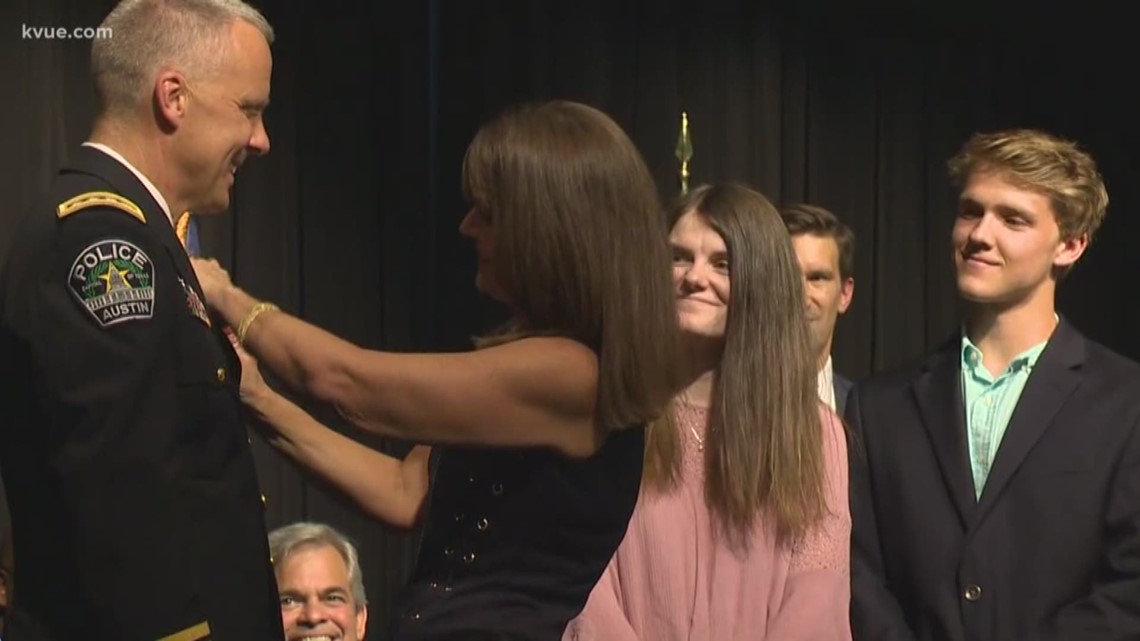 At the time, Mayor Steve Adler said Manley had "earned the position," but his appointment was met with a more tepid response from some community activists who questioned whether Manley could implement needed change in policing.
During his tenure, Manley has enjoyed support among the rank-and-file, and has instituted wellness programs for officers while also working to boost morale during times of community distrust. He also has been supportive by many of Austin's civic groups, including the Greater Austin Crime Commission, which said in a statement Friday morning that Manley has "led the Austin Police Department with character and integrity during difficult moments for our community."
"He is now leaving without taking any disciplinary action against Officer Christopher Taylor, leaving the Ramos family hanging. It is a disgrace," the attorney for the family of Ramos said in a statement to KVUE's Tony Plohetski.