AUSTIN — Taiwanese law enforcement arrested Cody Wilson, the Austin man who owns controversial 3D-printed gun company Defense Distributed and is accused of sexually assaulting a 16-year-old girl, according to a report by an East Asian media agency.
During a press conference Wednesday, Austin police said Wilson's last known location was in Taipei, Taiwan. Taiwan News said Friday Wilson was taken into custody at a hotel in Taipei's Wanhua District. The U.S. Marshals Service confirmed to KVUE that Wilson has been arrested. They also said they are "fully engaged with our international partners on this matter."
While in East Asia, police said Wilson missed a scheduled flight back to the U.S.
"We know Mr. Wilson frequently travels for business, we don't know why he went to Taiwan. But we do know before he left, he was informed by a friend of the victim that she had spoken to police and police were investigating him for having sex with a minor," said Commander Troy Officer.
During a forensic interview with the Center with Child Protection on Aug. 27, the sexual assault victim told counselors she met Wilson through the website, SugarDaddyMeet.com. Court documents show Wilson used the profile, "Sanjuro," and told the victim that he was a "big deal." During the conversation, he also identified himself as "Cody Wilson." Police said the two exchanged cell phone numbers and continued their conversations using the Apple iMessage service on her phone.
The victim told police that on Aug. 15, she and Wilson met in person in the parking lot of Bennu Coffee on 515 South Congress Ave. Court documents show Wilson showed up in a black Ford Edge four-door sports utility vehicle with a license plate that matches one registered to Wilson's business, Defense Distributed. Court documents show there was surveillance video of this meeting.
The victim then told police that Wilson took her to the Archer Hotel at 3121 Palm Way. Surveillance cameras captured the two using the valet service, in the lobby and in the elevator.
The victim also said Wilson took her to room 718 where he allegedly sexually assaulted her. Afterward, she said he paid her $500.
When asked if there could be any confusion about the victim's age, Officer said there is no way.
"My detectives have interviewed and spoke with this victim and in their opinion, if someone mistakes her age, it would be because they think she's younger, not older than 16 years old that she is," said Officer.
The U.S. Marshals officially released a "wanted" poster for Wilson after the charge was filed.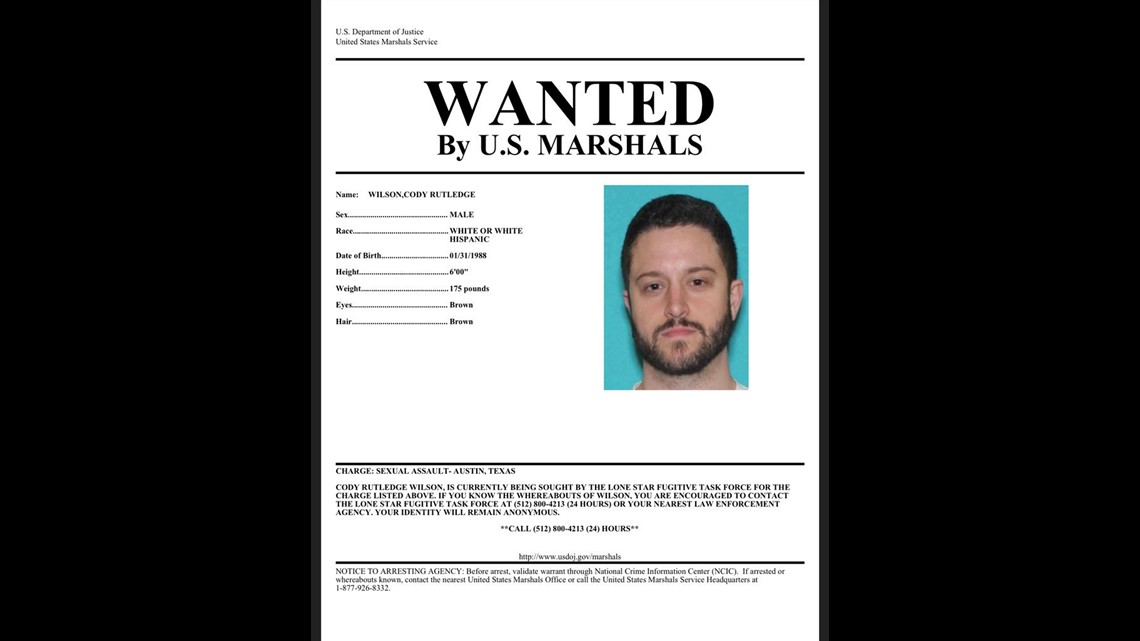 According to retired Travis County Judge Charlie Baird, the website "SugarDaddyMeet.com" should not face any charges or be held liable in this case. In his mind, they did their due diligence to make sure she was 18. In that case, the liability would be on Wilson.
"Everything in a situation like this falls upon the individual who is attempting to have sex with a minor and that individual suffers very serious consequences,'" said Baird.
KVUE asked APD if there was any evidence that the 16-year-old girl was a part of any human trafficking and they said they believe the girl acted alone in signing up.
"It's human trafficking if force, fraud or coercion are used. It's also trafficking if a person under 17 years of age is harbored, transported or provided to another," APD said.
Wilson said at a press conference in August that, despite a federal judge's order to block access to the files on the company's website, he is selling the gun blueprints by emailing them and by mailing them on USB drives. Wilson said this is a secure way of communication that was not included in the judge's order.
"Everyone in America who wants these files will get them, and they're allowed to name their own price at our website," Wilson said.
During the press conference, Wilson also said he's "happy to be the iTunes of downloadable guns."
Austin police said if you have any information regarding this case, call 512-472-TIPS.