AUSTIN, Texas — Austin nightclubs Oilcan Harry's and Rain on 4th on Thursday announced that they are increasing their reward for more information after a couple reported they were attacked in Downtown Austin for being gay.
After previously offering $5,000, the clubs said they were able to increase the reward to $11,000 thanks to donations from Austin Playhouse, Cyclistlaw Attorneys, Texas Motorcycle and Bike Crash Lawyers, and R-Events.
The Austin Police Department is investigating the attack as a hate crime after the couple told police they were attacked for holding hands.
According to police, the attack happened just before 2:30 a.m. Saturday at the corner of Third Street and Congress Avenue.
Spencer Deehring and his boyfriend, Tristan Perry, told KVUE they were celebrating a friend's birthday at Rain on 4th when they decided to leave.
"We were walking towards the truck as we were holding hands," Deehring said. "One gentleman walked right past us and used a bigoted slur. We both kind of responded saying, 'Hey, we didn't hear that. What did you just say?' Within, I would say, five seconds, there was four or five guys there with him."
Deehring said the men first attacked Perry.
"It was one [punch] on my cheekbone, and then one on my jaw. When I hit the ground, they started kicking me in the back of my head," Perry said.
The group of men then focused on Deehring.
"At this point, [Perry] was laying on the ground unconscious. I probably received four or five blows to the head," Deehring said.
The attack left Perry with a concussion, internal bleeding, a broken nose, a busted lip and chipped teeth, according to the couple. Deehring has a few bumps and bruises on his face.
"It makes me angry that there are still people out there that are like this. I mean, we weren't doing anything wrong. We love each other," Perry said.
Michael Reyna, who performs as a drag queen at several of the gay bars on Fourth Street, told KVUE people have gotten more courageous with their hatred over the past two years.
"It seems like it's going with what's happening. People are definitely coming out and acting aggressively towards the minorities," Reyna said. "It's really shocking that it hit so close to home."
As a Mexican-American, Reyna said he always keep an eye over his shoulder, but he will continue to do so even more now.
"This is still the South. You always have to worry about that," he said. "In Austin, you don't usually think of that, but I'm always looking around my shoulder."
Deehring and Perry just hope this doesn't happen to someone else.
"We're not going to choose to hate these guys for what they did to us, but we do hope justice is served," Deehring said.
Both men are now recovering at home from their injuries,
Police described the suspects as a Hispanic male wearing a blue Polo shirt with white stripes, and the other a white male with no shirt.
Police on Tuesday said they are continuing to investigate the incident. After speaking with witnesses and the victims, police are canvassing the area for video that could lead to the arrest of any possible suspects.
Police said the victims have also been provided with a victim services counselor.
"APD is currently investigating this as a hate crime and we want our community to know we do not tolerate these types of crimes," an APD representative said.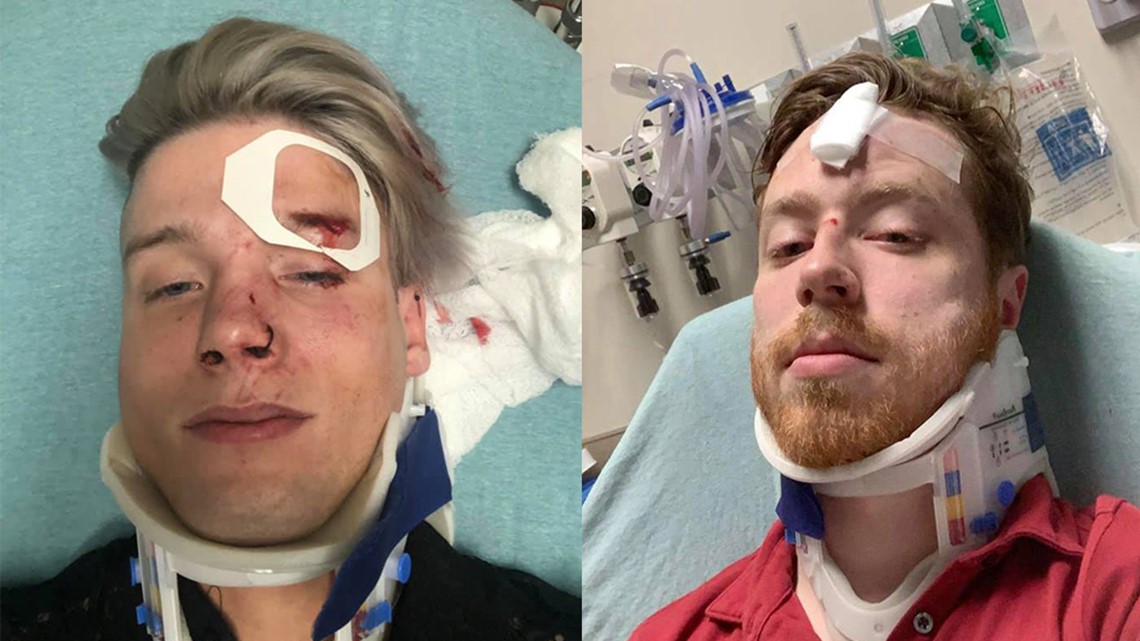 Deehring posted the following statement on Facebook:
"Last night I was a victim of a brutal hate crime. I was beaten and called a '[expletive]' as well as numerous other terms that I simply cannot remember due to a minor concussion. Today I want to take the opportunity to tell the world why this happened; because I am gay. I never fathomed in my lifetime that I would watch as my boyfriend is kicked in the head and punched repeatedly. I never fathomed I would wake up with a minor concussion and skin-glued lacerations and my boyfriend with a broken nose and stitches. But today I have decided to choose strength over cowardice and use this experience as a platform to help people understand the dangers of bigotry and tell the world about who I truly am. We have chosen love and not hate in how we view the situation we went through last night. I hope they are caught but I also hope these men that attacked us can someday find the love in their hearts to accept people of all races, religions, genders, and sexualities."
"For too long gay-bashings have threatened our community," wrote Rain on 4th on Facebook. "Historically and still to this day establishments like ours have provided sanctuary and security from these incidents. At Rain on 4th and Oilcan Harry's we strive daily to provide a safe and tolerant environment for our community, and our actions do not stop at our doors. We will not stand by when our customers and community members are brutally assaulted simply for expressing their love."
Anyone with more information is asked to call the APD immediately at (512) 974-9207, submit tips via Crime Stoppers at 512-472-TIPS, text "Tip 103" + your message to CRIMES, or use the new Crime Stoppers App.