LAKE TRAVIS, Texas — Lake Travis is now more than 140 percent full while the Lower Colorado River Authority has closed lakes Travis, Marble Falls, LBJ, Inks and Buchanan.
The afternoon of Oct. 18, Lake Travis measured at 143 percent full with a height of 702.98 feet
Lake Travis could rise to 705 to 710 feet by Oct. 19. The all-time high is 710.4 feet, which occurred in December 1991. The top of the spillway is 714 feet, so this gives you an idea of just how much water this is.
We can use the December 1991 flood as a guide of what to expect. In 1991, at 704 feet, about 50 homes were underwater at Graveyard Point. The development, "The Island," was surrounded by water.
Water from Lake Buchanan moves southward to Inks Lake and then into Lake LBJ. Water is also moving into Lake LBJ via the Llano River. On Oct. 16 at 7 a.m., the Llano River crested to its second-highest height in recorded history at 39.9 feet. The following evening, the Llano River fell below flood stage for the first time since Monday, KVUE Meteorologist Albert Ramon reported.
That water then moved downstream into Lake LBJ, then Lake Marble Falls by passing through the Wirtz Dam. Water from Lake Marble Falls then moves through Starcke Dam. At times, all 10 floodgates were open at Starke. This massive amount of water moves into Lake Travis. As of the afternoon of Oct. 17, Lake Travis is at its sixth-highest height in history at more than 130 percent full.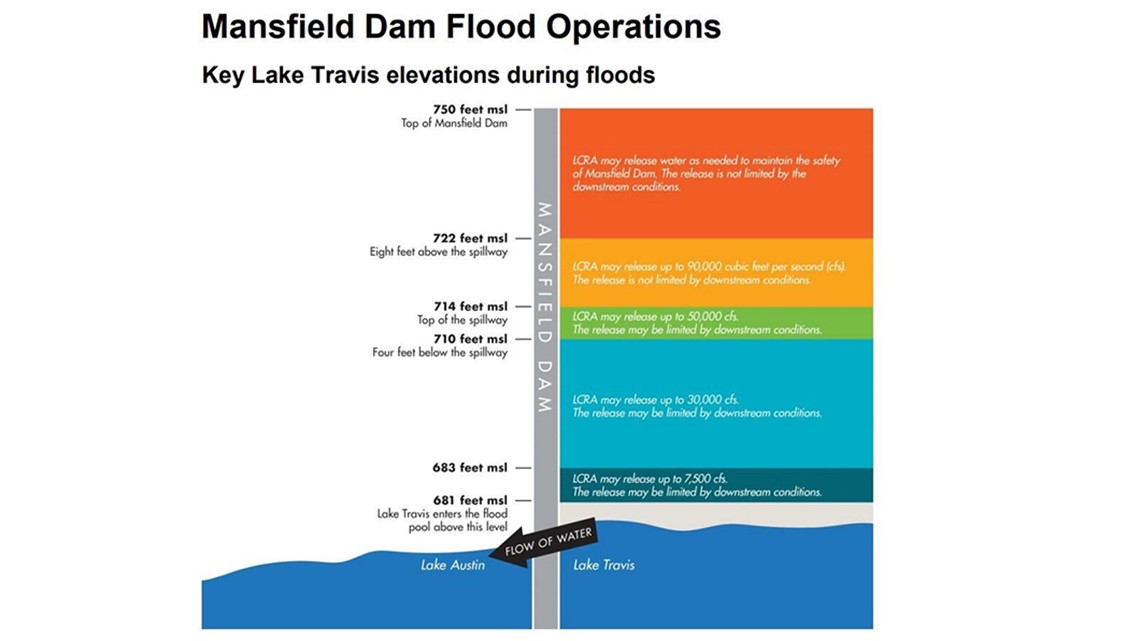 LCRA closed the lakes Oct. 16, and they'll remain closed until further notice. Flood operations at Mansfield and Tom Miller dams began at noon that day. The LCRA said they began with the first floodgate at Mansfield Dam at noon, followed by the second gate at 2 p.m., the third gate at 4 p.m. and the fourth gate around 7 p.m.
By 4 p.m., Tom Miller dam had three gates open, with a fourth expected by 7 p.m.
By 10 p.m. Oct. 16, flood operations at Buchanan Dam began. By Oct. 23, all floodgates at Buchanan Dam closed.
That means the LCRA had flood operations ongoing at every dam along the Highland Lakes.
Starcke and Wirtz dams opened up Oct. 15. All 10 floodgates at each of these dams were open by the night of Oct. 16. On the following day, Starcke lowered that number to eight. By Oct. 18, three were partially open at Wirtz. Seven were fully open at Starcke while one was partially open.
Meanwhile, Austin Water said officials are monitoring Longhorn Dam in East Austin. All seven gates were open as of Oct. 17 evening, but by the following day they were down to six.
The Lower Colorado River Authority advised residents in the Lake Travis area to take caution as it opened floodgates at the Wirtz and Starcke dams Monday evening. Officials advised those nearby to take immediate action to protect people and property.
"Water will be moving fast through lakes LBJ, Marble Falls and the upper end of Lake Travis as the flood water is passed through the lakes," the LCRA said. "Lakes LBJ and Marble Falls are expected to remain within their normal operating ranges immediately upstream of the dams. Water will be higher than usual at the upper end of lakes LBJ, Marble Falls and Travis."
This is all largely because of the flood that happened in the Llano River last week, in addition to the Llano River flooding again on Monday.More information is available at 1-844-523-5663 or the Flood Operations Report on lcra.org.
Click here for the flood operations report from LCRA.
Click here for more information on water levels being released from various dams compared to previous days.
Click here for historical water information from Lake Travis.